Branch, Taylor, Parting the waters – America in the King years, 1954-1963 (vol. 1 of 3), 1988, Simon & Schuster (NY, Londen, etc). ISBN 978 0 671 68742 7
4 stars
Introduction
One of the mayor themes I'm interested in concerning the USA are Politics. Not so much Actual Politics, but the Political past.
An essential part of US History is the fight over Civil Rights. You can relate this subject to Country's Foundation, the Civil War and of course to the Civil Rights Movement of the '60s (see my introduction on USA History books).
I read about this last topic before, but mainly as a side issue. For example, in biographies on John F. Kennedy, Lyndon B. Johnson and Richard Nixon
For more insights in my reading preferences, go to

My Books

page on Goodreads.
Branch's historical work on Martin Luther King & the Civil Rights movement
Not too long ago I bought the 3-volume set written by the US writer/historian Taylor Branch on the Civil Rights movement. A story mainly orchestrated around the short, but influential life of Dr. Martin Luther King.
King started his career as a preacher in the shadow of his father. Soon though it would be clear that Martin jr. had a different role to play.
Where most older Black preachers took a prominent role in their own community for granted, some younger ones felt they had to built a bridge to the wider – read: White – world. Not an easy task. Something King jr. knew beforehand.
Caught in the middle – "Words were not enough"
On the one hand it was pure faith that led his mission. Because of his birth he was and would always be a preacher's son. Acting on the higher level within his own community. Preaching, learning, leading the way, being admired. But also earning money, fundraising, organizing, handling law & politics.
On the other hand he was pulled in by base level actions of mostly younger people. Courageous boys & girls that took "the fight" to the streets. Mostly students who organized protests like sit-ins in bars & restaurants, bus boycotts, freedom rides. As well as inscriptions of Black people to vote or to study at traditionally "White" universities.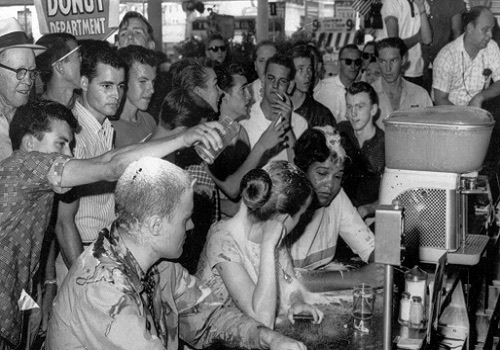 King jr. initially acted on both levels. Participating in the protests though made him famous. With the protesters he was arrested & imprisoned, refusing to bail out.
With fame though came growing opposition. Surprisingly not only from White people. Also from many conservative Black leaders. Leading to a lot of tiresome infighting between the many Black movements (basically over Prestige, Power & Money).
From the get go, King tried to stand above all the interested parties. His main goal always being to end segregation.
His greatest enemies were die-hard White segregationists, mostly from within the Southern states. Based on pure racism and hate there were life threats, bullets, bombs, lynchings, corrupt judges. As well as many less aggressive, but childish actions to block the protesters and the goals they were fighting for.
Branch's first volume: Parting the Waters, America in the King years
The first volume of this life's work of Taylor Branch, concerns the "King years" 1954-1963. Starting with the times that led up to his birth. Ending with the March on Washington.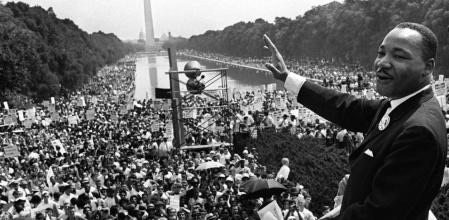 In this period, King little by little became the man who represented most of his fellow Black men. And women … although he was somewhat conservative concerning women's role within the movement and in politics.
He enjoyed the new role, but soon discovered it could also be a thankless one. And surely, a dangerous one. Not only because there were many White people who hated him, but also because the authorities were always on the look out for him. Foremost, Edgar J. Hoover's FBI.
A central part of this first volume concerns the relationship between King & the Kennedy administration. A difficult one.
Although deep down the Kennedy brothers thought King's fight was valid, they didn't know what to do with the Civil Rights Movement. Nor their goal of ending segregation, or the way it conflicted with the essential Southern White vote.
Note: It were the Kennedy's who authorized Hoover to eavesdrop on King.
King had to wait for JFK's successor to do something historic. Told in the next two volumes – Pillar of Fire & At Canaan's Edge. Click on name to read the corresponding book review.
So far, a solid, interesting work on the King years by Taylor Branch!
Parting the Waters : America in the King Years 1954-63