A visit to Mitad del Mundo, Cayambe
Many travellers to Ecuador plan a visit to the famous Mitad del Mundo monument north of Quito. However, if you don't have a chance to do so or don't plan to stay in the capital, there is a good alternative near the market town of Otavalo.
The Mitad del Mundo-monument is located just outside the town of Cayambe. Near a little community called San Luis de Guachalá. A little over half an hour from Otavalo.
The monument isn't as big as the Mitad del Mundo-monument near Quito, but still worth your visit.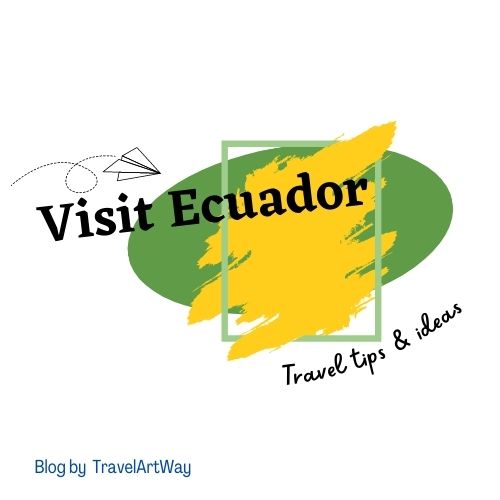 You actually visit two Mitad del Mundo-monuments
The first monument
The first monument you probably see is a Big Globe made of stone. It's placed in a somewhat rundown park. Known as the Bola del Mundo or locally the Bola de Guachalá.
The Globe has some historical value. Mainly because of the presence of the French Geodesic Mission who visited the country between 1736 and 1744. They stayed at the nearby Hacienda of Guachalá while locating the Equator & measuring the Earth.
They didn't leave the community the monumental Globe, but surely were active in the area. (Sadly, a younger member of the expedition died in Guachalá and was probably buried in or near the hacienda.)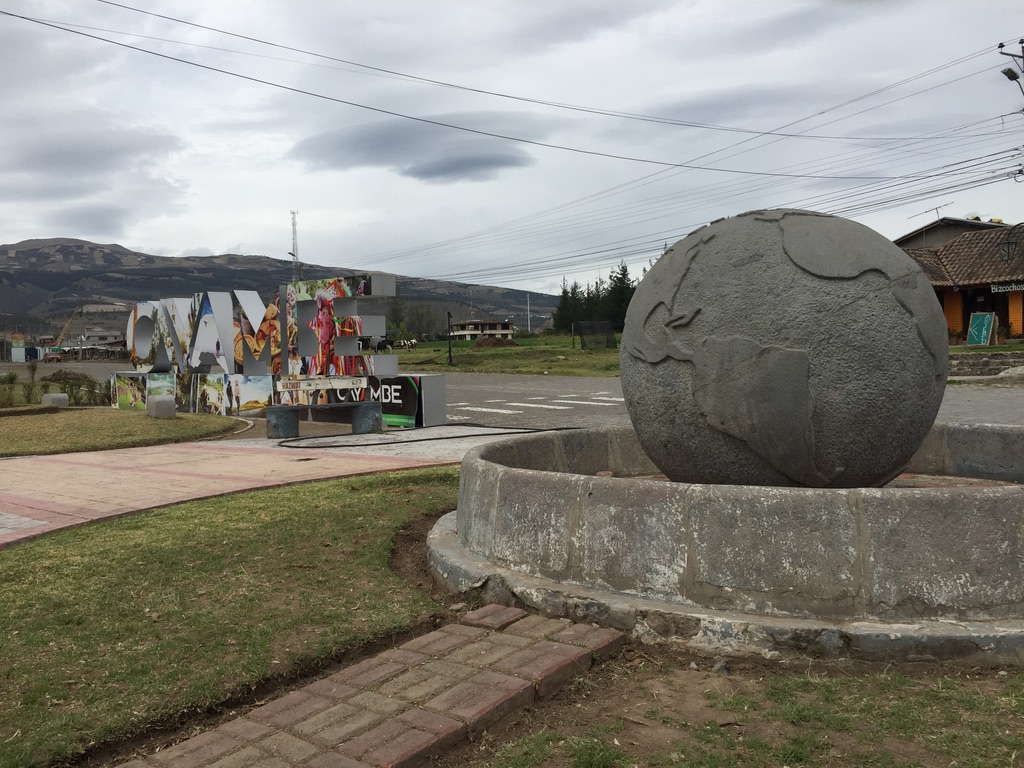 The second monument
Although the Globe already has been there for many years, it isn't actually located on the Equator. After making new calculations, a local scientist recently corrected the error. And also decided to build a New Mitad del Mundo monument on the right spot. A modern scientific one, which opened to the public in 2007.
It's marked by a 10 meter high, orange cylindrical column. This column is actually the needle of an enormous Sundial. Because of its height & color, it catches the eye from a distance.
Note: it's formally named the Reloj Solar Quitsato. For more details, go to: Quitsato Sundial.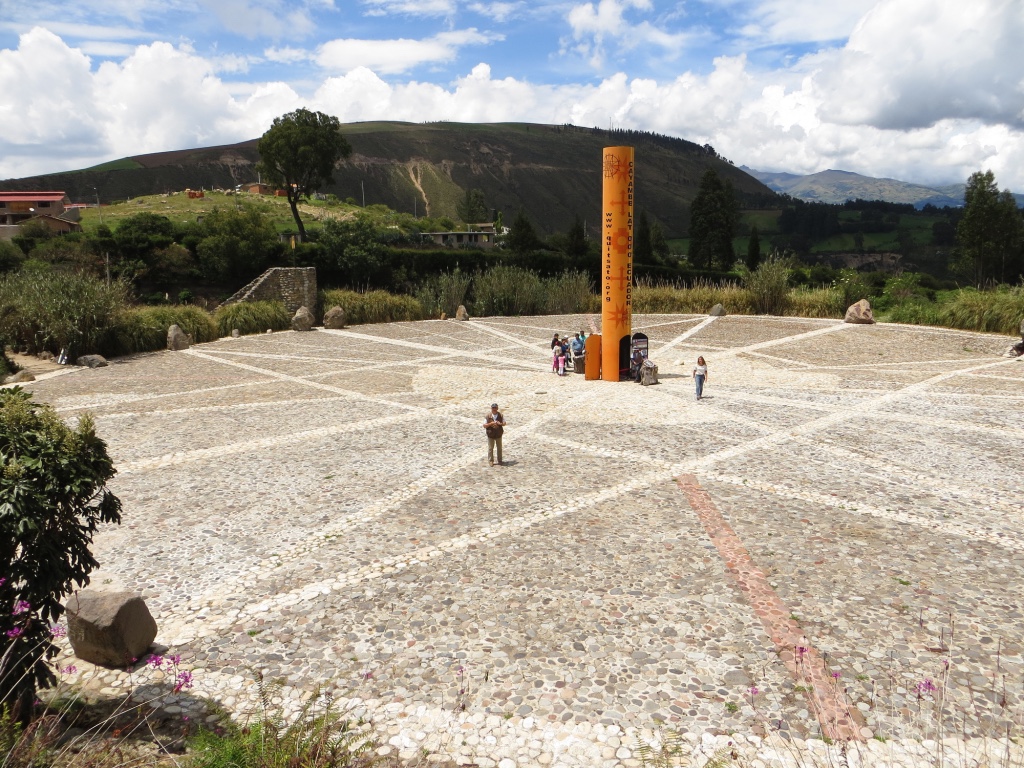 After paying a small entrance fee, professional guides will tell you all about the unique spot on Earth you're standing on. A very impressive story. The guides speak Spanish, but some of them speak English too.
If you're lucky you can catch a glimpse of Mt. Cayambe (5790m/ 18996ft) in the background. The third highest volcano of Ecuador and the only one where the Equator passes a mountain blessed with "eternal snow".
"Eternal" so far, as all the snow-covered volcanoes are losing their snowcap rather fast, the last couple of decades.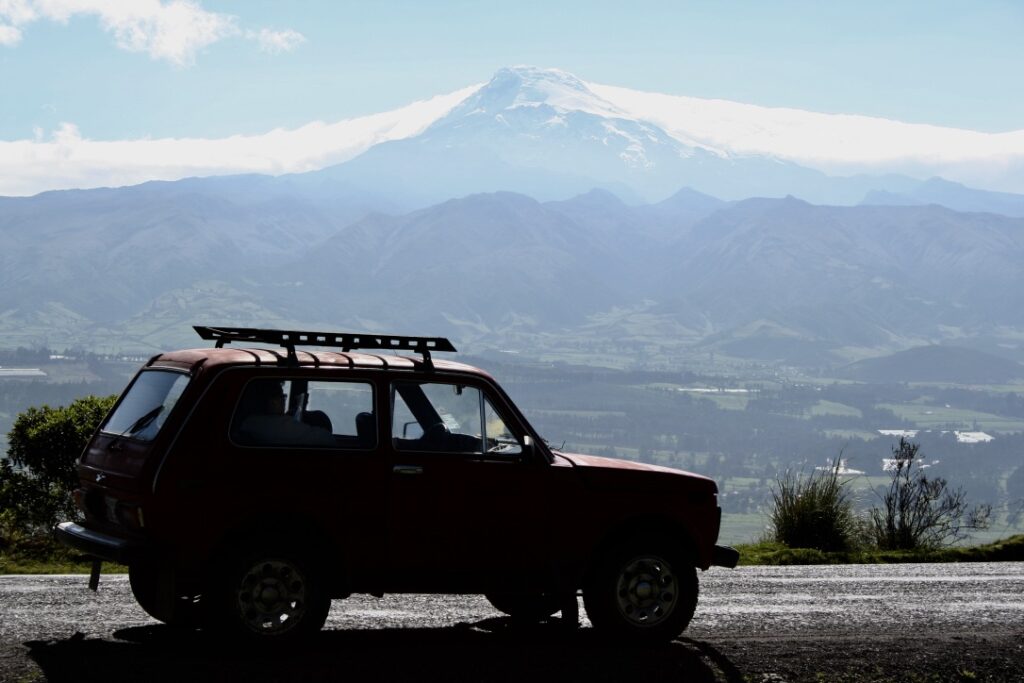 Note: If you like to know more about the special place Ecuador represents on Earth, open my posts (4) on the historical visit of the French mission to Ecuador in the 18th century. Click on the following link: Ecuador – What's in a name?
All in all, a worthwhile visit to the Mitad del Mundo-monument near Cayambe. For everybody, young & old.
What Else to do in Cayambe
You can combine a visit to the Mitad del Mundo monument, with a stroll through the city center of Cayambe. The town has its own vibe. Mainly because there aren't many tourists visiting.
When you head back to town from the monument, you'll soon pass a park with a Big Playground to the right. Ideal if you travel with children or just to relax.
And when you decide to go for a picnic in the park, why not include a typical Cayambe snack. The typical salty cookies the "Cayambis" are famous for. Bizcochos, traditionally served with fresh cheese and/or "manjar de leche" (a sugary delicacy made out of milk cream), a cup of coffee, tea or hot chocolate.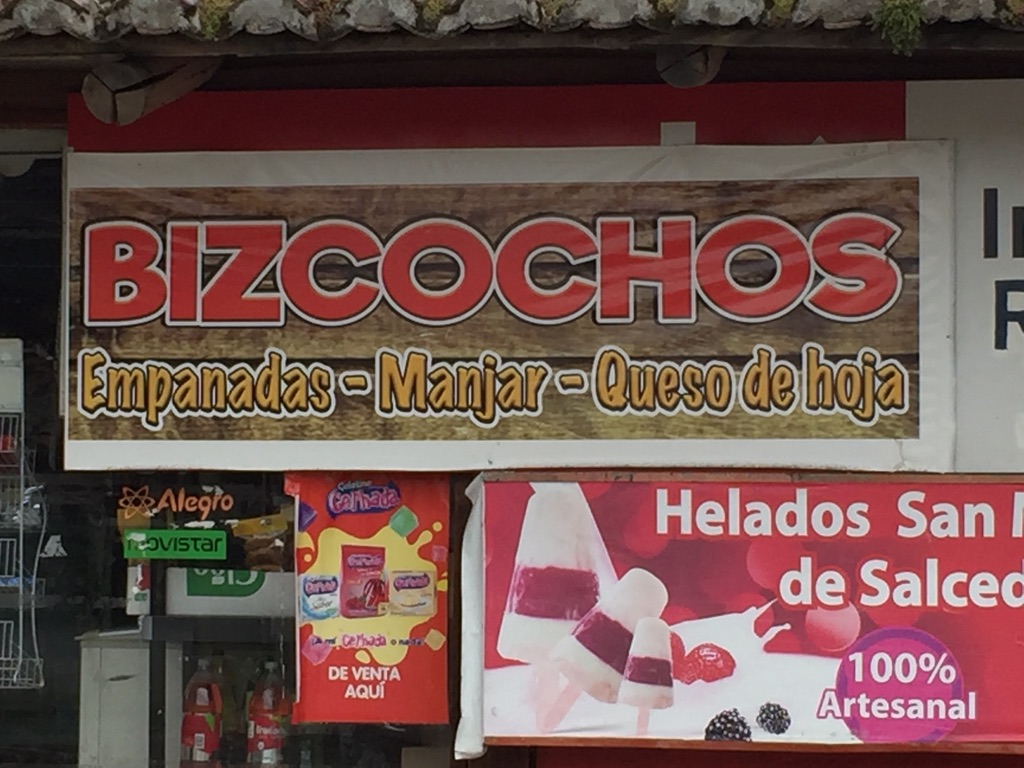 Combining the Mitad del Mundo with other Things to do around Otavalo
You can easily get from Otavalo to Cayambe by bus. When there, you have to arrange a taxi or pick-up to get to the monument (a 5-10 minute drive).
When you have your own car, rented a car or arranged a taxi for a tour, you can combine a visit to Mitad del Mundo with:
* Near Cayambe you'll find the authentic rural area of Pambamarca. Mainly known for the presence of some old Pre-Inca fortresses or Pucarás. With beautiful views all around. For more info: Visit Pambamarca.
The unique location of Pambamarca was one of the main reasons the French Geodesic mission (18th century) chose this specific spot to start the triangulation of the area. Measuring the shape of the Earth around the Equator (see also: Intro to the French expedition).
* Another option is the monument on your way to/from Oyacachi (1 hour from Cayambe). A beautiful isolated village with its own long history. Nowadays mainly known for its thermal baths, but also blessed with a green area all around. A perfect place to spot special birds & other animals, like the Andean bear. For more info: Visit Oyacachi.
.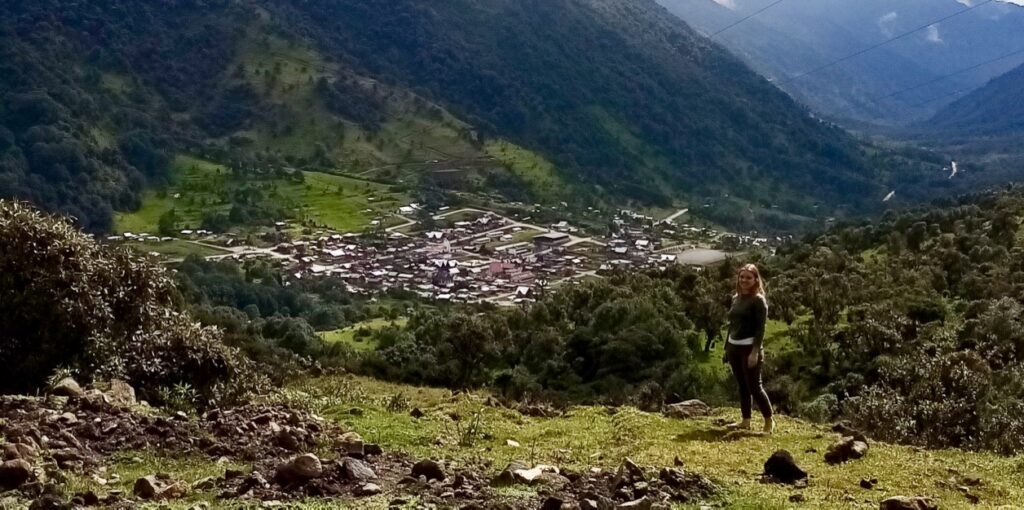 And more…
* Thirdly, another beautiful detour you can easily make from Cayambe is the old road to Ibarra: Cayambe – Ayora – Olmedo – Zuleta – Ibarra. Along this route you'll encounter several restaurants, mainly promoting "borrego", lamb from the bbq. As well as some small handicraft shops with local products, like embroidery, wood works, honey and other products. For more info, go to: Zuleta-area.
In the area you'll find the famous Hacienda de Zuleta. An old hacienda which you can only visit with a reservation (nowadays the hacienda partially functions as a luxury hotel & restaurant).
At the entrance though there's a cafeteria/shop & terrace which serves coffee, cake, ice cream & some tasty lunch plates (The shops opens Wednesdays – Sundays, the cafeteria so far only on Saturdays & Sundays).
* Lastly you can fit the monument in a larger tour of the area. Combining the monument with visit to (click on names to learn more): the Condor Park, the Peguche Waterfall, the Cuicocha Crater Lake, & others.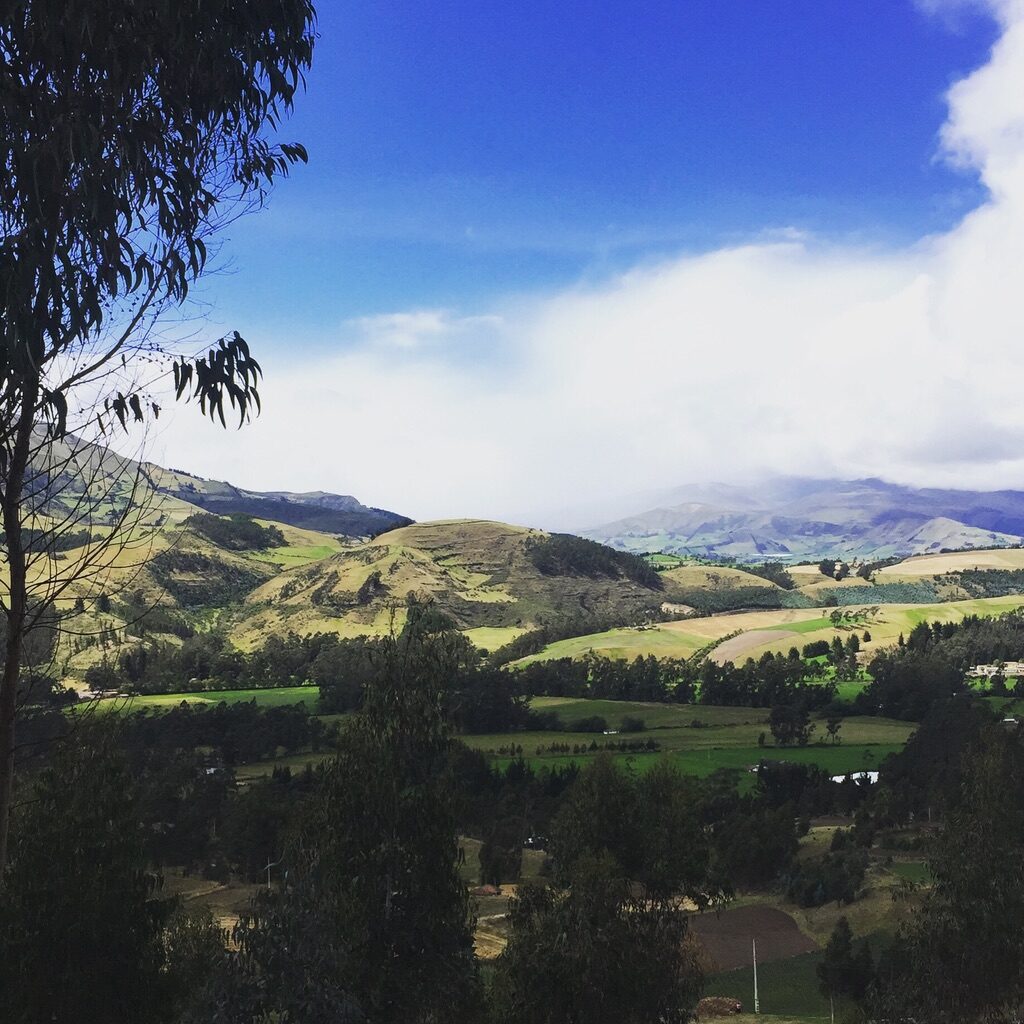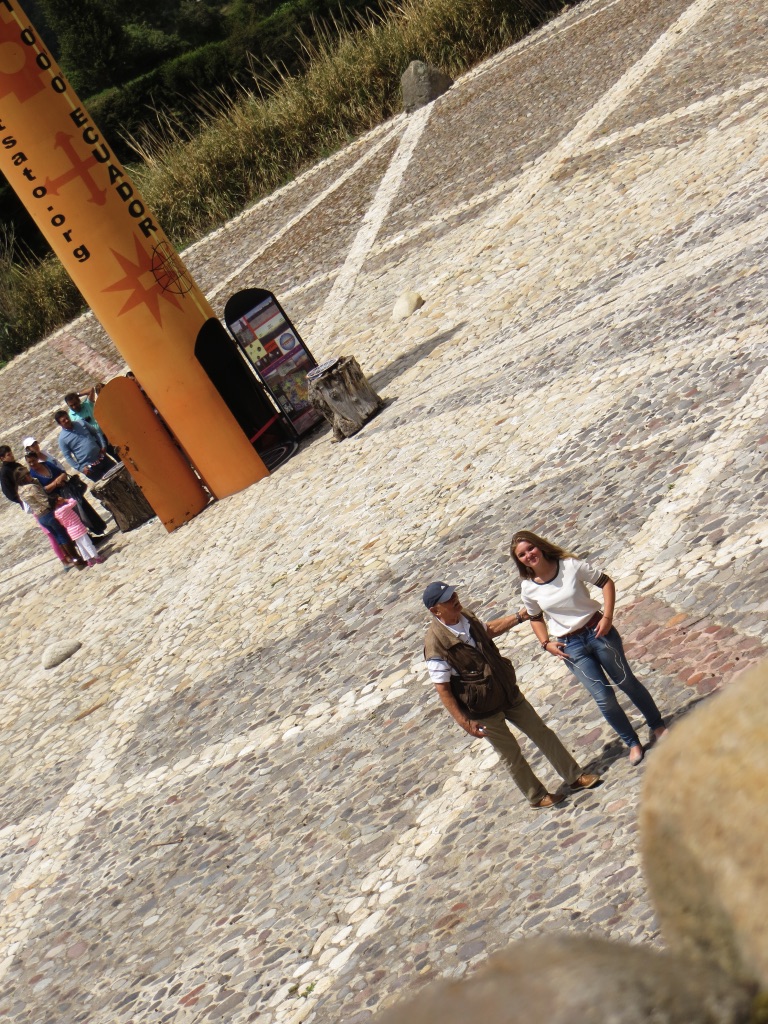 *****
Arrange a taxi/tour
If you like to arrange a taxi & tour on your own, I'd like to recommend you to:
Negotiate a price beforehand & pay at the end of the tour.
And secondly, be sure he/she knows how to drive. (Hard to know beforehand, but I'd say hire a somewhat older driver & if you don't like the way he/she drives soon enough, look for another one).
Alternatively, we – at Hotel Doña Esther/Restaurante Árbol de Montalvo – can arrange a taxi for you. For a good price & driven by a friendly, trustworthy & professional driver.
IMPORTANT: We can only provide this service to guests of our hotel.
* If you like we can prepare a take-away box lunch ($6.00 each) for you at the hotel.
Contact us:
Just write to us with your questions & wishes, and we'll help you out:
.
.
For other Things to do in & around Otavalo, go to: Otavalo Attractions
For an overview of all travel posts of my blog, go to: the Home Page.
Final message, for fellow travel writers & bloggers: TravelPayOuts is a global integrated affiliate program focused exclusively on travel offers. If it works for me, it will probably work for you too: TravelPayOuts.