A perfect day-trip from Otavalo is a visit to Chachimbiro, within the same province of Imbabura. Chachimbiro is mainly known for its thermal springs. There are several pool-options to choose from.
This post will give you some useful tips and impressions for your visit to Chachimbiro.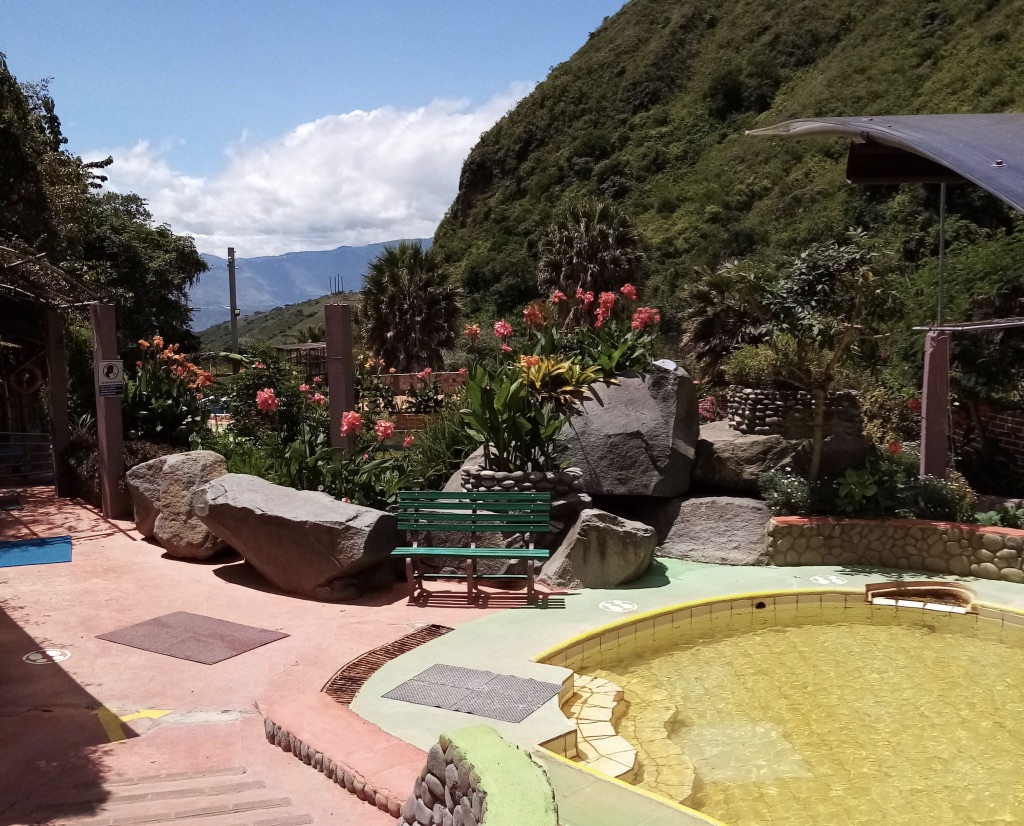 How to get to Chachimbiro
It's an hour ride from Otavalo to Chachimbiro (heading north-east). That's when you take the Panamericana.
The Panamerican-highway that leads from Otavalo to the capital of the Imbabura-province, Ibarra. Just before entering Ibarra, you'll have to take the left hand exit to Urcuquí. From Urcuquí you have to continue on to Chachimbiro.
There are several alternatives though. Routes that follow older roads, mostly through an authentic rural area. An opportunity to enjoying the small villages & spectaculair panorama-views along the way.
Alternative routes
Otavalo – Cotacachi – Imantag – Urcuquí – Chamchimbiro
Otavalo – San Roque/La Merced – Atuntaquí – Chaltura – Urcuquí – Chachimbiro
For these routes I recommend you to use GPS and/or ask people along the way. Both roads take a little longer, but I would say … Enjoy the ride & take enough pictures.
Photo impressions of our visit to Chachimbiro – On the way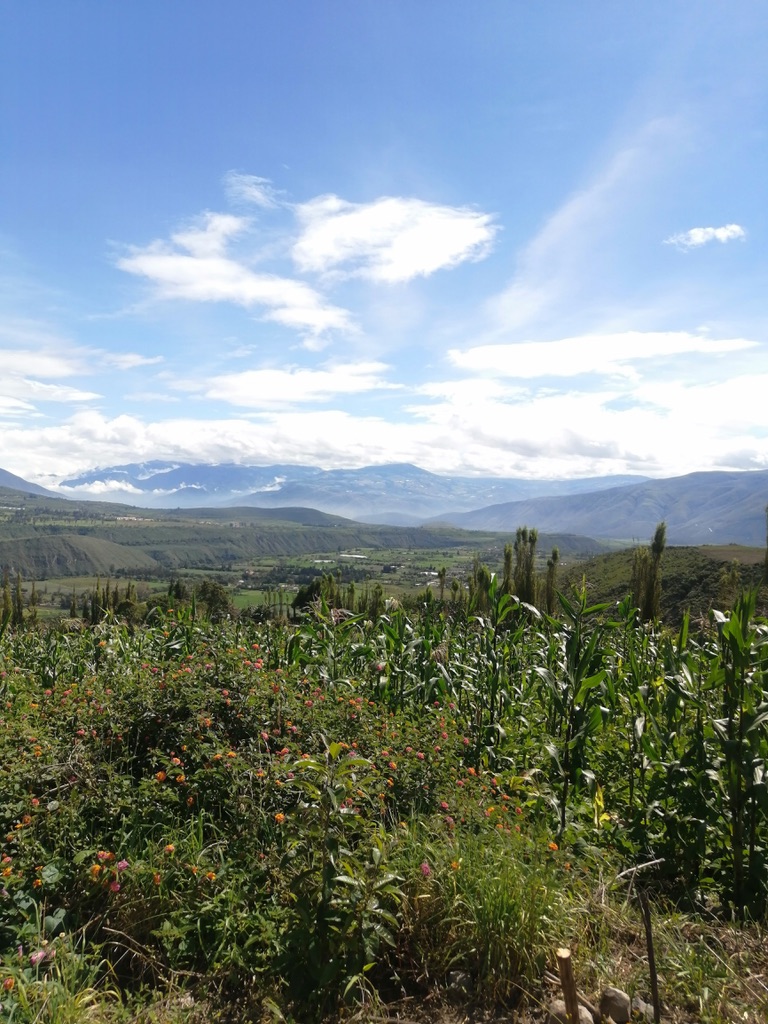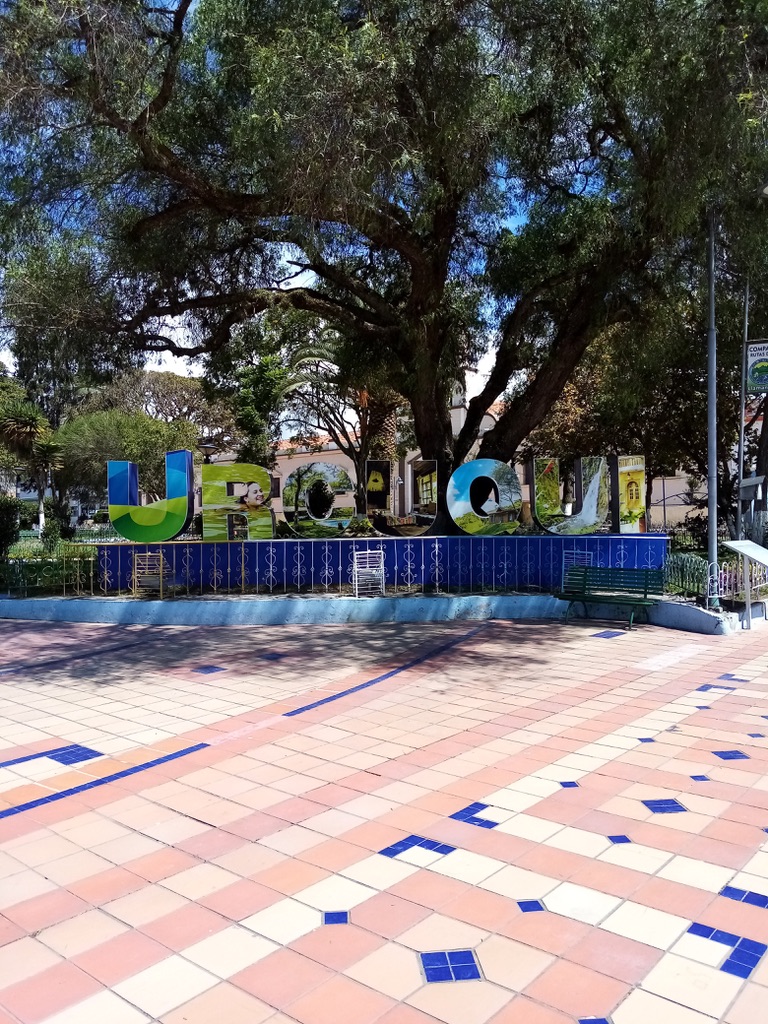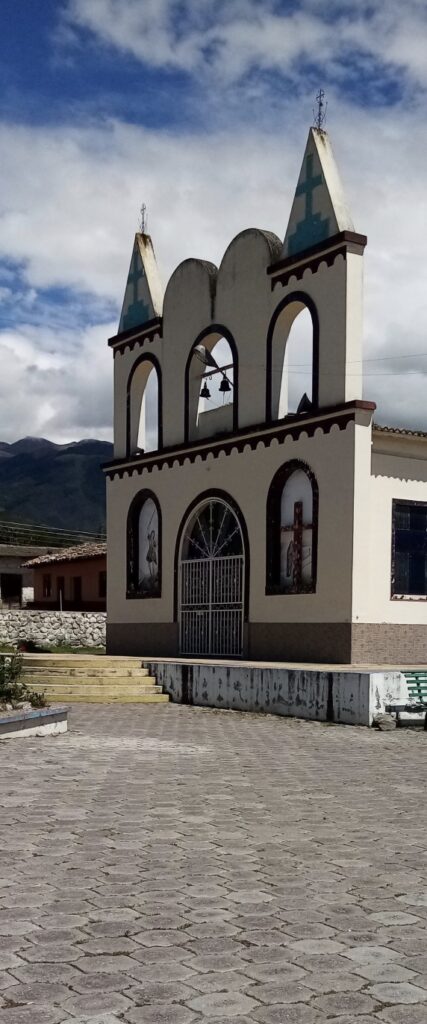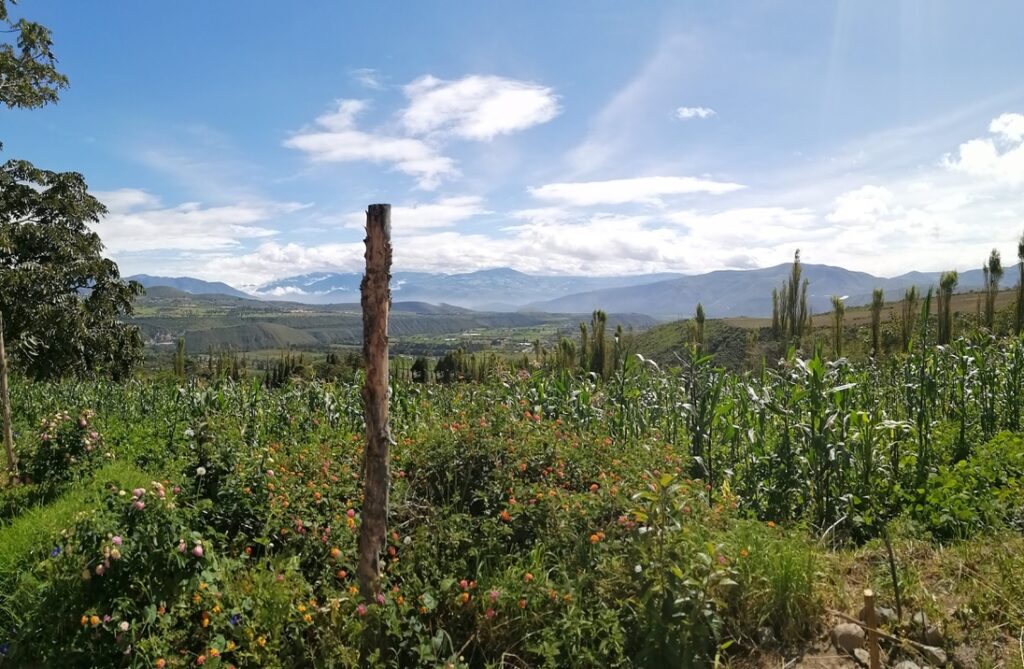 Several thermal pools to visit / Chachimbiro termas
When you finally arrive at Chachimbiro, you'll soon notice there are different options to choose from.
At the end of the road you'll find the oldest pools, the Santagua Termas. Owned by the community nowadays , they offer the best price, although the facilities are a little old fashioned. That doesn't mean though, you won't enjoy the baths. That relaxing sensation can be felt in any thermal bath.
The Termas Arco Iris is a good alternative. They worked hard to modernise the facilities, like changing rooms, toilets, et cetera. As a consequence the price went up from $4 to a somewhat overpriced $7.
Some general remarks about the pools
All these options feature multiple pools (between 8 and 20). Pools with hot, warm, lukewarm & icy cold water.
The water of the hot/warmer springs are yellowish because of the many minerals, like sulfur, iron, copper, iodine & others. The water temperature in the hottest pools can rise to 45ºC-48ºC. Hot enough to get you relaxed, sleepy and transpiring.
The polar pools are to even it all out. At least if you want to get your nervous system going & wake up your heart.
In general, the sensation of sitting in hot, warm or cold water is the same everywhere. Always relaxing. Surely when it's outdoors and you are surrounded by a beautiful, green environment.
The only difference – I would say – are the facilities & the entrance fee. Santagua Termas is the oldest and nearest to the volcanic source. The pools of Arco Iris are surrounded by the most beautiful plants & flowers.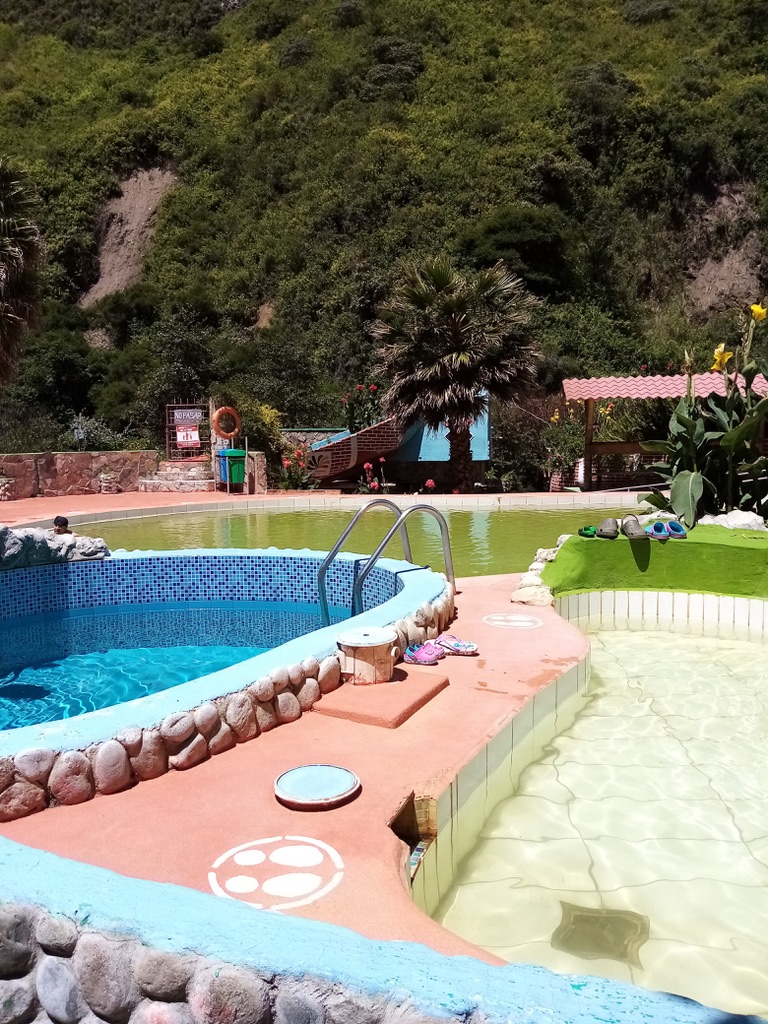 Tips & recommendations for your visit to Chachimbiro
Start your day-trip in the morning. It's the best chance to enjoy the ride to and from Chachimbiro.
At every pool complex you can buy snacks & drinks. However, it's no problem to bring your own.
Besides snacks & drinks every pool complex has its own restaurant.
Besides that, there are several restaurants along the way. Mostly with traditional, affordable Ecuadorian dishes.
The area is ideal for a picnic. Pick your view along the way.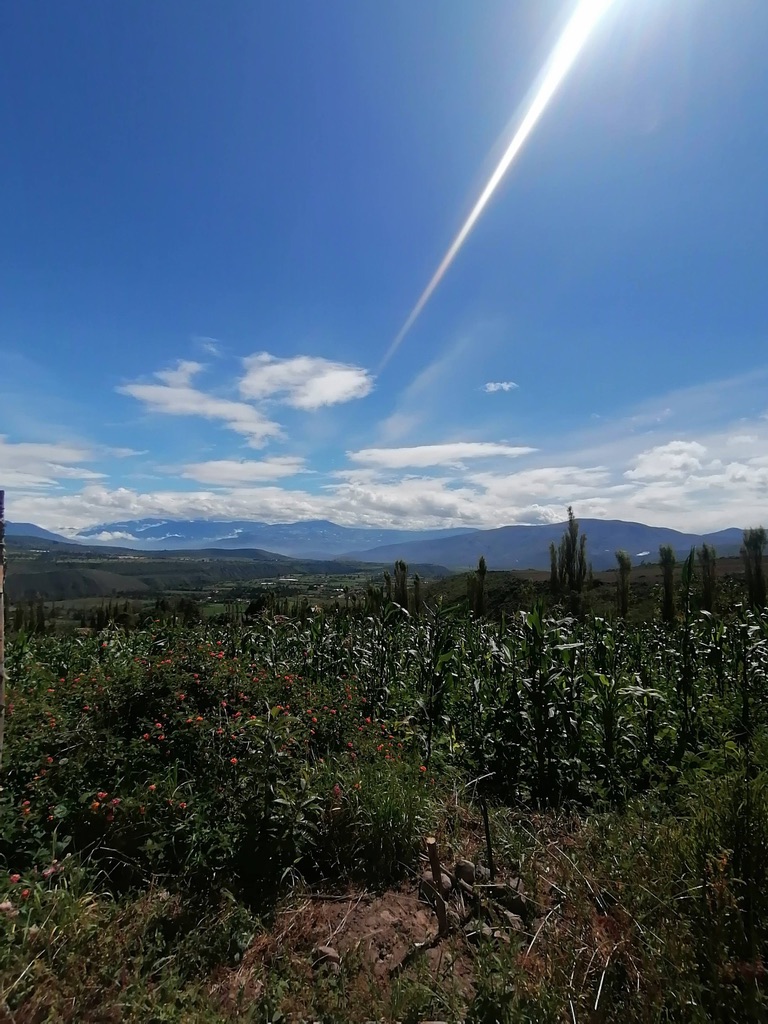 Be prepared for every type of weather: cold, warm, sunny, rainy. 
Protect yourself from the sun (at least Protector 50).
As Chachimbiro is located just under 3000m/ 10000ft be prepared to "feel" the altitude. In other words, the fact there's less oxygen. Something you'll notice soon enough. Take a hot bath, but not too long. Alternate with warm, lukewarm and – if you like or dare – polar cold water.
Besides a swimming outfit, bring a bathing or baseball cap. In some pools it's required to wear them. But overall a good idea, protecting yourself from the sun.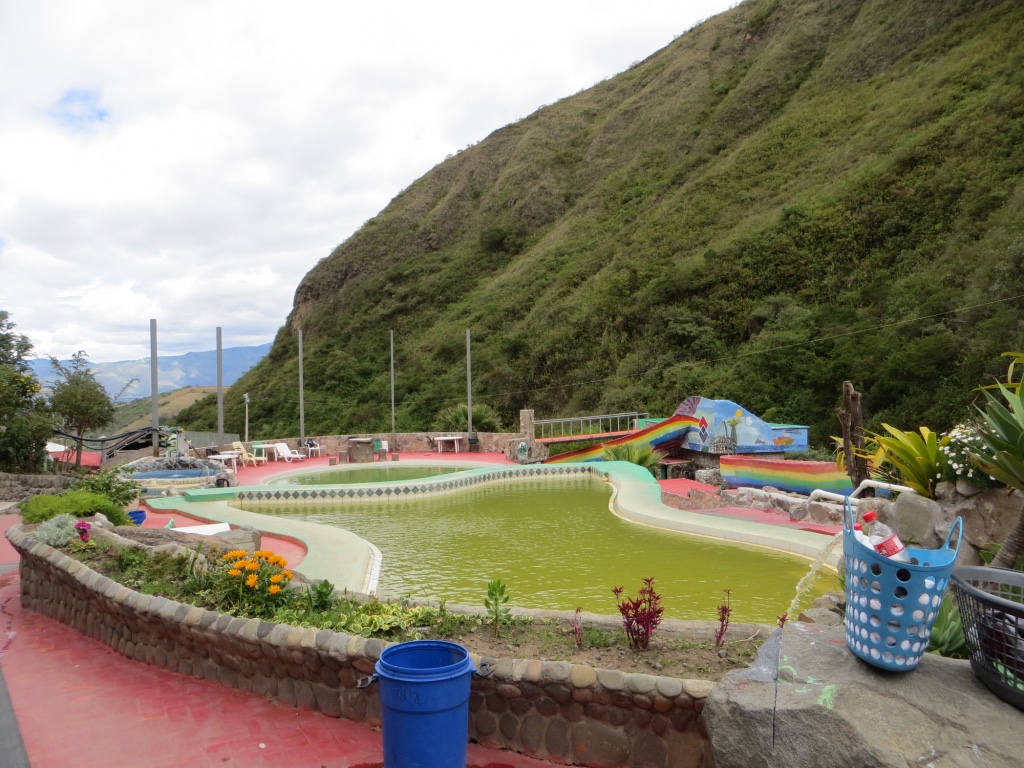 Transport to Chachimbiro
From Otavalo you can take a regular bus from Otavalo to Ibarra (every 10 minutes). There you have to change over to a bus to Urcuquí (somewhat less regular, but still available). From there, it gets a little tricky. No regular buses go from Urcuquí to Chachimbiro, but you can arrange a taxi or pickup from there. Estimated price, $5.
Alternatively we – at Hotel Doña Esther/Restaurante Árbol de Montalvo – can arrange a taxi for you. For a good price & driven by a friendly, trustworthy & professional driver.
IMPORTANT: We can only provide this service to guests of our hotel.
Although you can get a snack & drink, and restaurants at & near the baths, if you like we can prepare a take-away box lunch ($6.00 each) for you at our Hotel.
Contact us:
Just write to us with your questions & wishes, and we'll help you out:
.
*****
.
For other Things to do in & around Otavalo, go to: Otavalo Attractions
For an overview of all travel posts of my blog, go to: the Home Page.
Final message, for fellow travel writers & bloggers: TravelPayOuts is a global integrated affiliate program focused exclusively on travel offers. If it works for me, it will probably work for you too: TravelPayOuts.