Visit Spain, first stop: Barcelona
As you could read in my Introduction to Spain, we started our visit in Barcelona, capital of Cataluña. After which we continued on to Valencia, Úbeda, Granada and Sevilla.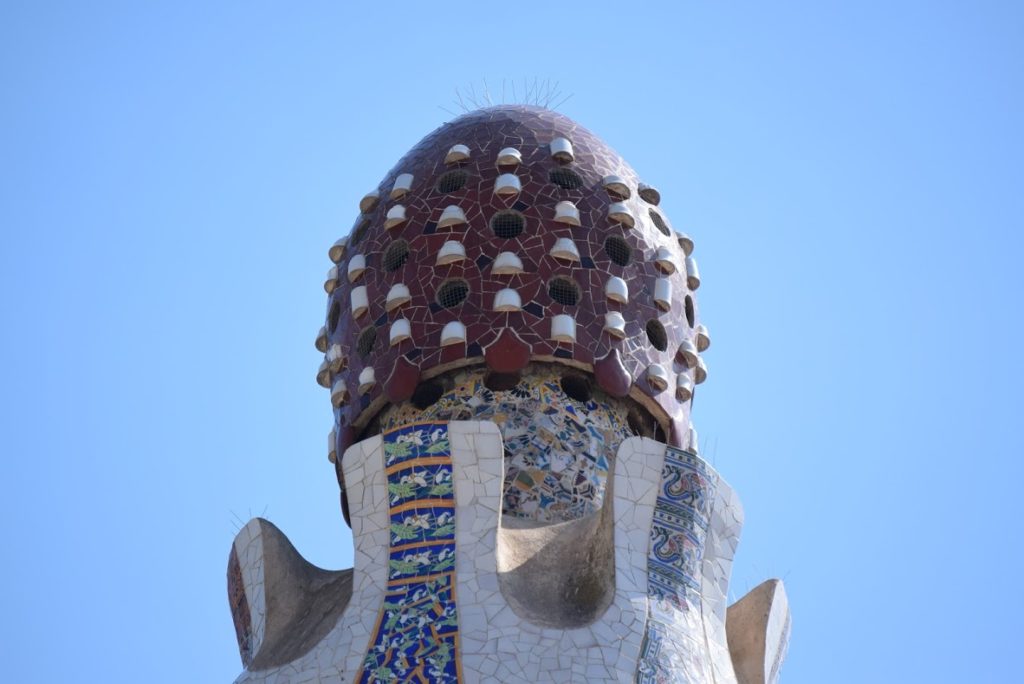 Throughout this post you'll find affiliated links & ads provided by marketing platforms like TravelPayOuts & GetYourGuide. Links & ads that may help you plan the perfect trip to Barcelona. If you click on them & buy a ticket for a museum or book a tour a small commission of your purchase will go to me (paid by the platform, without any extra cost to you).
If you first want to learn a little bit more about me, the blog writer, click on: Better call me Art
TRAVELTIP: Getting from/to the Airport
After studying all the options of getting from the airport to the city center, we chose to take a taxi ($40-$45). Although there are cheaper options (metro or bus), we preferred a taxi mainly for two reasons.
We would surely be tired of our flight from Quito to Barcelona
… and because of our luggage.
If you prefer to arrange your Airport transfer to or from Barcelona beforehand I'd like recommend you to Happy Transfer Barcelona.
To learn more, go to: Airport transfer Barcelona
TRAVELTIP: Use of your phone/access to the internet
Buy a Prepaid Sim-card for your phone. On our first day in Barcelona we bought one, which easily covered the three weeks we travelled through the country.
We mostly used the internet to find our way (GoogleMaps in town, Waze on the road). But also, to get information about the attractions we wanted to visit. Besides that, to order a taxi through Uber or Cabify, or for our personal correspondence/social media.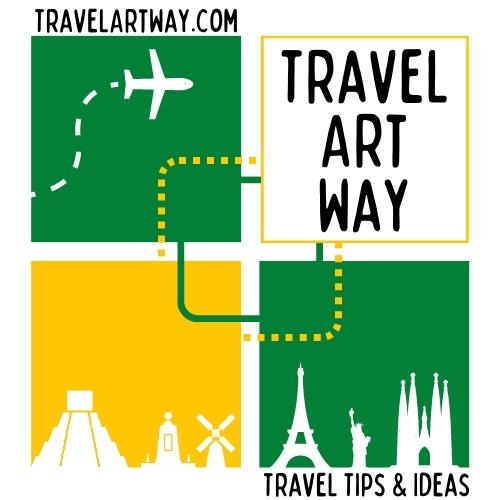 The Gothic Center of Barcelona
The first full day of our visit to Barcelona we spent exploring the city center. First of all, we got to know the Gothic Center/Barri Gòtic (Catalan), which is really worth a thorough exploration. Its a beautiful labyrinth of small streets, squares or plazas, historic buildings, museums, little shops, (tapas)-bars and restaurants.
There are just too many things to mention. Just walk around, it doesn't matter whereto or at what time. Look around, get the feel and imagine yourself in medieval times.
We visited the Gothic Center on a daily basis – because our hotel was nearby – but we discovered something new every day.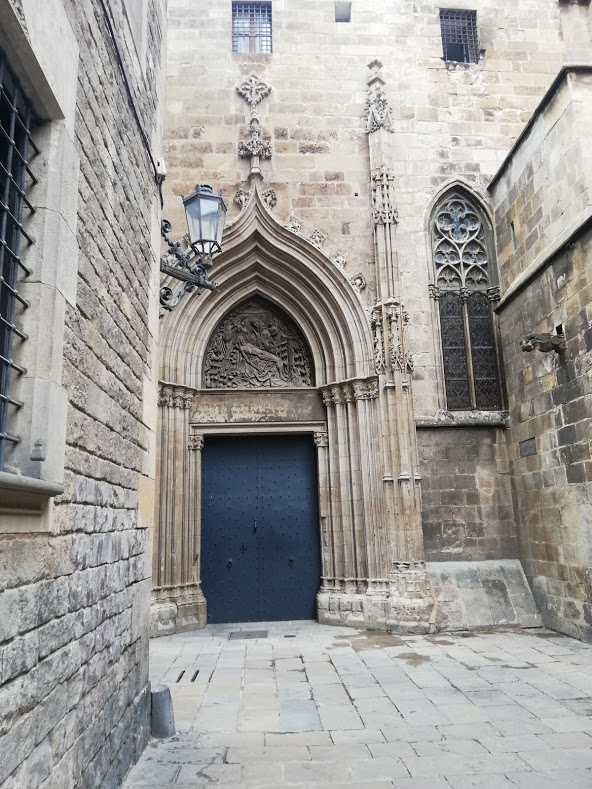 To really get to know this central historical area of Barcelona, I would recommend the following guided tour.
To learn more:
Historical museum/ Museu D'Història de Barcelona
One thing we all wanted to visit in the heart of the Gothic Center was the Historical Museum of Barcelona.
This impressive museum brings you to a level underneath the actual city of Barcelona, where you'll find its Roman remains. The Romans named this strategic post on the Iberian coast Barcino. It was founded by Emperor Augustus in 10 BC. For the history-buff, this museum is really a must.
Instead of walking along a serie of artifacts that try to give you a feel of the past, you actually walk through the old foundations of the city. Through old streets, along houses, living quarters, former shops, old wine cellars, baths,… really impressive.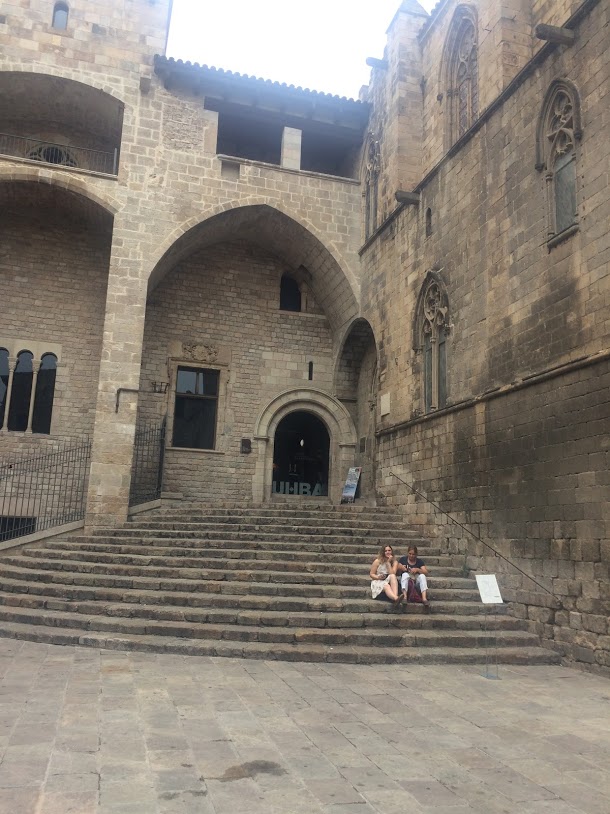 A big part of the museum lies underneath the Plaza del Rey/Plaça del Rei. The place where Columbus supposedly met the Catholic Kings Isabella & Fernando after his first voyage to America (in April 1493). Imagine that? A visit to this ghostlike old square is part of a walk through the history of Barcelona and Spain.
TRAVELTIP: Discount with Student card
If you have one, bring your Student card. Even our daughter – who's studying in Quito, Ecuador – got discounts on tickets everywhere. Entrances to museums, monuments, churches & other attractions we visited all over Spain.
TIP: Getting to the Jewish Quarter
Although we crossed the Gothic Center many times, without really going anywhere, it was only on the last day that we got to the heart of the neighbourhood, the Jewish Quarter. A heart that you can easily miss, although it is mentioned on every map you can get.
Little by little we realised that we wouldn't get there just wandering around. So, on the last night we decided to actively look for the Jewish Quarter. Surprisingly it was just a question of rounding a corner we hadn't turned before. It "turned" out to be a beautiful, mysterious part of the city center. Worthwhile enough to leave you the tip.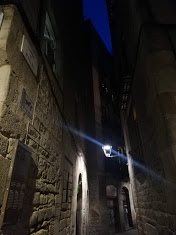 Visit La Rambla, Barcelona
The Gothic Center is a welcome escape from La Rambla (also called Las Ramblas). La Rambla is the central avenue that crosses the whole center of Barcelona. It attracts thousands of tourists, but – for us – wasn't really that interesting.
The main attraction probably are the many people – from all over the world – that you encounter on La Rambla. I would recommend you avoid eating or drinking something on La Rambla. Generally it's very pricy & of poor quality.
TRAVELTIP: Visiting La Rambla?
The truth is, when you visit the central part of Barcelona, you can't avoid La Rambla. Somehow you end up on that street anyhow and probably several times. So, knowing that, if you do walk this world famous "runway" – 1,2 km or less than a mile – look out for the big mosaic of the Barcelona artist Joan Miró. Not just an artwork to walk by or over and admire, but also a place to remember.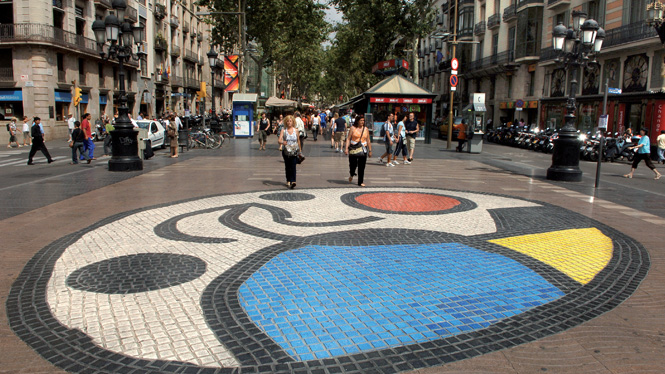 On August 17, 2017 there was a terrorist attack on La Rambla. A fanatic drove his van over the middle of the walkway, killing sixteen tourists and wounding many many more (physically & mentally). After about half a kilometer the van finally came to stop. Just on the mosaic of Miró, after which the terrorist got away on foot. He was killed four days later by the police.
During our visit – on August 17, 2019 – we witnessed a ceremony on the spot, commemorating the victims. Impressive for the many journalists, photographers and authorities present. But more so, because of the presence of people who lost their loved ones & the many witnesses who were obviously still traumatised by the tragedy.
TRAVELTip: Getting Around in Barcelona
Although we spent a lot of time in the old neighbourhood, Barcelona is a much bigger city. To get to know it, you have to make use of the public transport. We mostly did travel around by metro and sometimes by bus – fast, safe and cheap.
The best tip I can give you concerning Public Transport is to buy the Hola Barcelona Transport Pass before you travel to Barcelona (more so, because a pass to connect with the Barcelona airport line is included).
To learn more, go to: Hola Barcelona Public Transport Card
If using public transport I'd like to recommended to download the TMB-App (Transports Metropolitans de Barcelona), that provides you with a users guide. That is, … all you need to know about getting from A to B, maps, timetables and tickets.
Another alternative is to make use of the Hop-on Hop-off bus which leads to every mayor attraction in the city (Including for example the popular stadium Nou Camp of FC Barcelona).
To learn more, go to: Hop-on Hop-off Bus Tour Barcelona
To learn more about the Barca football stadium, go to: A tour of Nou Camp + club museum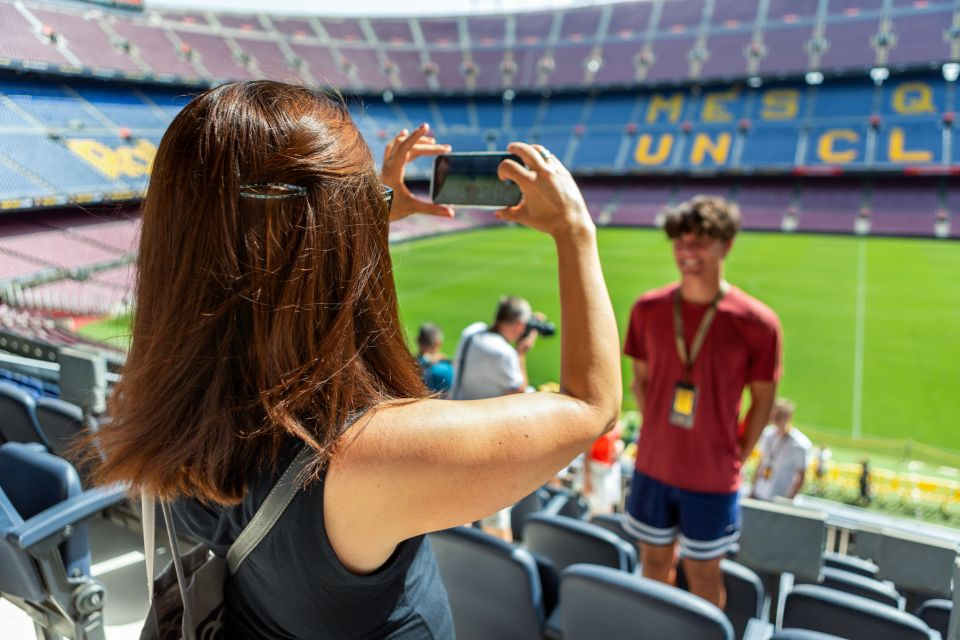 Finally, if you want to hold the whole city in the palm of your hand for a while, you can make a tour above the city in helicopter.
To learn more, click on: Helicopter tour of Barcelona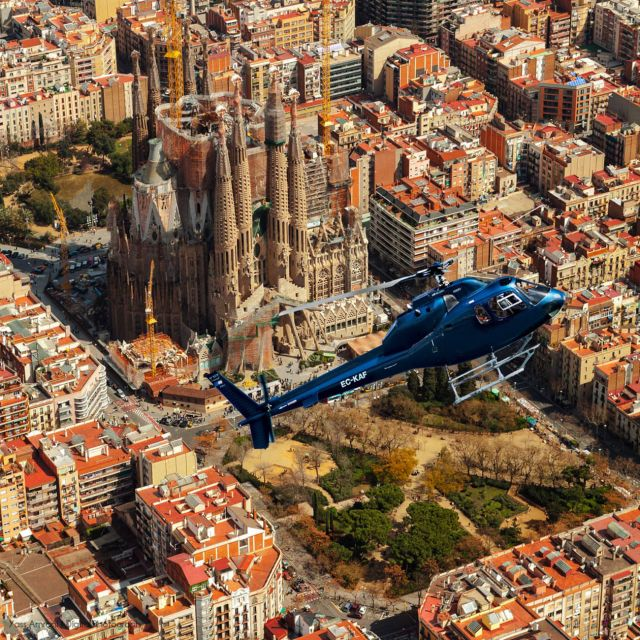 Gaudí-Day in Barcelona
The second day we planned to visit some highlights left by the famous Barcelona-architect Antoni Gaudí (1852-1926). Reason why we baptized it Gaudí-day. In the morning we planned a visit to Park Güell. In the afternoon Gaudí's main project, the cathedral of the Sagrada Familia.
Park Güell
We bought the tickets for Park Güell in advance, because it's always busy at the entrance.
If you go by metro, head to Alfons X (Line L4), and from there – preferably – take a bus uphill (included in the Barcelona Transport Pass). A good idea, because its a steep climb up to the park from downtown. Knowing that the park itself runs uphill too, it's better to save some energy. More so, on hot summer days.
By the way, the upper part of Park Güell (the green zone) is free for everybody. It won't be a surprise that the higher you climb this natural area, the better the views you get of the city of Barcelona and the sea behind.
This means, your entrance ticket give you access to the lower part of Park Güell where you'll find several remarkable buildings designed by Gaudí. One of them, the house where he lived in for many years (until his death in 1926). This house nowadays is the Casa-Museu Gaudí.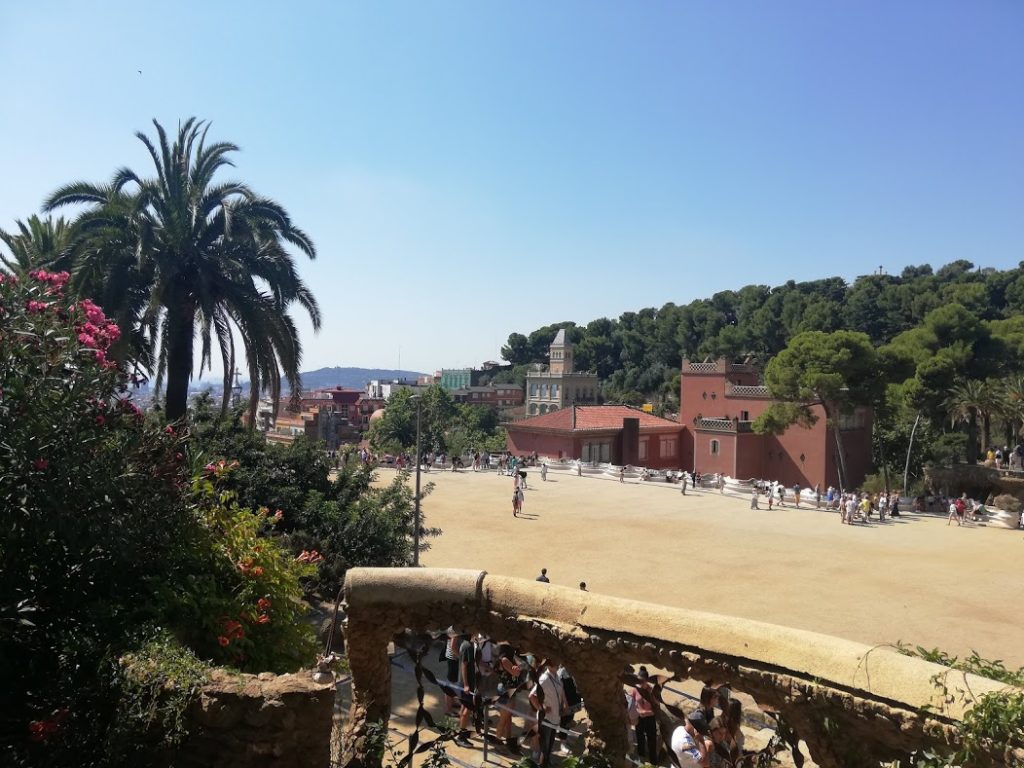 To learn more, click on:
La Sagrada Familia
In this blog I won't get into details about Antoni Gaudí, because there are already so many interesting sites about him. However, I have to say that Gaudí is part of Barcelona's history as much as – let's say – the Roman remains in the Gothic Center or the glorious soccer team of FC Barcelona.
The main building he left his native city is the Sagrada Familia. If you want to get to know Barcelona, you can't do without a visit to this impressive monument.
As many of you probably know, Gaudí himself never saw the result of his unique design. In fact, the fulfilment of his dreams is still going on.
The plan is to finish the cathedral in 2026, exactly hundred years after Gaudí's death. The principal work that is left, is to finish the towers that still have to go up higher – "up until the heavens".
These towers are going to make the Sagrada Familia the highest building in Barcelona. (Which doesn't mean it's going to be the highest point in Barcelona. In Gaudi's mind the church couldn't be higher than the natural surroundings made by god, like the hill of Montjuich.)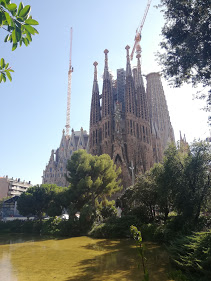 TRAVELTIP: On visiting the Sagrada Familia
The first tip must be common knowledge by now, but you never know. Because of the millions of visitors every year, you must buy entrance tickets to the cathedral beforehand. That sometimes actually means, months ahead. It's best is to buy them online (also to avoid standing in long lines for hours in front of the ticket office).
Many visitors are of the opinion that you can skip the towers (extra time, extra money). I partially agree, but if you're finally there …. why not? You decide. However, you can NOT skip the museum though (no extra cost), which gives an interesting historical overview of the construction. There is also a worthwhile museum shop. 
To know if tickets are still available for the dates you plan to visit the Sagrada Familia in Barcelona you can use the following widget:
A last useful tip is to visit the Chapel at the back of the cathedral (free entrance). Here you'll find Gaudi's crypt, the builder. As well as the tomb of Josep María Bocabella (1815-1892), who got the original idea of building the Sagrada Familia. You have to leave the main building, to get to the chapel.
Our Late Afternoon visit to the Sagrada Familia, Barcelona
We visited the Sagrada Familia in late afternoon. Because it was a little later in the season, a perfect time. Mainly because after a certain hour the sunlight starts playing a game through the stained-glassed windows and on to the interior walls. A game no visitor present will escape. For Gaudi the main objective of this effect was to underline the presence of god inside the cathedral.
A believer in the Christian god or not – we were there with people from all over the world, many of whom weren't born Christian – you won't forget a visit to the Sagrada Familia. (My daughter Lisa, as a student of Architecture got really emotional walking into this brainchild of Gaudí).
To resume, we had a perfect Gaudí-Day, combining Park Güell & the Sagrada Familia.
To learn more:
Other Gaudi-landmarks
Surely, the Sagrada Familia is Antoni Gaudí's most famous landmark, followed by the beautiful Park Güell.
However, there are others you can visit in Barcelona, like the following three houses:
The first house built by Gaudí was Casa Vicens
A later one & nowadays more famous was Casa Batlló
Finally, there's Casa Milà (popularly known as La Pedrera).
All worthwhile your visit, when in Barcelona.
Learn more: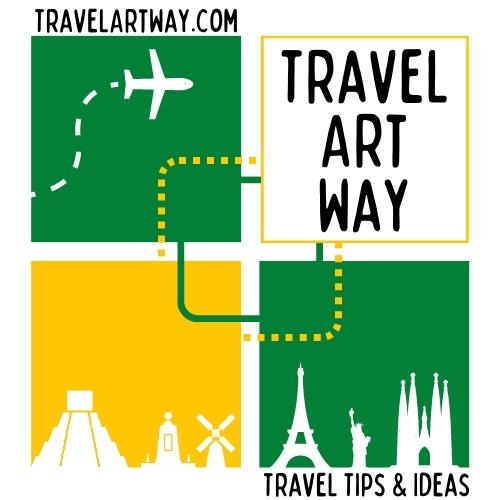 The Picasso Museum
Although Barcelona is known as the City of Gaudí, many people come over for another world famous artist. The painter, printmaker, sculptor, ceramicist & theater designer Pablo Ruiz Picasso (1881-1973).
Picasso was born in Málaga, Andalucía, but came to Barcelona with his family at a young age. You can say that – although he lived there only for nine years – it was this city that laid the foundations for his work as an artist.
As a young man he would change Barcelona for Paris, but he had a lifelong connection with the city of his youth. Besides the fact that the rest of his family stayed behind in Spain.
The Museo Picasso in Barcelona is the only one that opened its gates when the famous painter was still alive, namely in 1963. From that day on thousands of visitors arrive every day to have a look at a big part of his enormous art-collection. A collection which grew over the years to over 4000 items.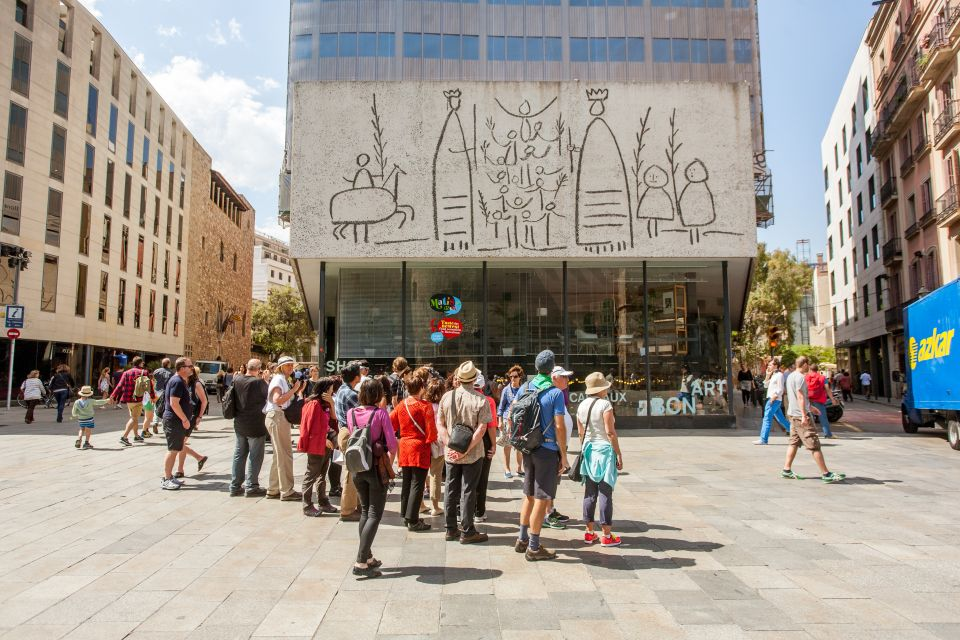 Besides the Sagrada Familia the Picasso Museum nowadays is one of the most visited attractions in the city. Long lines form daily in front of the museum which is located in the old-town neighbourhood of Ribera where the Picasso's lived a century ago.
TRAVELTIP: Buying tickets for the Museo Picasso
Besides buying a direct ticket from the Picasso Museum website entrance to the museum is also included in the ARTicket Pass for Barcelona.
A special pass which provides skip-the-line entrance to 6 Top Art museums in Barcelona. Besides the Museo Picasso, also to the Museum of Contemporary Art, the Fundació Antoni Tàpies, the Joan Miró Foundation, the Museu Nacional d'Art de Catalunya, and the Centre de Cultura Contemporània de Barcelona.
To learn more about this pass, go to: ARTicket BCN Museum Pass
Another possibility of course is to include a visit to the museum with a guided Picasso Walking Tour along locations where the painter lived & worked during his years in Barcelona & his many consequent visits.
To learn more about this tour, go to: Picasso walking tour + museum
Barcelona City Pass
The Barcelona Wax Museum
Another popular museum that attracts many visitors – especially families – is the Barcelona Wax Museum. A real fun experience.
Organized around over a dozen of themes – Pop culture, Sports, Science, Magic, the Universe, Pirates – you can come face to face with famous people like: Leonel Messi, Leonardi Di Carpio, Taylor Swift, Forrest Gump, the cast of Star Wars or the popular Spanish Netflix series of Money Heist.
To learn more and/or buy your tickets in advance, go to: Barcelona Wax Museum
A visit to the Hill of Montjuich, Barcelona
On the morning of the third day in Barcelona we went to the Montjuich/Montjuïc, the birthplace of Barcelona. This impressive hillside accommodates several attractions. There's the old castle of the same name, as well as several museums, some beautiful gardens, and of course many viewpoints.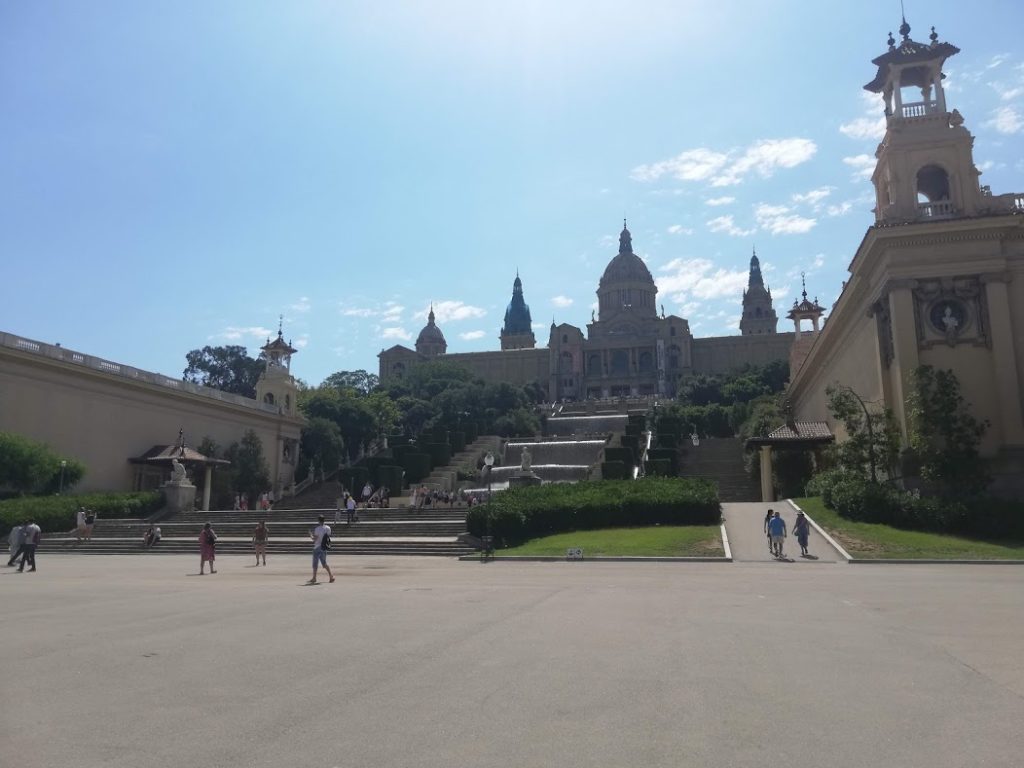 After my daughter brought a short visit to the small, but impressive Pabellón of Barcelona – designed by Mies van der Rohe for the 1929 International Exposition – we decided to walk up the hill.
However, when we got to level of the impressive Museo Nacional de Arte de Catalunya, we noticed it was still a long way up to the top of the hill.
TIP: Transport to top of Montjuich
So we decided to head down and take the metro to the top. The funicular car starts from Metro station Parallel (Line L2) and takes you up in few minutes.
Alternatively, you can go to the top with a cable car. Actually, two. Although the Telèferico is more expensive, it provides some attractive stops & spectacular views of Barcelona.
Book now:
Well, nice views is what you get anyway when you finally get to the top of Montjuich. It's best to take your time on one of the terraces overlooking the city of Barcelona and its surroundings. We ended up at the Mirador Miramar, with a drink, a bite and impressive bird-eye views.
TRAVELTip: Take a break during your visit to Barcelona
Barcelona has so many attractions, you can't visit them all in few days. Besides that, visiting the city in the middle of summer takes more of your energy than you sometimes want to.
So, better take a break once in a while. Besides relaxing at night, having a bite and/or a drink in one of the many restaurants and bars, we found two places were we ended up in the afternoon to relax for a while.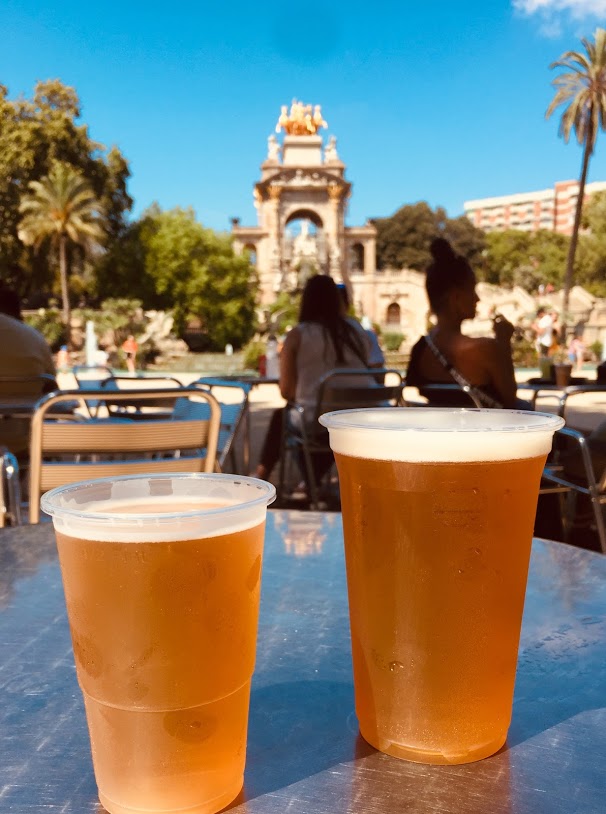 Parc de la Ciutadella, Barcelona 
Several times we ended up in the Parc de la Ciutadella. The most central park in town, with enough space to sit or lie down, have a picnic or a quick nap (siesta).
In the middle of the park you find a nice terrace to have a drink or a snack. Besides that, there's a zoo, and the building where the parlement of Catalonia houses.
Buy your tickets in advance:
While there, we saw a lot of "rent a bikers", who were also looking for a shady place to relax a little from the warm, busy city center.
Reserve you bike now:
To get to the park from the city center its best to take the metro, bus or taxi. The main entrance is at the Arco de Triunfo, a most impressive gate to your well deserved break.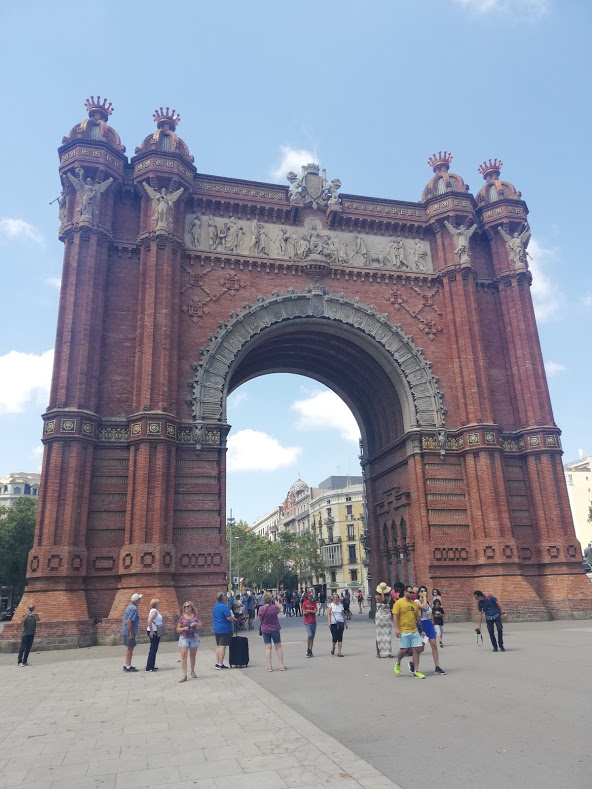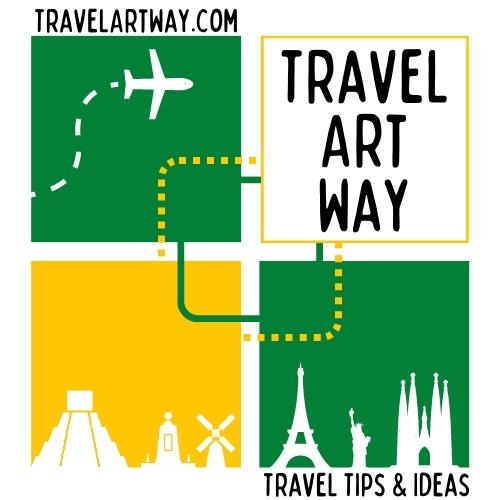 The Beaches near Barcelona
On others days we ended up at the beach.
While on our way the first time, we had a quick look into the Maritime Museum/Museu Marítim. We found it a little chaotic, hopping through time as quick as you can walk, but found some real highlights.
First of all, a map that was owned by the famous Italian navigator Amerigo Vespucci. Vespucci, who worked for the Spaniards discovering new parts of America, accidentally lending his name to the whole continent.
Further on, we encountered an impressive real size replica of a vessel from the 16th century called the "Juan de Austria".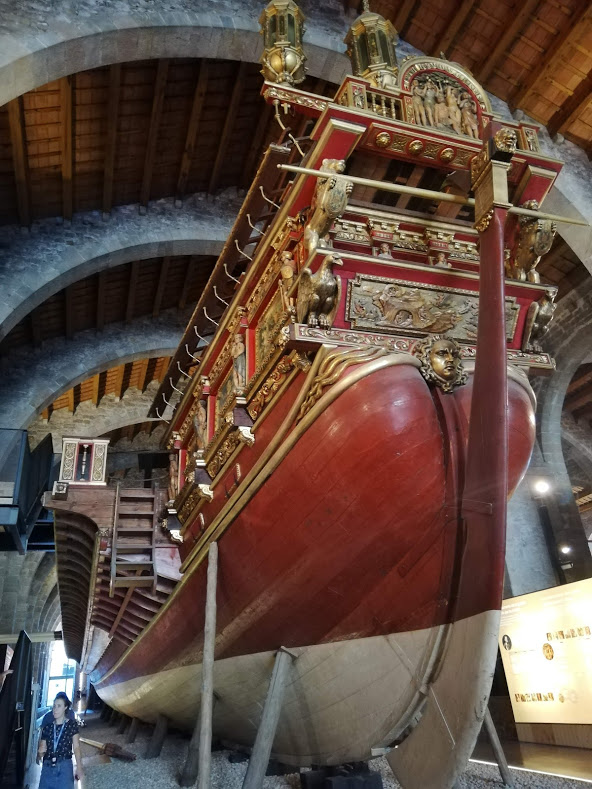 Almost in front of the museum you'll find the famous statue of Christopher Columbus, still pointing out to sea. At the entrance of the museum you'll find a beautiful small replica of this statue.
TIP: Free entrance on Sunday afternoon
Some museums – not all – are free to visit, after 15:00 hours on Sundays. The Maritime Museum is one of them.
After the Maritime Museum we had to see the real deal and headed out to the sea front of Barcelona. Well, foremost the beaches… to relax a little.
The nearest beaches to the city center you'll find in the neighbourhood.of Barceloneta.
Near the museum, at the southern end of La Rambla, we hopped on the bus and were there in 10 minutes. We went to these beaches twice and it was full of people – mainly local people, because of the weekend.
The beaches are rather small, but fine for a fast escape from the summer heat. And if you want a quick dive in the somewhat wild Mediterranean sea.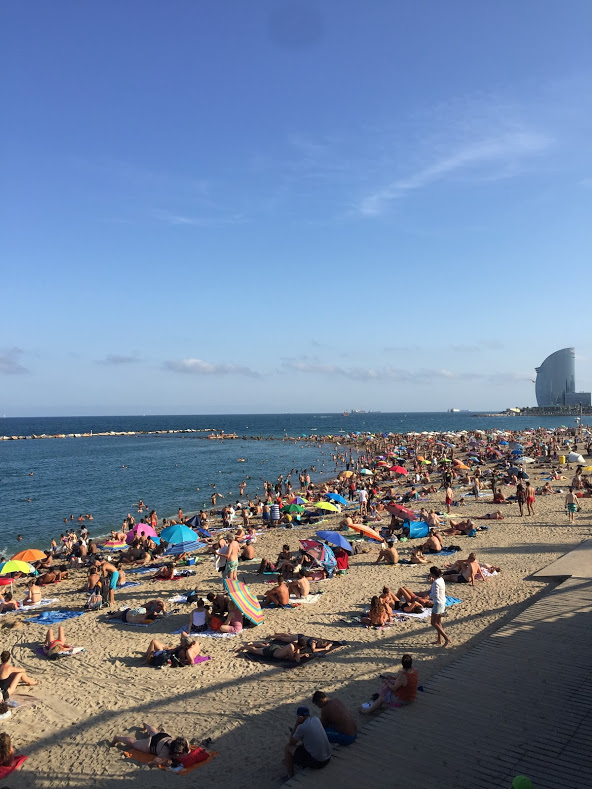 On eating out in Barcelona
I don't plan to give too much eating-tips in this blog. Only if I really think it worth to mention a certain place or restaurant, I will. I would recommend everybody though to avoid eating/drinking on La Rambla. Generally it's less quality for more money and no guarantee for a better service.
Tapa-bars
Besides a visit to a restaurant or a food-stall at the market, Spain is famous for its Tapa–bars. Every Tapa-bar has its own rules, but generally a tapa – "a tasty bite" – comes with a (alcoholic) drink you order.
Usually the tapa "belongs" to the drink you ordered – that is, it comes with the drink for free. Other times though, you have to pay for it.
In Barcelona we visited several Tapa-bars and had to pay for both drink and food. When we got to the south of Spain (Andalusia) we noticed that in many bars the tapas came with a beer or a glass of wine…. that is for free.
Probably, this difference has to do with the region you are visiting. (It are mainly the Basques who are known for their tapas or pintxos). Or else, with visiting a tourist area or not.
The Markets of Barcelona
One tip to all visitors of Barcelona – and many other places in Spain – is to visit the local produce market. One of the most famous one in Barcelona and mainly for tourists is Mercat de la Boqueria (in the neighbourhood of El Raval, but on La Rambla).
The Boqueria deserves a visit, because you get to see and taste a collection of the finest products of the region and country. Besides the famous serrano ham, you'll find many kind of cheeses, olives, spices, bread, fruit, coffee, sweets & drinks. We even found a famous Dutch cheese (Maaslander), we couldn't resist (living in Ecuador). Don't miss the experience.
Besides the Boqueria, we visited the Mercat Santa Caterina, also central in the town center. This market is more modern and also had all the mentioned products, but for us didn't have the same ambience or attraction as the Boqueria.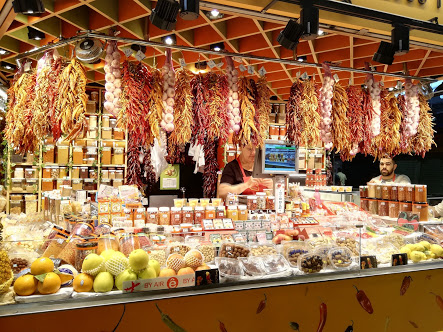 Cooking classes, food tours, the best tapas & others…
Alternatively you can "eat out" in a completely different way, like: (
Click on the names to learn more:
TIP: Shopping on Sunday
In this blog, I don't plan to say a lot about shopping either, but I will give you a good tip concerning Barcelona.
Beforehand, we planned to visit some stores in Spain that we miss in our homecountry Ecuador. So, in Barcelona we planned to visit the main shopping area in the neighbourhood of L'Exaimple, mainly the Passeig de Gràcia.
Originally we planned to visit this famous shopping street on Sunday, but noticed – just in time – that most stores are closed on that day.
Just something the real shoppers have to know, ….!
I have no idea if this fact repeats itself in every town in Spain? But be warned, better inform yourselves if you plan to go shopping on a Sunday.
Popular day-trips from Barcelona
My visit to Barcelona wasn't the first time. I was there once before when on vacation with my girlfriend & parents-in-law.
That time, we visited Barcelona only briefly, while staying in one of the many beach towns along the beautiful & relaxing Costa Brava. Combining it with a visit to the Montserrat monastery nearby.
This time, staying in Barcelona, we didn't feel the need to tour the country-side or go to the beach (besides the one near the town center, which I described earlier).
However, if you want to explore the countryside around Barcelona, there are some beautiful options:
Just click on there names to learn more:
Starting with the mentioned Montserrat mountain range & monastery. The most popular day-tour from Barcelona by far. Although I was there many years ago, I still remember that visit very well. An impressive site & highly recommended (duration: 5-9 hours depending on your personal choices).
Also a popular tour while in Barcelona is a visit to 2 other countries nearby – France & Andorra – to make it a unique 3-Countries/1-Day-Trip (full day).
The best way to escape the city for a day & relax a little is an Exploration of the Costa Brava. Visiting the beautiful city of Girona, several old fishing villages, inviting beaches & old Roman remains.
Another Costa Brava brings you not only to Girona but also Figueres to visit the Salvador Dalí museum & theater. Dalí was born in Figueres & lived there at the end of his life until his death in 1989. He lies buried in a crypt below the stage of the Theater-Museum dedicated to him (full day).
Popular also is a Tour of the Wine Fields around Barcelona. A trip that can't go without trying the local wines, besides tapas & other delicacies (6 hours).
Finally, if you want to relax on the Mediterranean Sea for a while you can join a Catamaran Cruise. Admiring the beautiful city of Barcelona from a distance (1 hour).
To put our visit to Barcelona, Spain in a few words
Every day we were in Barcelona was filled to the last hours. We enjoyed the city tremendously. And we weren't the only ones. Millions of tourist visit Barcelona every year. Besides that, Barcelona is a multicultural metropolis in itself, as are many big cities in Europa nowadays. In the city center you hear more foreign languages than Catalonian or Spanish. Even most locals, who attend you at the main attractions, in restaurants and shops, often open the conversation in English. For us, living in South America, that wasn't really necessary, but for many tourist surely good for a sigh of relief.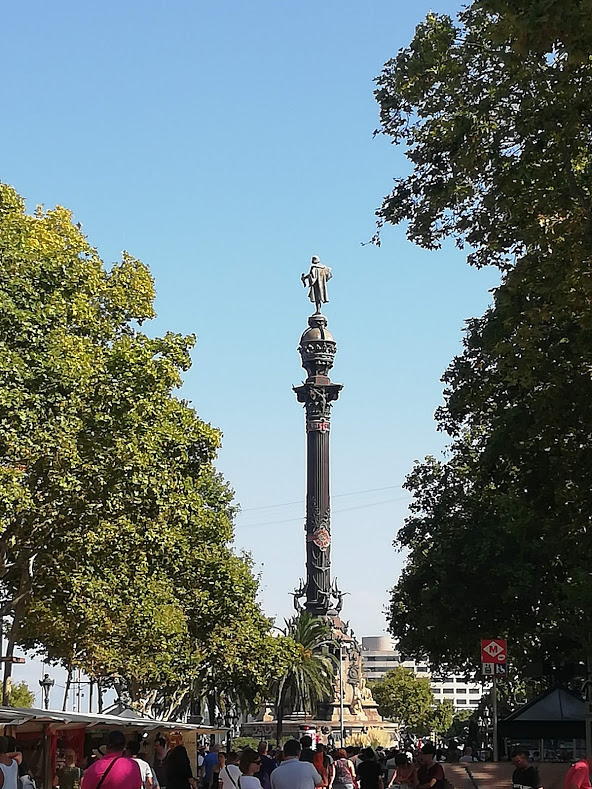 To us, Barcelona, Spain is worth another visit, because we missed out on many other attractions. Just to name a few: the Picasso Museum, the Nou Camp soccer stadium of FC Barcelona or Historical Museum of Catalunya.
We planned to go the artistic festival that was held in the Gràcia-neighbourhood at the time, but unfortunately didn't find time, nor the energy to go there, … instead decided to relax at night at a restaurant or bar. Next time though…
In all, we spent 5 nights, 4 whole days in Barcelona, but if you want to see the whole city and do all the things we didn't get to, it's better to stay longer: a week, ten days … Or even more, to get to surrounding areas as well.
All in all, a perfect start of our visit to Spain. A trip that continued on to Valencia, Úbeda, Granada and lastly Sevilla.
Final message for fellow travel writers & bloggers: TravelPayOuts is a global integrated affiliate program focused exclusively on travel offers. If it works for me, it will probably work for you too: TravelPayOuts.
For an overview of all travel posts of my blog, go to: the Home Page.