A visit to Morocco is a unique experience. This fascinating North African country has a lot to offer every adventurous traveller. Grounded in a long, eventful history.
A history that has everything to do with the fact that Morocco was conceived at a historical location on our planet. At the crossroad of two continents & two world seas.
If you – before reading any further – want to know more about the country's past, click on the following link: A Short History of Morocco.
LATEST UPDATE: Just as I finished this post, a heavy earthquake hit Morocco (September 8, 2023). Life in many parts of the country came to a standstill. Mainly in & around the epicenter – the small town of Ighil in the Atlas Mountains near Marrakech – but also in other parts, like Fez & surroundings.
Let's hope Morocco can still rescue as many people as possible from underneath the ruins left by the earthquake. As well as monumental buildings we and many other visitors visited & admired while travelling through this beautiful country.
Because of this emergency it may seem a bad time to promote Morocco, but let's not forget that – in the short term – your visit to Morocco can also help the country rebuild itself as soon as possible. In other words, visit Morocco as planned. The country needs you more than ever.
Introduction to Morocco
Morocco stands for an enormous diversity regarding peoples, local cultures, landscapes, customs, traditions & much more.
History lies buried at every corner. Hidden in ancient inner cities (medinas), within the walls of every fortress (kasbah), mosque or religious school (madrasa) or in eye-catching landscapes (mountains, valleys, the never ending desert, the Atlantic & Mediterranean seafront).
In that sense, nowadays Morocco lends itself – besides cultural trips – also perfectly for all kinds of outdoor activities, like hiking, biking, swimming, surfing & diving. Or else, an unforgettable safari through the Sahara desert – on camel-back if you like.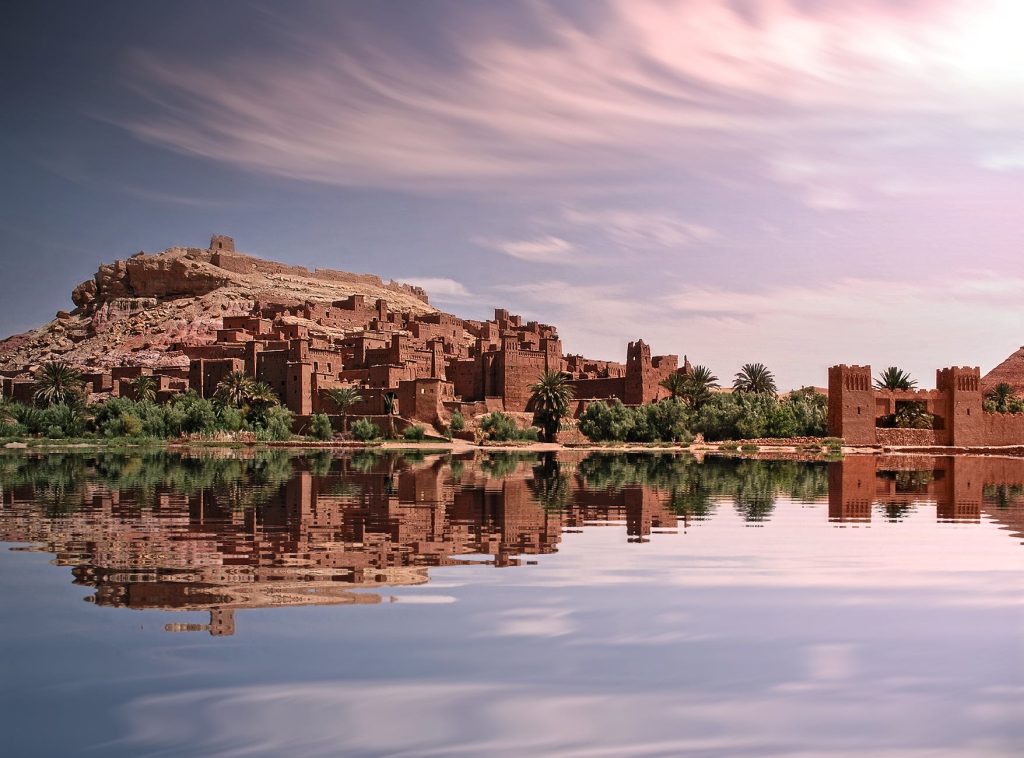 Most people include in their journey through Morocco at least one or two major cities. First of all, to get to know these mysterious labyrinthine places, but also to use them as a base for unforgettable outdoor experiences. Exploring the fascinating countryside around. Concretely, on day-trips or multi-day trips into the Moroccan mountains and/or the Sahara desert.
Just what we did in the summer of 2023.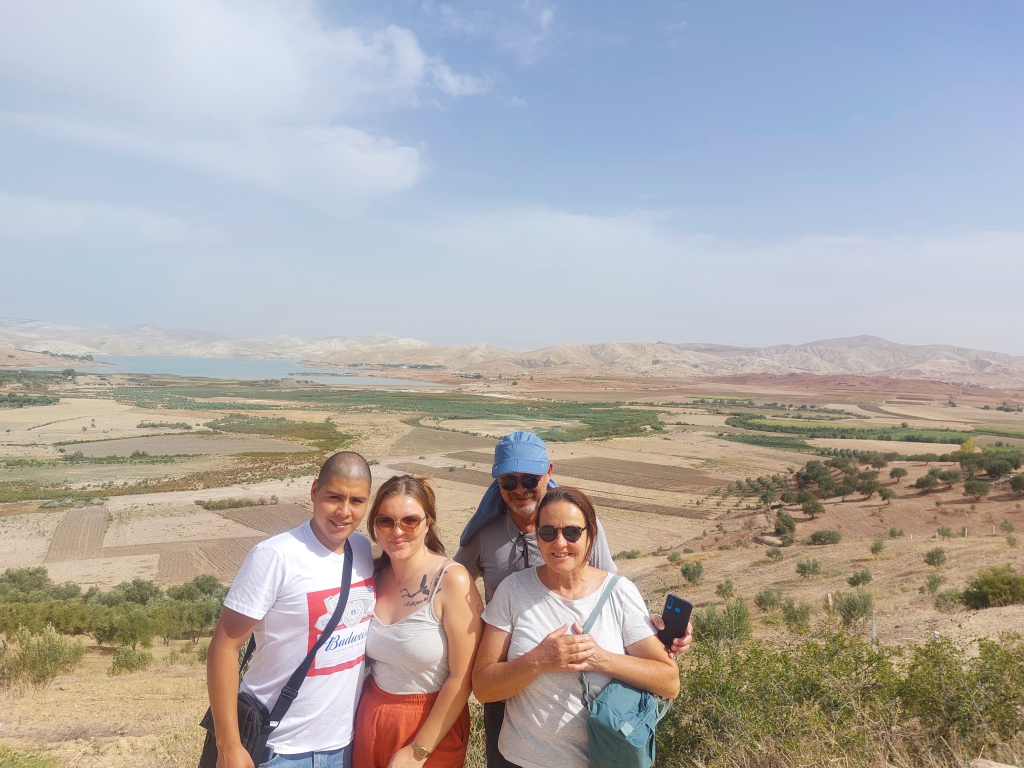 Me, Art & my wife Wendy, our daughter Lisa & her boyfriend Paúl travelling through Morocco. Here we are on our way from Fez to Chefchaouen. Admiring the Moroccan landscape – very dry in August – as well as the Sidi Chahed lake & dam from a distance.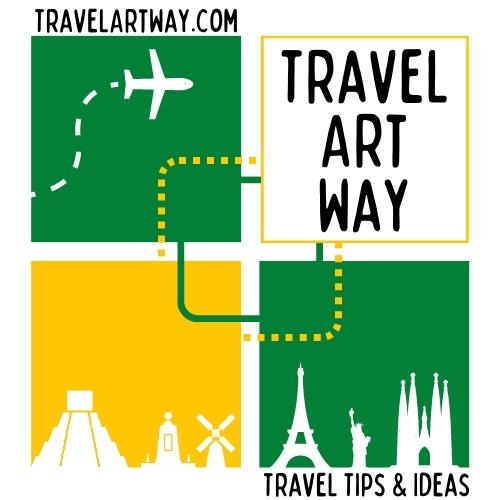 IMPORTANT: Throughout this post & others I'll give you TRAVELTips which may help you plan your upcoming visit to Morocco. Using also links provided by affiliate marketing platforms like  TravelPayOuts, GetYourGuide & others.
If you click on them & buy a ticket for a museum, book a tour or rent a bike a small commission of your purchase will go to me (paid by the provider, without any extra cost to you).
If you want to learn a little bit more about me, the blog writer, click on: Better call me Art.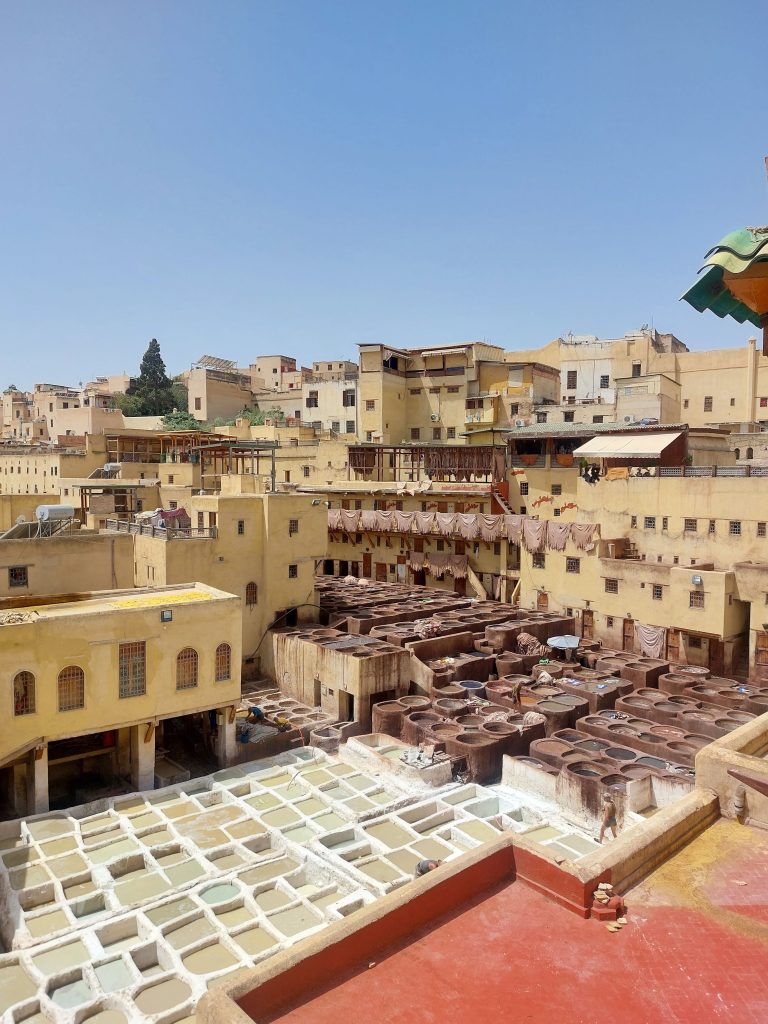 Overview of the old tannery in the medina of Fez. Still in use today.
Main reasons to visit Morocco
There are probably a million reasons to visit Morocco, but let's concentrate on the most important ones:
Morocco is a melting pot of diverse cultures. Blending Berber, Arab, Jewish & European influences.
Which can still be witnessed all over the country by visiting old excavations, ancient medinas (city centers) & entrance gates, magnificent palaces, mosques, madrasas (schools), kasbahs (fortresses), Jewish Quarters (mellahs) & many other historic landmarks.
Exotic products/souvenirs
Within the medina you'll find the colorful souks (shops/bazaars or market places), which offer a treasure trove of authentic handicrafts, delicacies, spices & many other exotic Moroccan products.
Stunning land- & seascapes
From the majestic Atlas Mountains to the vast, inspiring Sahara Desert, Morocco's landscapes are truly awe-inspiring. Ideal for outdoor activities.
The highest peak to visit in Morocco – North Africa even – is the Jbel Toubkal at 4167m/ 13,670ft in the Atlas Mountains.
Besides the domestic nature reserves, the Moroccan coastline offers unique spots to relax and/or admire the Mediterranean Sea and/or Atlantic Ocean. Or else, the European continent, located on the opposite side of the Street of Gibraltar.
Morocco is home to historical, vibrant & captivating cities. As well as colorful & age-old mountain villages.
Fez, Marrakech, Meknes & Rabat are known as the so-called Imperial cities.
Other popular places to visit in Morocco are Casablanca, Essaouira, Rabat, Tangier & Asilah. As well as the somewhat off-the-road destinations, like Chefchaouen ("The Blue City"), Meknes, Volubilis, Aït Benhaddou, Imlil, Tafraoute, Ifrane.
Moroccan cuisine is a delightful fusion of flavors, combining spices, herbs – influenced by various local cultures. And super healthy as an extra.
To name just a few popular MUST taste delicacies: tajines or tagines (slow-cooked stews, prepared & presented in earthenware pots), couscous (a dried & cracked pasta made from wheat), pastilla (a pastry pie) & mint tea.
Moroccans are generally known for their warm hospitality & genuine friendliness. Easily confirmed by our own experiences in Morocco.
General tips & ideas for your visit to Morocco
Weather
The climate in Morocco is as diverse as its landscapes. Depending on where you are & when.
The coastal regions have a Mediterranean climate, with warm, dry summers and mild, wet winters. The interior of the country is much hotter and drier, with desert-like conditions in the south. The mountains have a cooler climate, with snowfall in the winter.
There are four distinct seasons:
Spring (March-May): Warm and sunny, with average temperatures ranging from 20°C (68°F) to 27°C (81°F). The days are getting longer and generally sunny, while the nights are cool & pleasant. In other words, a good time to visit Morocco. Even for a desert safari, as the temperatures are not too extreme.
Summer (June-Aug.): Hot and dry, with average temperatures ranging from 28°C (82°F) to 37°C (99°F). The hottest months are July and August. These conditions are perfect for beach vacations, but it can be too hot for outdoor activities, like biking, hiking or sightseeing.
Fall (Sept.-Nov.): Warm and sunny, with average temperatures ranging from 20°C (68°F) to 28°C (82°F). Comparable to springtime, but nights may be even cooler this time of year, making it probably the best time to visit Morocco. Also because it's generally less crowded at the most popular tourist destinations.
Winter (Dec.-Feb.): Mild, with average temperatures ranging from 12°C (54°F) to 20°C (68°F). Perfect weather for outdoor activities in general. Especially the highest mountains, as they are covered in snow.
Best time to visit Morocco
Overall, Morocco has an inviting climate year-round. The best time to visit Morocco depends on your personal preferences. If you like hot weather & the beach, then summer is the best time to go. If you prefer cooler weather & like to hike in the mountains or visit the desert, then spring or fall is a better option.
Personally we had no choice. We could only visit Morocco in August 2023, because of set holidays. Tremendously hot, for sure, but fortunately the Moroccans lead the way in how to adapt to these kind of weather, like:
Take a regular break,
preferable in the shade.
Include a siesta if you can/like,
or go for a swim,
if not a traditional bath (in the hammam).
Visit the mountain ranges.
Wear appropriate clothes (within certain rules, see below).
And, last but not least, drink enough liquids (water, tea & others).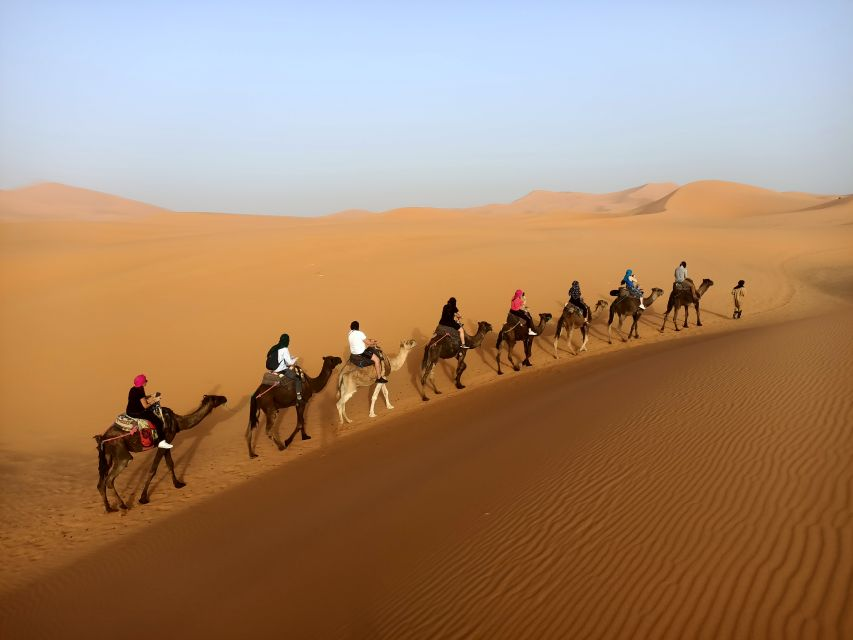 Visiting the Sahara desert in southern Morocco. A real adventure.
WARNING: When visiting the Moroccan desert prepare yourself for surprisingly cold nights, as the desert sand cools down fast year-round. At the coast also be prepared for chillier nights, because of the cooler sea breezes, mainly from the Atlantic Ocean.
Clothing
The clothes you have to bring depend on the season as well. Be aware – see above – that nights in the desert & the coast as well, generally turn into much cooler or even cold nights.
Besides that – and very IMPORTANT – dress modestly when you visit Morocco. Not only when visiting the historic monuments (mosques, palaces & madrasas), but also on the streets & while visiting the medinas. Despite the heat, cover your shoulders, wear long trousers & sleeves. Showing respect for the country's religion & the related local culture.
That said, we – and more so, our daughter Lisa – noticed a significant difference between the places & areas where many foreign tourists come (like Chefchaouen) & the lesser touristic ones (like certain parts of medina of Fez).
In other words, locals little by little are getting used to other cultures & the fact that they wear other styles of clothes in tropical temperatures. Not only foreign visitors by the way, but also more modern Morrocans and/or immigrants who still visit their home country regularly (we saw this mainly in Tangier).
TRAVELTip: Maybe the best tip I or she can give you is to bring or buy a shawl to cover your shoulders when necessary or when you feel like it.
Shopping
Every place – great or small – has its marketplace or souk. In the bigger cities you'll find them in the medinas. Entire streets filled with shops. Each & every one generally dedicated to one particular handicraft, like:
Ceramics & pottery
Leatherwork
Wood carving
Tinsmithing
Textiles
Jewelry
Perfumes & Spices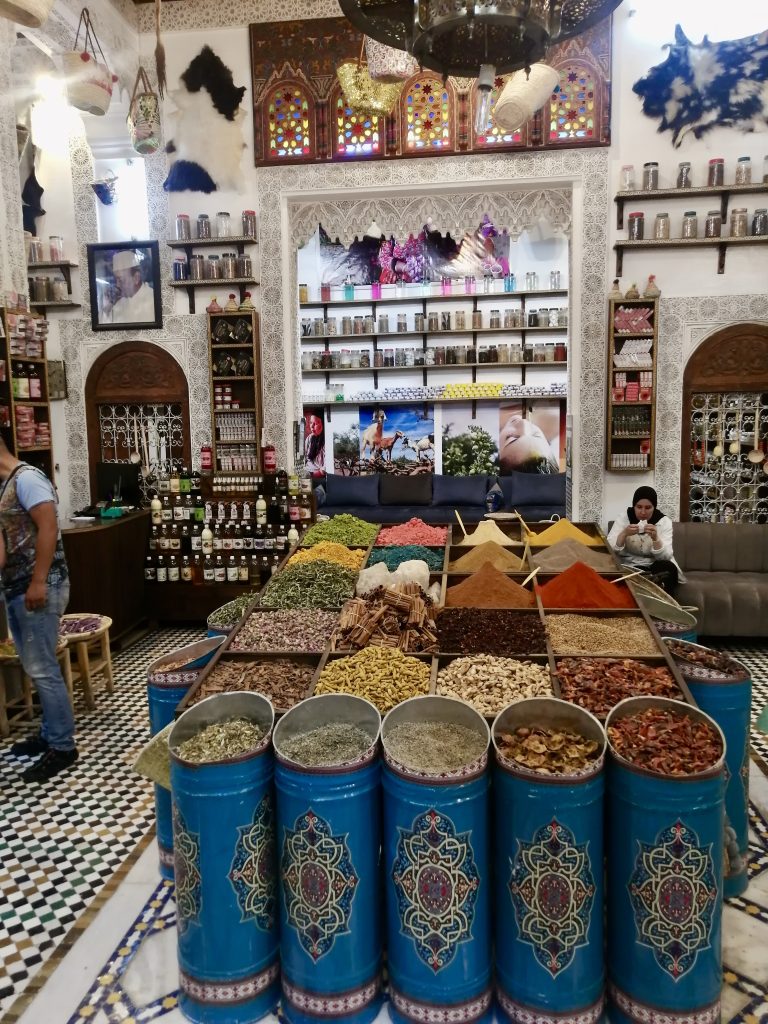 TRAVELTip: Although many visitors – that is, Westerners – aren't used to it, in most souks it's normal to bargain a price. Even if you think the price is right, negotiating is part of the deal.
If you don't bargain, you may be considered just an ignorant tourist. The seller won't mind actually – nor will you maybe – but reality is that haggling for a lower price earns you respect. Ending generally in both parties – seller & buyer – being content & happy. We experienced just that.
Money
The Moroccan currency is the Dirham. Notes come in 20dh, 50dh, 100dh & 200dh bills. Coins in centimes & 1dh, 2dh, 5dh & 10dh.
At the moment – September 2023 – 10dh is roughly 1 euro/1 dollar.
TRAVELTip: If you have to exchange euro, dollar & other currency do it at the bank or an exchange bureau. Avoid exchanging it at your hotel – generally not the best money rate – or worse on the street. The best you can do is to get your money at the ATM's, besides using your international credit cards wherever & whenever you can.
Personal safety
The crime rate is low in Morocco, but this doesn't mean you don't have to bother about Personal Safety.
Petty crime is everywhere – surely in a poorer country – as well as people who want to play all kind of tricks with you, like:
*Pickpocketing (a worldwide problem. Morocco is no exception). Always, be aware! Avoid busy places!
*The same goes for Bag Snatching!!
*Besides that, be careful with Public taxis. Negotiate a price beforehand! A fixed price for you, including your fellow travellers.
*Sometimes people just accompany you "spontaneously" through the medina (inner city) or help you out to find a taxi, hotel or restaurant. After which they like to get paid for their unsolicited help or guidance.
TRAVELTip: The best you can do in this case is ask yourself if you need guidance, or not. We gladly accepted a local "guide" after getting lost in the medina of Fez, which happened to us (almost on purpose) & will irrevocably happen to you also when going out on your own.
*Another local may tell you – also while visiting the medina – that a certain street is closed, with the only purpose to guide you to a particular shop or restaurant, earning him a commission. Generally no real problem here, I think. Just be aware of the fact that it happens!
Guides & Tours
As mentioned, be careful with men who simply by accompanying you pretend to be your guide. Ask your hotel, or the owner of your guesthouse or someone at the local tourist office when you need a guide.
Alternatively is to book an online tour through one of the travel platforms. Viator is a famous one – preferred generally by people from the United States – but I personally prefer GetYourGuide. Mainly because they have lots of tours to offer & work with professional, trustworthy local agencies & guides.
TRAVELTip: I generally prefer doing things on my own, but in this case – that is, in Morocco – I soon enough learned that hiring a guide sometimes is essential. Surely, when you visit the inner city or medina it's a MUST.
First of all, to not get lost, but also to find the main attractions as well as the best (work-)shops. That is, the most authentic ones, with real handicrafts. In this way we started our trip with a guided visit to the fascinating medina of Fez.
Getting around in & out of Morocco
Within the city:
On foot
The best way to see & enjoy the major attractions within Morocco's inner cities is on foot. More so, as the narrow streets of the medina aren't open to major traffic.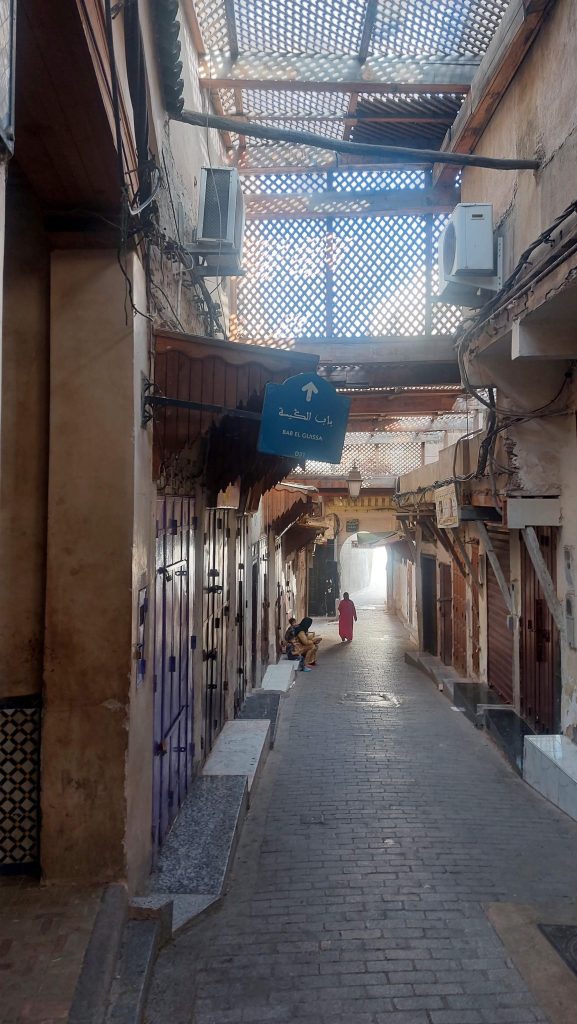 Taxi
When traveling outside the medina, it's recommendable to use a taxi.
Petit taxis – max. 3 passengers – which you can hail in the street or find at fixed taxi stands. Cheap, but – as a tourist/visitor – it's important to negotiate a price beforehand.
Grand taxis – max. 6 passengers – which generally operate on set routes, with set prices (higher, but still acceptable).
We used both types of taxis regularly, but generally were in need of the bigger version as we were mostly "the travelling four".
TRAVELTip: Prices go up after dark – sometimes even 50%. And be aware that if there's still room in the taxi – for example when you travel alone – the driver may stop on route for other passengers.
Within the country:
Taxi
Travelling between cities in a taxi – that is, a "grand taxi" with airco – is relatively cheap. For example, we arranged one between Chefchaouen & Tangier (2,5 hours) for 700 Dirham (around 70 euros or USdollars).
Bus
A much cheaper option is the bus, which generally takes longer but is an experience in itself.
Train
A better option is the train – Morocco has a good, reliable rail network – but in this case it depends on where you're going. Trains run between the major cities, but seldom to smaller places like, for example, Chefchaouen.
Choose rapide over ordinaire. And to be sure of a seat, you can opt to travel First Class.
Plane
As most people travel by bus or train in this relatively small country, there are not many domestic flights. However, it's another option to travel within the country.
The most used local airline is Royal Air Maroc.
To learn more on flight time & costs, you may use to following CheapOAir widget:
Rent a car
Renting a car is another option, providing you with more liberty to stop along the way or make an interesting detour sometimes.
Roads are generally OK in Morocco – including some toll roads – connecting all the major places. Traffic rules are universal.
TRAVELTips: Make sure you travel with all your papers in order & ready. Not only the rental contract, but also your driver's license & passport. We noticed many police & radar controles along the main roads. Prepare yourself to make regular stops, hoping the police officer won't play a trick on you.
Besides that, it isn't that easy to find your way, nor a parking spot, in or near the inner cities. A real deal when you booked a hotel within the medina. Although this problem is certainly bigger during high season, you can never get into the city center.
*****
Concerning the best place to rent a car. You can go local, but I personally prefer booking a car ahead & with an international company.
Although this time we didn't rent a car, in the past I found the best prices & guarantees on AutoEurope (who work with international companies only).
Besides that, I'd recommend you to go fully insured. It's a little more expensive, but you avoid lots of trouble if you get involved in an accident so far away from home.
To get an idea on cars at your disposal & prices, you can use the following AutoEurope widget:
Internationally:
Airport transfers
I personally recommend you to arrange a transfer to/from the airport. For safety reasons mainly – traveling with your luggage – but also because it's the most relaxed way to get in & out of the country, and to or from your lodgings.
You can try to arrange a transfer via your hotel. Or else, through a travel platform, like GetYourGuide:
Click on links below, to learn more about Private Transfer to/from the: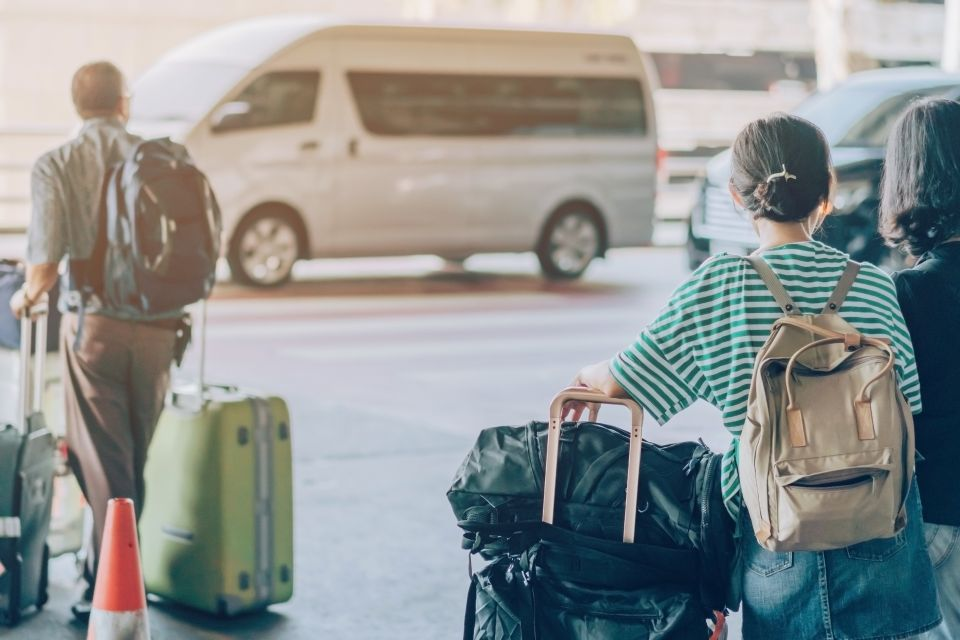 The safest & most relaxed way to get to/from the airport is by Private transfer.
By Ferry or Boat
It's easy to cross over to or from Spain by ferry or boat (as we did). A beautiful, historic journey (connecting two continents, but also two trips we made recently).
There are other connections as well, from Morocco to France & Italy.
TRAVELTip: The ferry is faster, but the boat is more relaxing. We crossed the street on a quiet day, enjoying views of Morocco, Spain & the Rock of Gibraltar, but we also spotted dolphins & flying fish.
Our itinerary during our 10-day visit to Morocco
Making choices: Marrakech or Fez
Knowing beforehand we only had ten days to travel around in Morocco, we soon concluded it wasn't possible – or better, it wasn't advisable – to try to "do" the whole country.
In the end resulting in choosing between a flight to Marrakech or Fez, and planning a tour from there.
Yes it's possible to visit both cities within ten days, but we would miss out on many attractions around both places if we did. So, I would say, it's better to go back another time to visit other parts of Morocco.
Informing ourselves & asking around, we concluded that both cities are top destinations, but most people who visited Morocco before and/or are living there, told us that Marrakech is more touristic & comercial, while they labeled Fez as more authentic.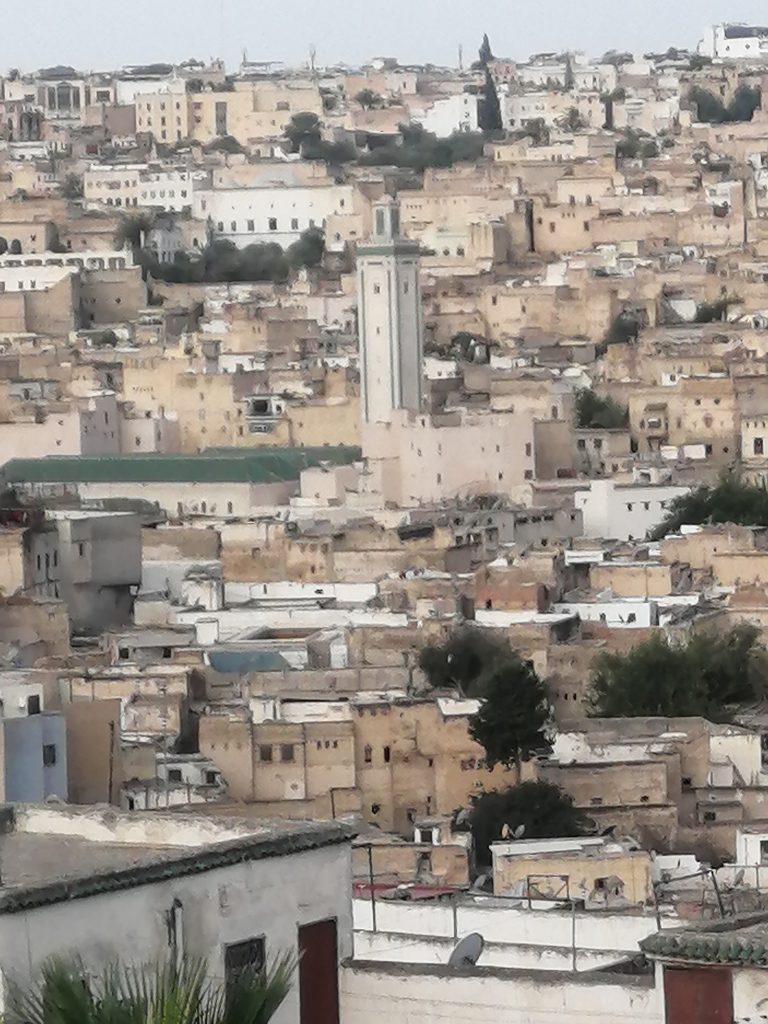 The medina of Fez, seen from our hotel's terrace.
Both places offered many options of things to do in & around. The main difference being that:
Marrakech functioned as a gateway to outdoor adventures in the Atlas mountains & a tour to the Sahara desert. As well as a short connection to the popular seaside of Essaouira.
While Fez provided us with the opportunity to visit several of the country's historical highlights on our way to Tangier (Meknes, Volublilis, the eye-catching Chefchaouen & Asilah).
In the end we decided for the Fez-option, which included a cross-over to Algeciras, Spain & a visit to the beautiful city of Málaga.
Reconnecting with a journey we made a few years ago through beautiful Spain (including a short visit to Gibraltar). To learn more, go to: Tour of Spain.
Our visit to Morocco in 3 special posts
I will describe our visit to Morocco in more detail in the following posts.
Click on their names to learn more:
Fez (under construction)
Chefchaouen (under construction)
Tangier (under construction)
Every post – besides our impressions – will include tips & ideas on what to do & don't, possible day-trips, getting around, personal safety & many others.
Besides these specific posts I wrote an introductory post, presenting you: A short history of Morocco