Something every World traveller has to put on his Bucket List is a visit to Manhattan, New York. If only once.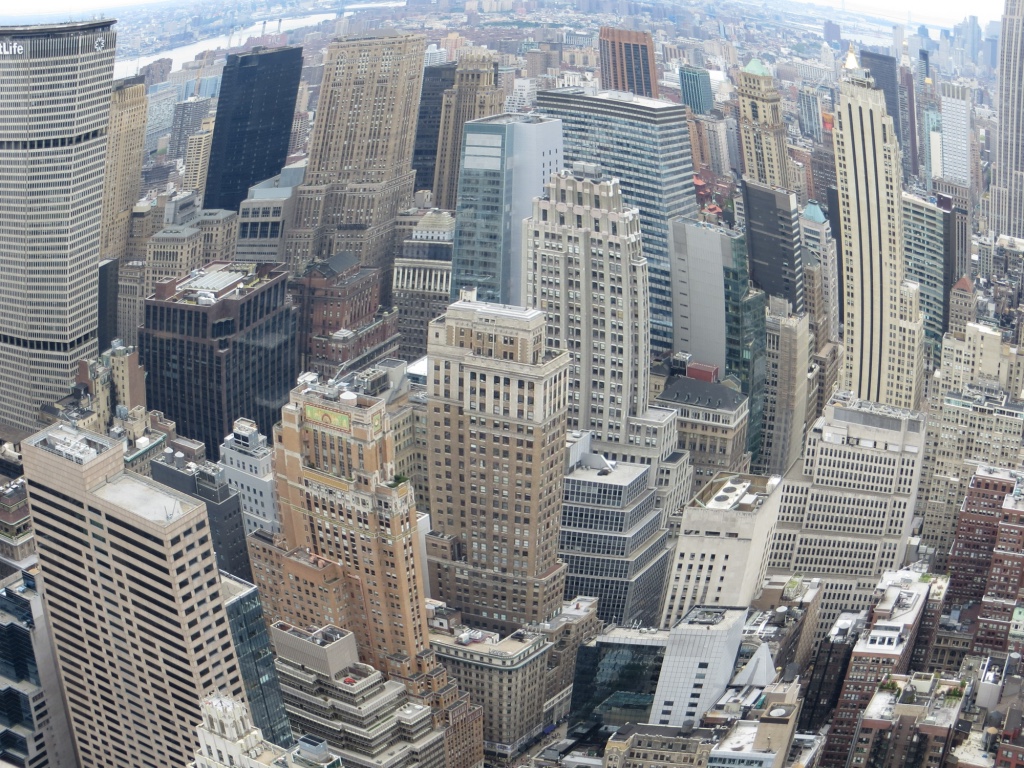 Although not everybody loves the Big City and some even warn you to avoid the Big Apple – mostly Americans themselves! – I highly recommend a visit to Manhattan, New York. What a unique place!
A visit to Manhattan, New York is one you will never forget.
To make it unforgettable though, it's best to prepare yourself as well as possible. Something I want to help you with. Telling you on what to do (& don't), but also providing tips that will help you plan a perfect stay in New York.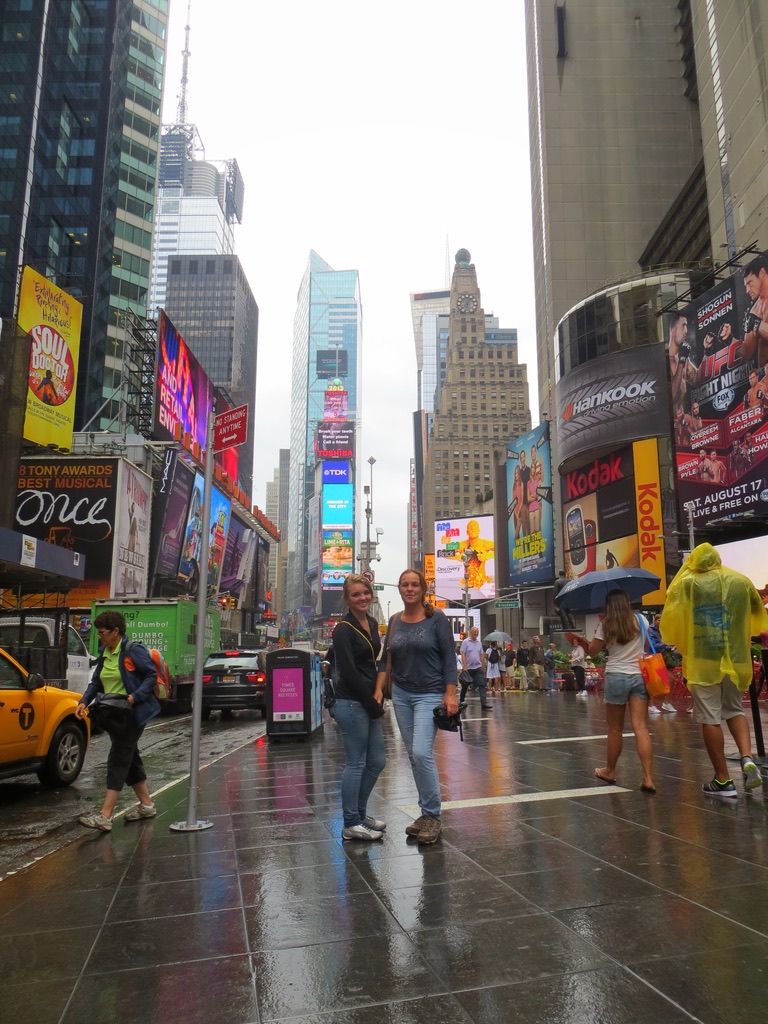 Useful tips & ideas
The main goal of this particular blog post is to tell you about the best Things to Do in Manhattan, New York. Throughout though, we will give you Useful tips & info on several aspects.
Not only on the attractions you visit and if you need a ticket to get in, but also on other aspects, like Buy Individual Tickets or One of the NY Cities Passes, Getting Around, Personal Safety & much more.
TravelTips: As this is an extensive blog post, we recommend you to study the Index/Table of Content above. Besides the optional THINGS TO DO, there are loads of TravelTips (printed in red).
* At the end of this post I will give you some recommendations on getting a visa, flights & how to get to/from the airport.
IMPORTANT: Throughout this article you'll find some affiliated links, provided by TravelPayOuts & GetYourGuide. Links that may help you plan your next trip to New York.
If you click on them & buy a ticket for a museum, book a tour or rent a bike I earn a small commission (paid out by the platform, without any extra cost to you).
If you want to learn little bit more about me the blog writer, click on: Better call me Art.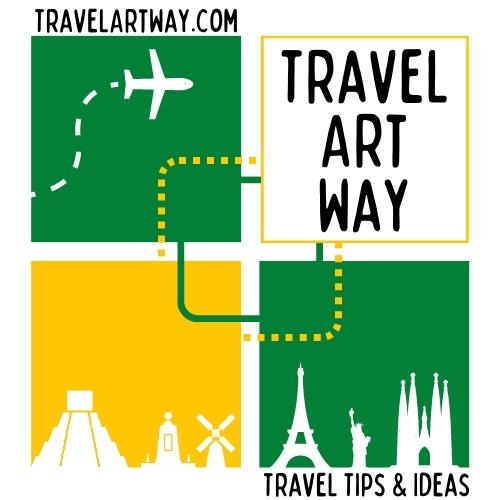 Main reasons to visit Manhattan, New York
The main (personal) reasons being:
It's a lively & beautiful city. The human highlight of what it means to be a Metropolis. In length and in height.
New York has a unique vibe, even within the USA. Somewhat European still.
It's in many ways the Capital of the World (foremost economically & culturally).
It houses some of the best museums in the world.
NY combines history & culture, with fun, culinary treats & good shopping.
Although a busy place, Manhattan houses many places to relax. Besides bars and restaurants, there are many beautiful parks & squares to watch life go by
In all, Manhattan, New York has enough attractions to guarantee an unforgettable visit.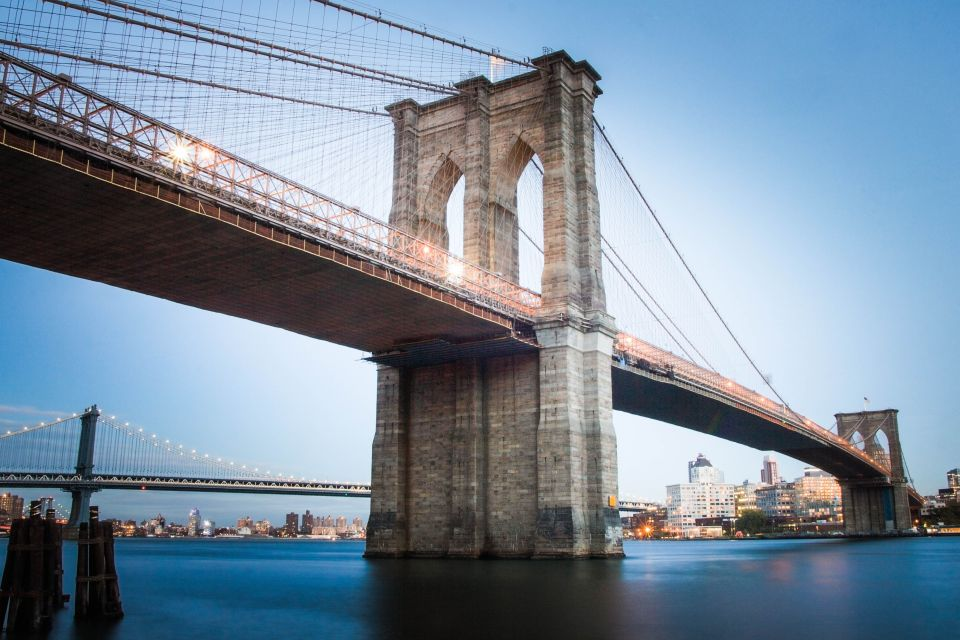 .
TRAVELTips: Buy a City Pass or Tickets?
Before you visit New York, you have to get an idea of what you actually want to do in the city. Visit as many attractions as possible? Or just some, combining certain highlights with other, more relaxing things to do. Like sitting in the parks or walking certain neighbourhoods. Things you can do for free.
On that decision depends the choice to buy a City Pass or Individual Tickets.
On New York City Passes
Buying a City Pass beforehand will save you lots of time & money.
There are 6 options to choose from.
Click on their names to learn more and/or buy one:
1. The New York Tourist Card is for visitors who stay only for a few days & plan to visit The Empire State Building, Statue of Liberty & the Museum of Modern Art (MoMA).
2. The New York CityPASS is also ideal for short time visitors who only want to visit certain highlights. Like the Empire State Building, Museum of Natural History, 9/11 Memorial Museum, Top of the Rock Observation Deck OR Guggenheim Museum, Ferry Access to Statue of Liberty & Ellis Island OR Circle Line Sightseeing Cruises, and 9/11 Memorial & Museum OR Intrepid Sea, Air & Space Museum.
3. The Sightseeing Pass has two passes for New York. The Sightseeing Flex Pass, in which you can choose between 2, 3, 4, 5, 6, 7, 10 OR 12 attractions (from a list of over a 100 things to do).
4. Or the Sightseeing Day Pass, in which you can choose between a 1, 2, 3, 4, 5, 6, 7 OR 10 day-pass, and visit as many attractions as you want (from the same long list of things to do in Manhattan).
5. Alternatively Go City offers two popular passes. The Go City New York Explorer Pass with which you can choose 2, or up to 10 attractions of your choice (almost a hundred to choose from).
6. The Go City New York All-Inclusive Pass which is the best for first time visitors who stay a little longer (4 days & more) and which gives you free access to more than 100 attractions to choose from.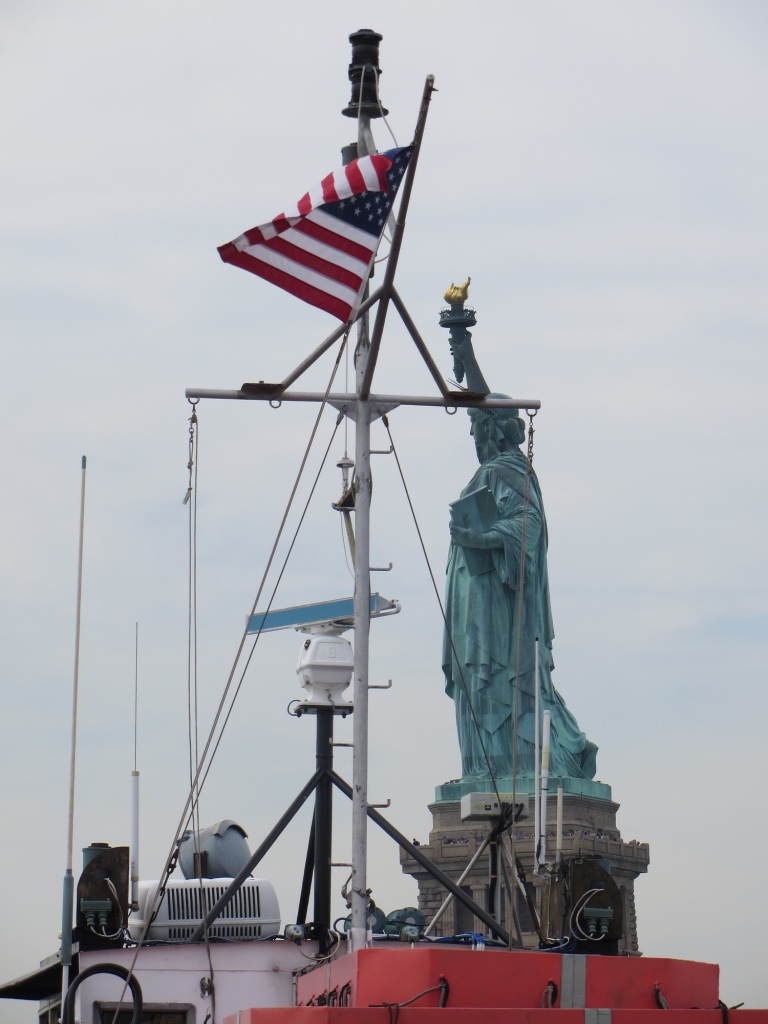 On Individual Tickets
If however:
You've visited the Big Apple before
Consider the city itself as the main attractions – its streets, shops, parks & squares, monuments & bridges.
Or, just stay for a few days..
… buying individual tickets may be the best option for you.
Still though, I would recommend buying tickets in advance. Certainly when you plan to visit the most popular attractions, like the Empire State Building, the 9/11 Memorial & Museum, the Metropolitan Museum, the Museum of Natural History, Top of the Rock, the Circle Line Cruise to or along the Statue of Liberty, & many others.
That said, having bought a ticket beforehand doesn't always mean you can skip the lines. At many places there are actually two lines. One to buy a ticket & the other to get in. So you generally only skip one line. Besides that, several attractions in NY have security checks like the 9/11 memorial or the Statue of Liberty cruise.
If you plan to visit smaller museums or lesser-known monuments, no worries. Buy the tickets at the entrance, … if needed (That is, if they're not for free).
.
Top 10 attractions or Things to Do in Manhattan, New York
To be honest, Manhattan, New York was on my Bucket List for years and years as a once-in-a lifetime visit.
That's why we – that's me, my wife Wendy & daughter Lisa – planned a long, active & unforgettable 10 day visit the first time around. It felt like running the Marathon of New York, but we all loved it.
After we got back home though (that's in Ecuador, see About Me), neither of us could imagine never going back. So it stayed on our list … and will probably forever. Every time we can, we go back for shorter periods.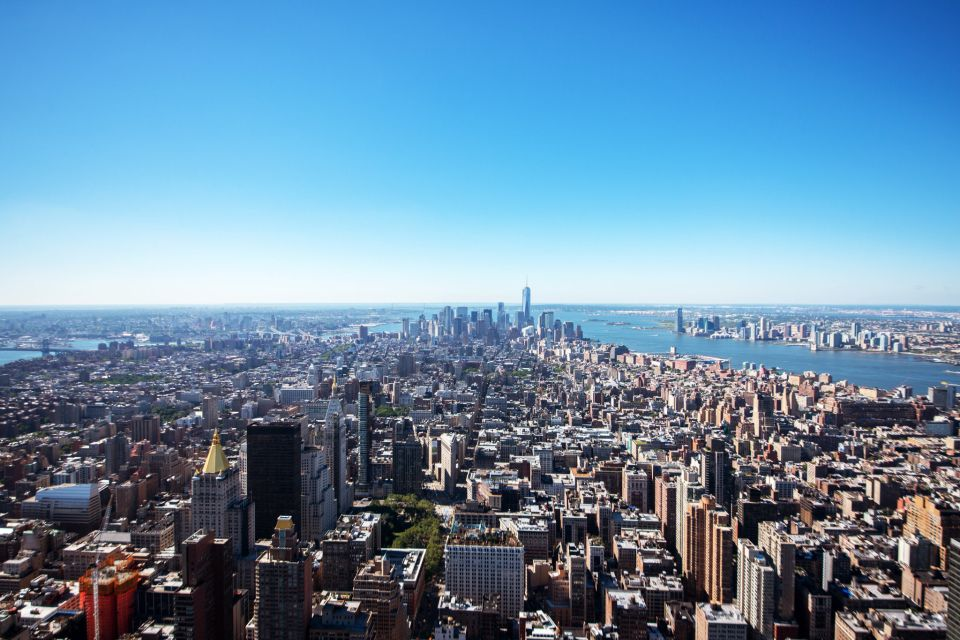 Obviously on that long first trip to NY we concentrated on the BIGGER attractions. The ones (almost) everybody knows & doesn't want to miss. Something you'll probably notice right away when you see my personal Top 10 of Things to Do in Manhattan, New York.
That said, we had time enough to take a break and let NYC visit us, instead of the traditional (touristy) way around. In other words, we stopped running for a while. (And you know, those are the moments I sometimes remember the most as a dear memory).
My personal Top 10
Visit Manhattan, New York as a family
If you are planning a visit to Manhattan, New York with your children – younger kids & adolescents – I'd recommend you to – besides reading this general post – also to read my Special Family Post full of specific attractions, tours, exploration games & shops for families.
To learn more, go to: The Best Things to Do as a Family in Manhattan, New York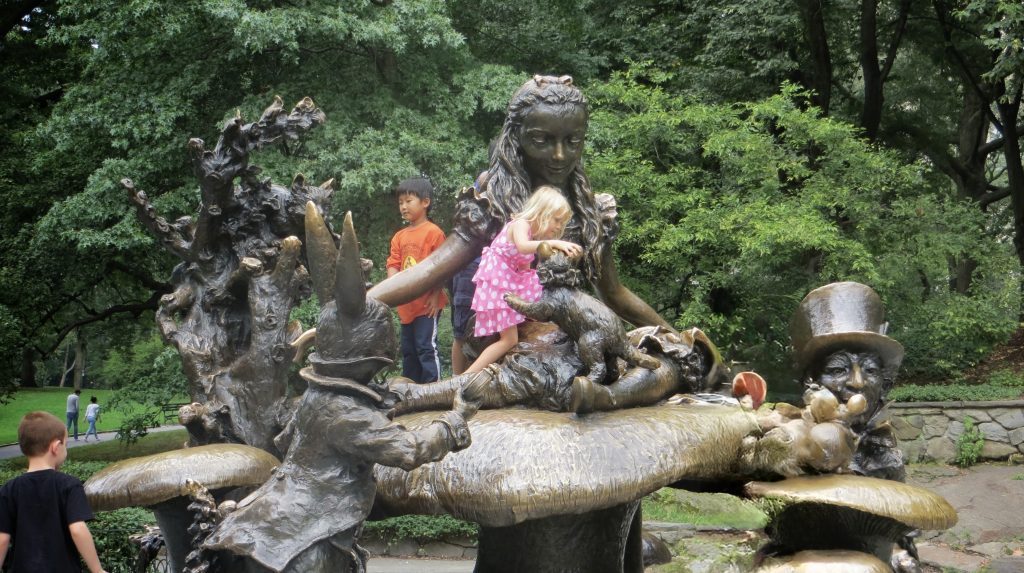 TRAVELTips: How to get around in Manhattan, New York
Public Transport
The best way to get around in Manhattan is by using the Metro.
We bought an Unlimited 7-day pass, for only $33. Many people do. Tourists, as well as other visitors.
That's why you can see a businesswoman standing beside young students. A Jewish rabbi, beside a rapper with headphones. Some construction workers, beside a few fashion models. People from all over the world, all classes, all races, young & old. It's the ultimate proof of getting anywhere fast & relatively cheap.
For the few spare days we bought individual tickets ($2,75 a ride).
Alternatively, you can get around by using the public bus system. Most convenient during off hours & when you're heading from east to west. Buses are not as fast as the metro, but generally offer a better experience for the same price. They stay above ground, are often cleaner & less crowded.
* For more info, go to: Metro & Bus fare in Manhattan, New York.
To get around with public transport (metro, bus, train..) download the Citymapper app. It tells you exactly how long it takes from A to B with public transport (metro, bus, train…), as well as the walking distance (in time) to the next attraction you're visiting. Alternatively, you can use Google Maps.
Use a Taxi
Taxis are more expensive, but prices in New York aren't exorbitant. (We used a taxi from & to the airport (special prices, see below), and once more when we left a Broadway show at night, from Times Square).
Considering costs, the basic fee is $2.50 and every kilometre is $1.56. (a little more expensive in the evenings & during the night).
In Manhattan you won't find real taxi stands. Instead, the famous Yellow Taxis cruise the city streets & you can hail one when free. (A cab is available when the center light on the roof is lit).
Alternatively, you can "Order a taxi" through the internet. For example with the Curb Taxi App. Otherwise, you can order a taxi through Uber, Lyft & other companies.
Hop-on & Hop-off
Finally, another way of getting around is purchasing a 24, 48 or 72 hour pass for the Hop-on Hop-off bus. These special tourist buses make their rounds between 09:30 & 16:30 every day of the week, connecting the main attractions. It's a great way to get an idea of the island of Manhattan.
For more details, click on:
Personal tour guide
Another original & relaxed way to get to know the city is by a walking tour. Certainly when the tour is led by an experienced, friendly guide who knows the island like the back of his or her hand. From the tip of Manhattan to Central Park.
If interested, I highly recommend: Isle of New York Tours.
Although they offer the same standard walking tours as hundreds of other New York City tour guides, Isle of New York goes beyond the basics by specialising in tours from island to island on bridges & boats!
To learn more, click on: Isle of New York Tours.
At #1. Visit to the Empire State Building, Manhattan, New York
An obvious choice. Maybe, for some of you, too obvious. But personally, I was stunned by the bird's eye view of Manhattan from the top of the Empire State Building.
The Empire State Building opened "for business" on May 1, 1931. It's still one of the highest buildings in NY (1454ft/ 443m).
To me, Manhattan looked like an enormous ship, embraced by the East River & the Hudson. Ready to break free and sail the Atlantic Ocean. An image, I'll never forget.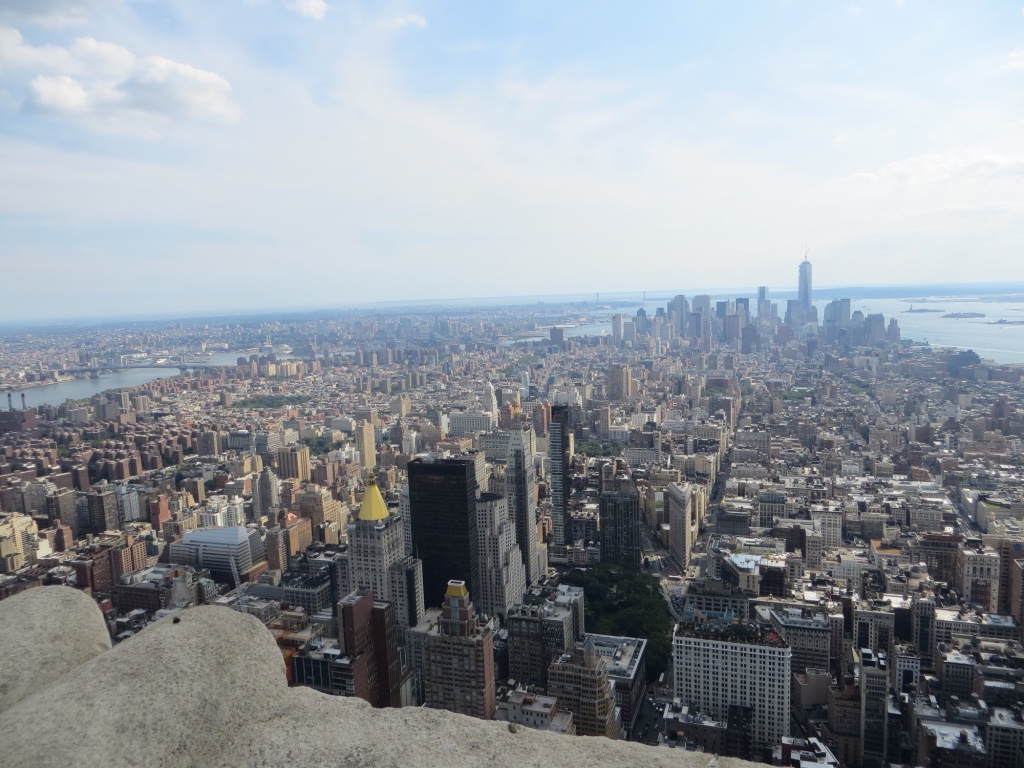 The journey starts – almost innocently – on the busy ground floor of the Empire State (rows of people in line, security, scanning tickets). Getting out of the elevator on the 86th floor you soon get overwhelmed with a 360 worldview of Manhattan and the surrounding area.
In a few words, highly recommended. And if you have to choose… Go King Kong!
TRAVELTip: After the Elevator ride you arrive at the 86th floor at 1050ft/ 320m. For an extra $30 you can get to the top-floor 102 at 1250ft/ 381m. As both guarantee great views though, I'd recommend you stay on the 86th.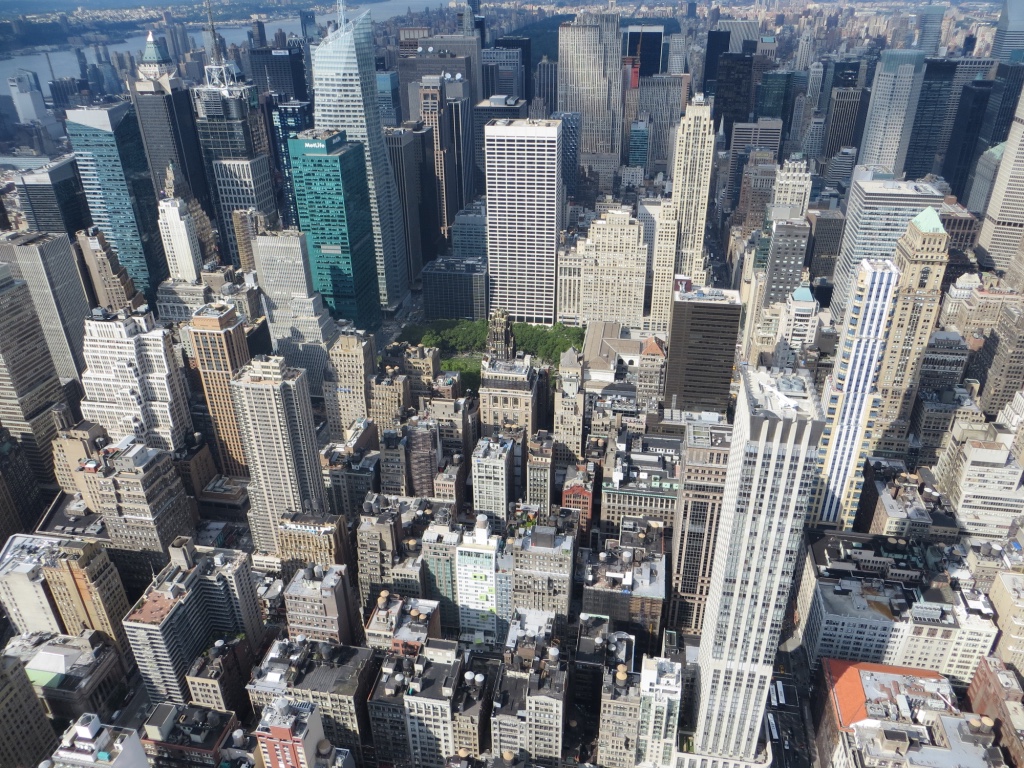 As the Empire State is one of the most popular attractions in Manhattan, I highly recommend you to buy your ticket(s) beforehand. Gaining you lots of time – priceless in a city like New York- because you can skip the long line of people who still have to buy a ticket. (If you bought a City Pass you've probably got it already covered.)
To learn more and/or buy Skip the Line tickets, go to: Empire State Building
Observation Decks in NYC – A comparison
As will be obvious to you after the segment above, the "Empire State" is my favorite Observation Deck in NYC. The main reasons: its history (learn about it in the little museum at the 86th floor) & its location which – for me – provides the best views of the island of Manhattan & the surrounding area. Classical views, if you will!
However, the Empire State isn't the only Observation Deck. There are several alternatives nowadays in the most Skyscraper-city in the world. Each one with its own extra!
Let's make a comparison:
Click on their names to learn more and/or buy your tickets in advance (highly recommended in a busy city like NYC):
TOP OF THE ROCK
Let's start with the Top of the Rock – the lowest Observation Deck of them all, at 850ft/ 259m. A comparable experience with standing on the Empire State Building, with the biggest difference being the fact you can admire the Empire State Building in its full glory, and – even better – you get the best views of Central Park down below. Besides that, it's not so much that you're floating high above the city, but standing among the highest buildings – as if you can touch them (but not really because of the full-glass windows all around).
ONE WORLD OBSERVATORY
The One World Observatory at the One World Trade Center (high above the 9/11 Memorial) is the highest observation deck (at 1268ft/ 386m) in NYC, with spectacular views all around. An Indoor experience though (the only one of the five!), which feels different but is ideal when it's really cold outside. Another extra is the short video you'll get shown on your Elevator ride up. A historical film about the world below: how a green island converted itself little by little into one of the world's biggests metropoles.
SUMMIT ONE VANDERBILT
Very popular also is the SUMMIT One Vanderbilt (…popular as in "Better book in advance") It's the latest Observation Deck to open up in NYC (2020). A unique indoor/outdoor experience as your journey starts & ends in the elevator. A 3-dimensional experience as well, as you are surrounded by glass & mirrors everywhere and from Top to Bottom – even the bathroom. At every step you literally enjoy views inside & out of the interior as well as all of Manhattan (including the best view of the classical Empire State Building). Besides the first Observation Deck at 1063ft/ 324m there's the option of going even higher up, to 1210 ft/ 369m for even better views of the city all around.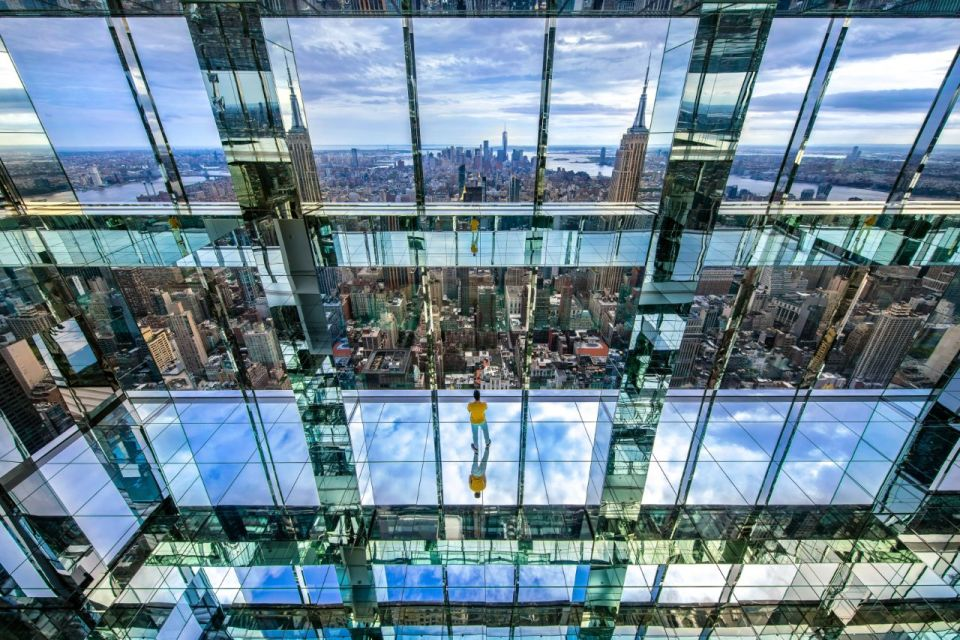 THE EDGE
Finally: The Edge (1131ft/ 345m, outdoor's highest in NYC). The Edge is named The Edge because you're literally standing on… right,… the edge. This is caused by angled full-glassed windows which hell over outwards. Besides that you can walk on a glass floor or even City Climb & Hang high above the ground for a while if you dare & are prepared to pay the extra $$$ & wait in line (again!). Biggest disadvantage for me though is the fact that The Edge is a little further away from the Tip of Manhattan. Somewhat isolated I would say. So the 360° views don't include the best of Manhattan themselves. In short, The Edge is an Observation Deck for the Dare-Devils, not the Faint-Hearted.
Obervation Decks – Which one to chose?
All these observation decks guarantee amazing experiences, and if you have doubts on which one to choose you can always visit several.
TRAVELTip: In the end, personally I'd combine a visit to the historical Empire State Building – 86th floor is enough – with either the One World Observatory or the SUMMIT One Vanderbilt.
When travelling with your children I'd recommend to include the Summit One, being the most entertaining one. Real fun!
Besides that, if you can visit the Empire State when it's (getting) dark outside for even more spectacular views all around, the better (The Observation Deck of the Empire State is the only one with Outdoor Heating!!).
Alternatively, … a Helicopter ride above Manhattan
Finally, to get a real bird-eye view of the city there's also the option to book a spectacular helicoper tour above the city's skyscrapers. A somewhat pricey, but unforgettable adventure! Higher up than any of the Observation Decks mentioned above!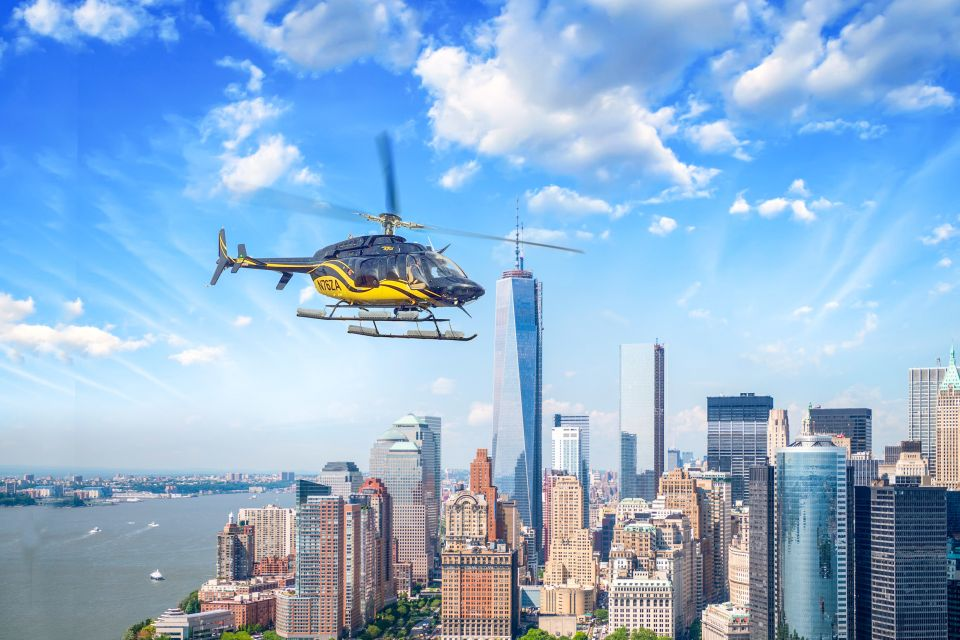 Other attractions in the vicinity of the Empire State Building:
To help you plan your itinerary, after every attraction I will mention some others which are within walking distance.
In this case: Bryant Park, Summit One Vanderbilt, Grand Central, The Morgan Library & Museum, Flatiron Building & Chrysler Building.
At #2. Visit to the Intrepid Sea, Air & Space Museum, Manhattan, New York
The what…?
In the short introduction above, I mentioned the fact that NY houses some world-famous museums. For that reason, you could expect me to grant the #2 spot to one of them, like the Museum of Natural History or the Metropolitan Museum, but no…
My number #2 spot is taken by the Intrepid Sea, Air & Space Museum.
The USS Intrepid is an aircraft carrier which was active between 1943 and 1974. Built during the second World War, it served the US Military, mainly in the Pacific Ocean. Not only during the second World War, but also afterwards – in Korea and Vietnam. Later on, it served as a recovery ship for the Mercury and Gemini NASA space missions. Picking up astronauts in mid-Ocean.
Although a museum since 1982 – and completely renovated between 2006 & 2008 – it functioned as an FBI operations center temporarily after the 9/11 attack.
TravelTips: Besides getting a chance to explore an historic aircraft carrier, the Intrepid Sea, Air & Space Museum houses thousands of interesting items.
To name some highlights:
Below decks, you can admire some smaller combat planes. Planes with foldable wings, to be able to store as many as possible.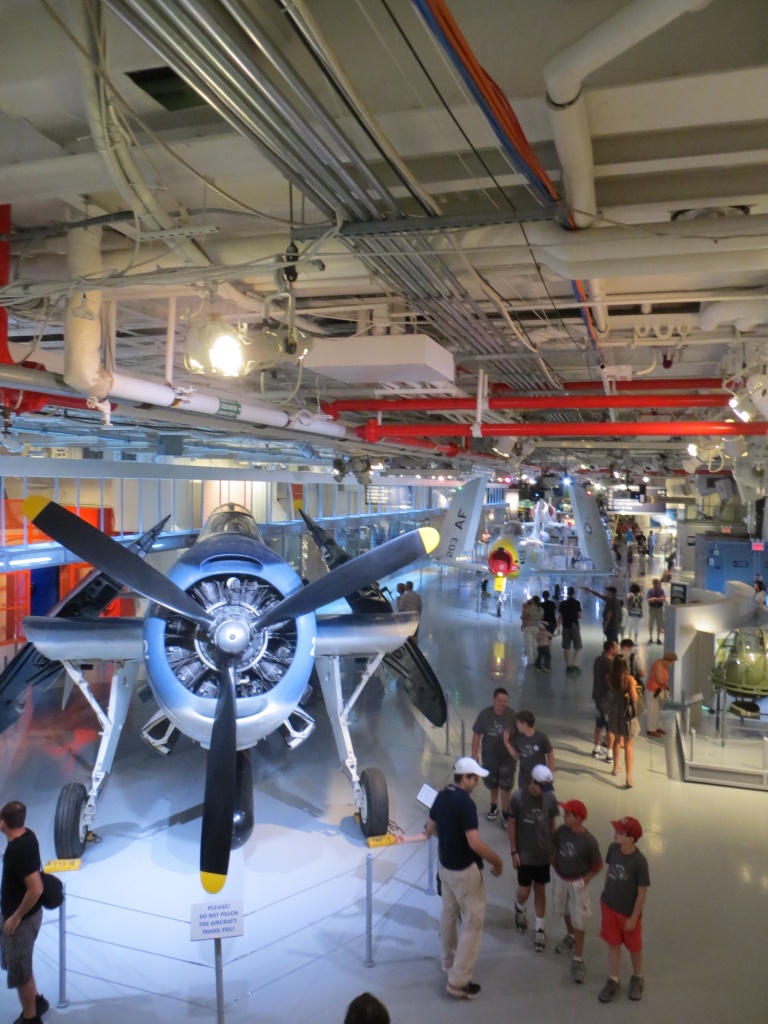 2. Also on view are replicas of US space capsules (Mercury & Gemini), as well as a Soviet one (Soyuz).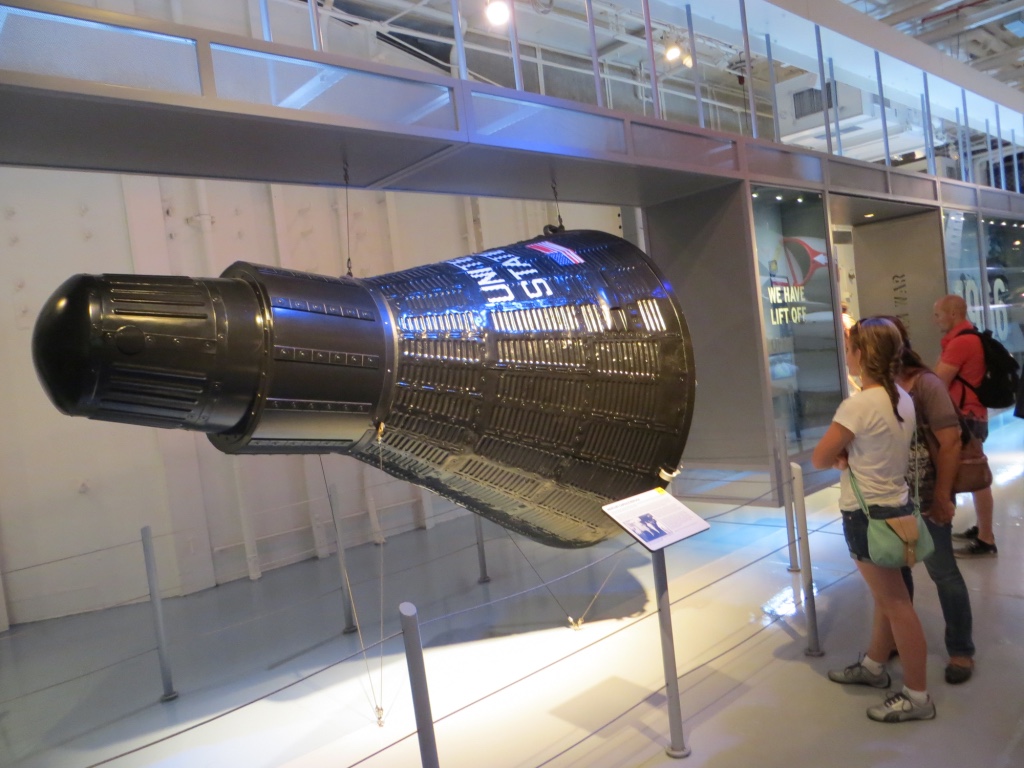 3. On the upper deck you can admire some famous airplanes. Mostly military ones, but also a Concorde.
4. On one side of the carrier, you can visit a submarine (Growler).
5. And last, but not least, the Space Shuttle Endeavour (since 2012)
Besides explanation boards, you'll find interactive displays spread throughout the ship. Sound & vision. For kids and adults alike.
All in all, an impressive collection the three of us enjoyed tremendously.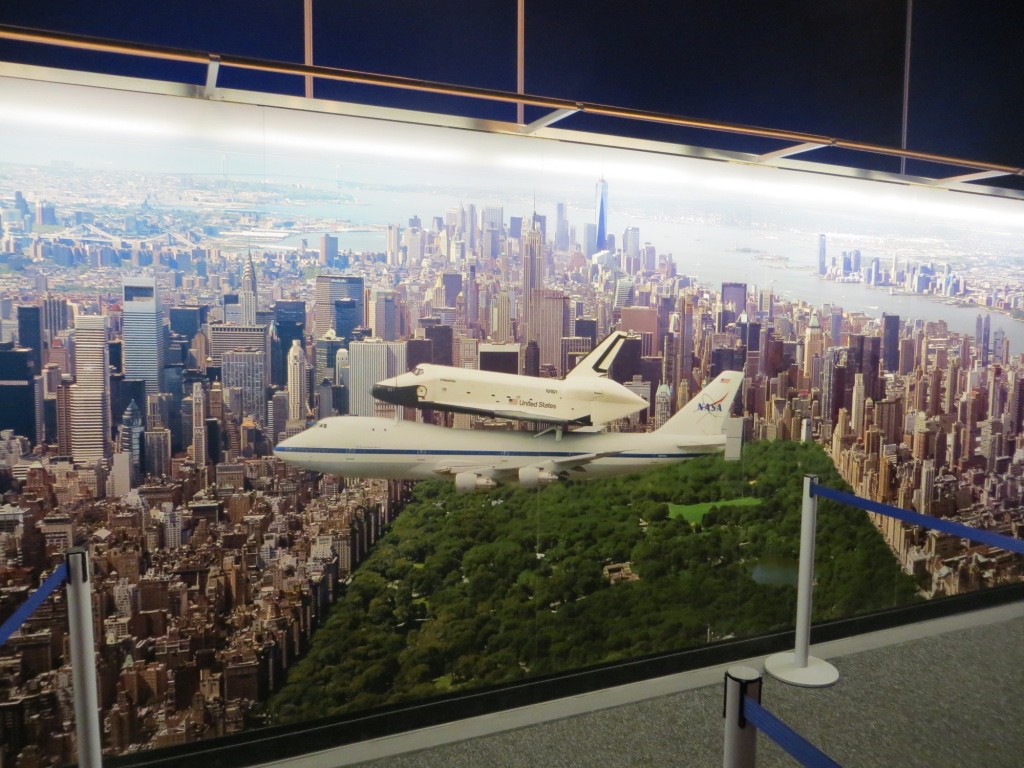 The Intrepid Sea, Air & Space Museum is located at Pier 86 on the Hudson River. There's a nice shop too with souvenirs & some interesting books on the Intrepid.
To learn more, or buy your tickets in advance:
Other attractions in the vicinity of the Intrepid Museum:
Nearby you'll find the starting point of the Circle Line Sightseeing Cruises.
.
At #3. Visit to Bryant Park, Central Park & Battery Park
Visiting a busy city center like Manhattan, includes taking a break once in a while.
It can be a Square, like Times Square, (a must-see, but always overwhelmingly busy), Union Square (generally also very busy) or Washington Square (busy, but at the same time with a relaxing vibe to it).
Or it can be – preferably – a Park. I personally loved the atmosphere in Bryant Park.
A cozy park, next to the New York Public Library. Tables & chairs everywhere. To rest for a while, converse, look around, …. And in my case, reading the headlines in the New York Times. While sipping a drink or a cup of coffee, eating a sandwich or pie, bought in one of the surrounding food shops or delis.
We loved it. More than Time Square, Bryant Park felt like the Heart of Manhattan to me.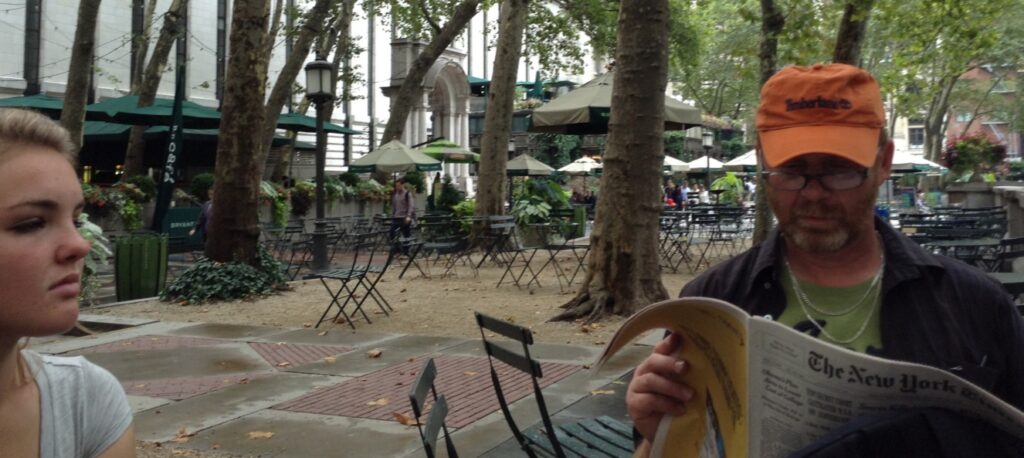 Other attractions in the vicinity of Bryant Park:
Within walking distance, you'll find: Summit One Vanderbilt, Grand Central, The Morgan Library & Museum, Chrysler Building, Times Square, Rockefeller Center & Empire State, Macy's Department Store, FAO Schwarz Toy Store, Lego Store.
Central Park, Manhattan, NY
Besides Bryant Park, we regularly visited Central Park.
A real natural park, with a nice Zoo. Great for a picnic, a long walk or to bike around. We crossed this historical park several times.
The first time, to visit the Dakota building – where John Lennon lived and was killed in December 1980 – and neighbouring Strawberry Fields Memorial in the park itself (never alone).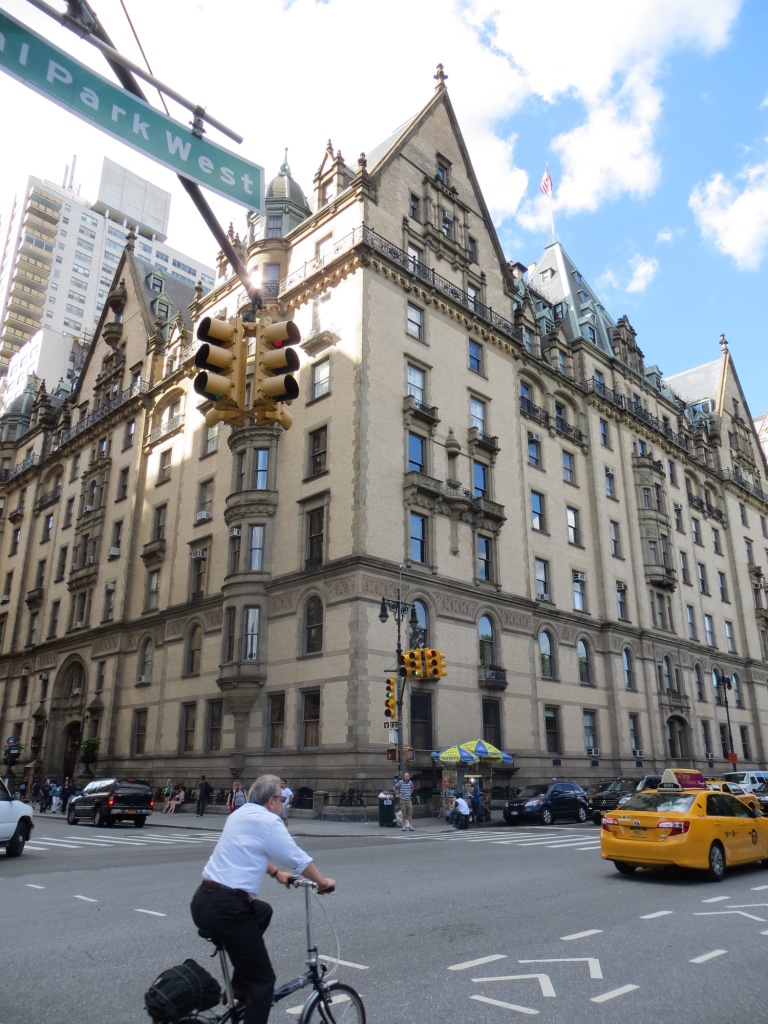 Being a part of that memory for a few seconds was really an honour for us.
TravelTips: One morning we rented a bike to be able to tour the whole park. Surprisingly big, but beautiful & relaxed in every section.
To learn more:
Other attractions in the vicinity of Central Park (that's the southern end of the park):
Central Park Zoo, the Carousel, Horse Carriage starting point, Apple Store, Carnegie Hall, FAO Schwarz Toy Store, Lego Store.
Alternatively, you can hire one of the horse carriage rides through the park.
Another famous park we visited, but only once, was Battery Park, on the tip of Manhattan.
Battery Park: A Historical spot
Battery Park is a smaller park, but again a special place. A historical location.
It's on this spot where in the first half of the 17th century the European colonial period began. That is, as a Dutch colony, not an English one (see below).
In Battery Park, it felt like we'd come down from the Empire State Building to stand on the prow of an enormous ship – the "Manhattan". Looking out over the Upper NY Bay, wherein located the Stately Statue of Liberty as well as some famous islands, like Governor's Island & Ellis Island.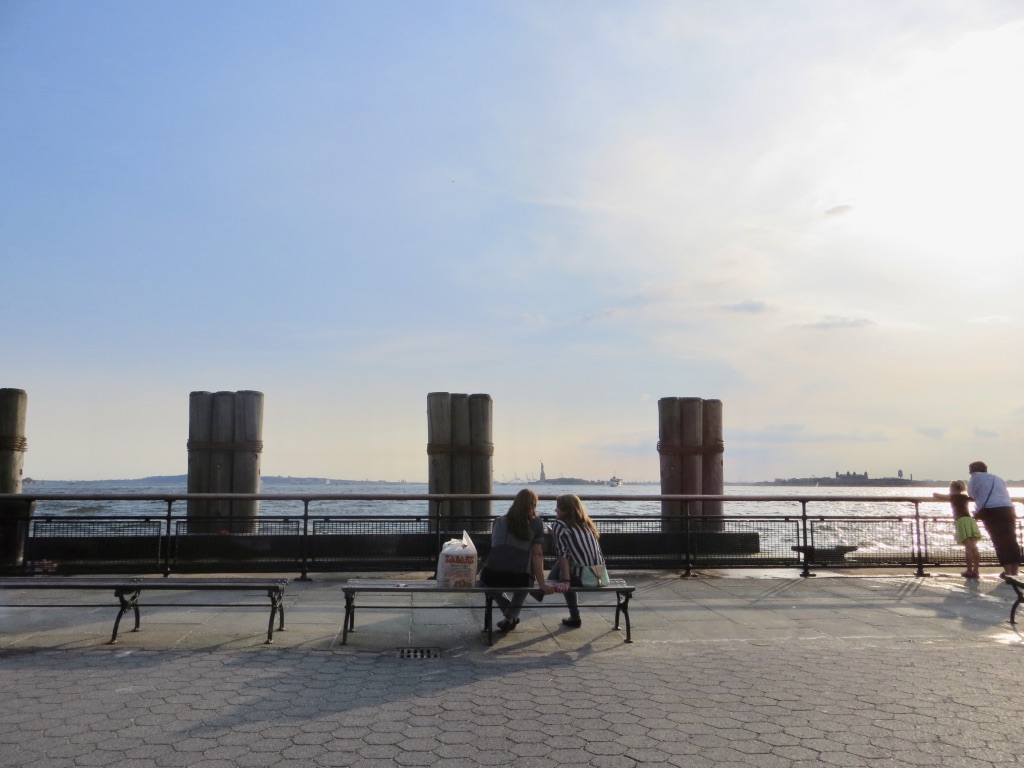 Besides the view, on the quay there's an impressive monument dedicated to the soldiers, sailors, marines, airmen & others who lost their lives in the service of their country in the western waters of the Atlantic Ocean during the Second World War.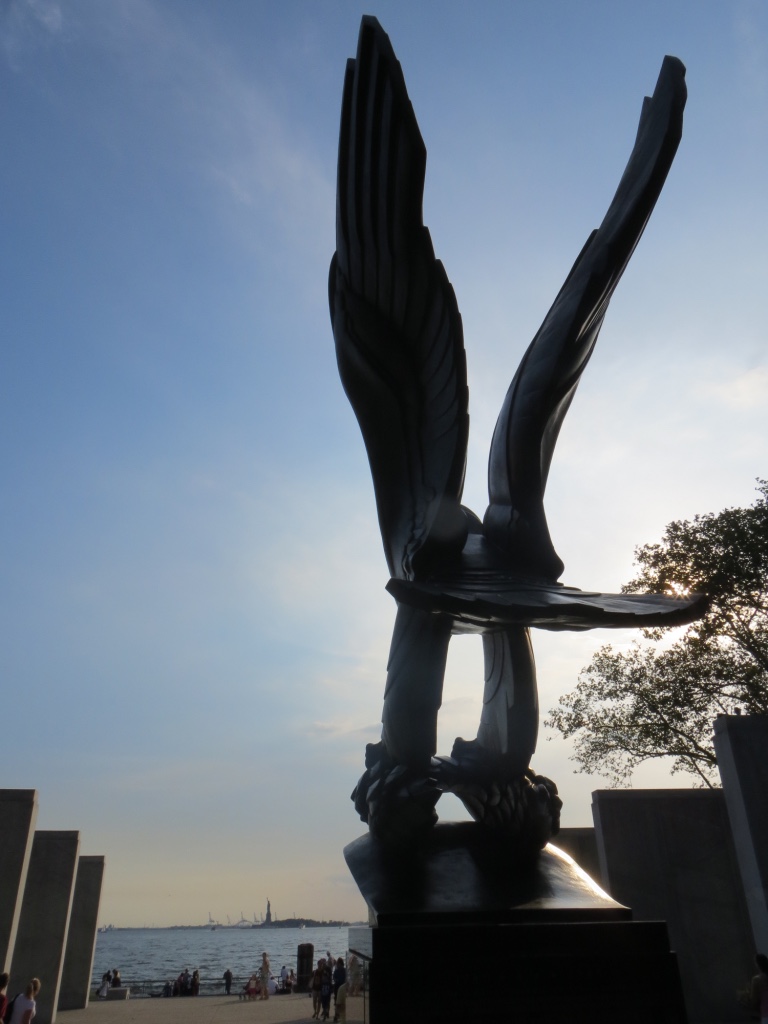 TravelTips: In summary, to be able to "survive" the New York jungle, you better include regular visits to mentioned squares & parks.
Other attractions in the vicinity of Battery Park:
Statue City Cruises, Staten Island Ferry, Skyscraper Museum, Museum of Jewish Heritage, National Museum of the American Indian, 9/11 Tribute Museum, statue of the Charging Bull
INTERMEZZO: A little "Dutch" History
I love history. I always study the past of a certain place or country before heading out there. In this special case…. a visit to Manhattan, New York. A location with a short, but noteworthy – and maybe for some surprising – Dutch history.
Being Dutch myself, you have to forgive me this short intermezzo. In hindsight, I consider it fascinating how such a small country like mine once moved its ships along America's coast & even managed to settle for a while on & around the island of Manhattan. Leaving roots that are still visible & tangible today.
The Dutch were the first Europeans to settle in this region, at the start of the 17th century. After first settling on Governor's Island in 1624, they started building a small village on the tip of Manhattan a year later. A fort, a church, a windmill and some houses. The place was named New Amsterdam, capital of the Dutch colony New Netherland.
The story goes that a Dutchman – Peter Minuit – bought Manhattan in 1626 for 60 guilders (24 dollars at the time) from the Indians that lived on the island periodically.
BookTip: Russell Shorto, The Island at the Center of the World: The Epic Story of Dutch Manhattan, the Forgotten Colony That Shaped America, 2004. A marvellous read about the Dutch colony on Manhattan.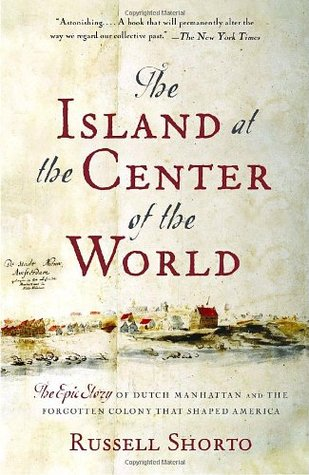 What's in a name?
Although the Dutch stayed only for a while (almost half a century) – after which the English took over and renamed the area New York – there are still many signs, symbols & names that remember their presence in & around Manhattan. Like Wall Street (where the Dutch built a wall), the Bowery ("Bouwerij" or farm) Brooklyn (after the Dutch village of Breukelen), Flushing (the town of Vlissingen), Bleecker Street, Jonkers… (& other family names).
The most famous Dutch name in Manhattan though is Peter Stuyvesant, the last director-general of the Dutch Colony. He is buried in a family grave at St. Mark's Church in-the-Bowery, in Lower Manhattan.
Stuyvesant is remembered in many ways in Manhattan, like a Street, Square, neighborhood, High School, Apartments…. You name it!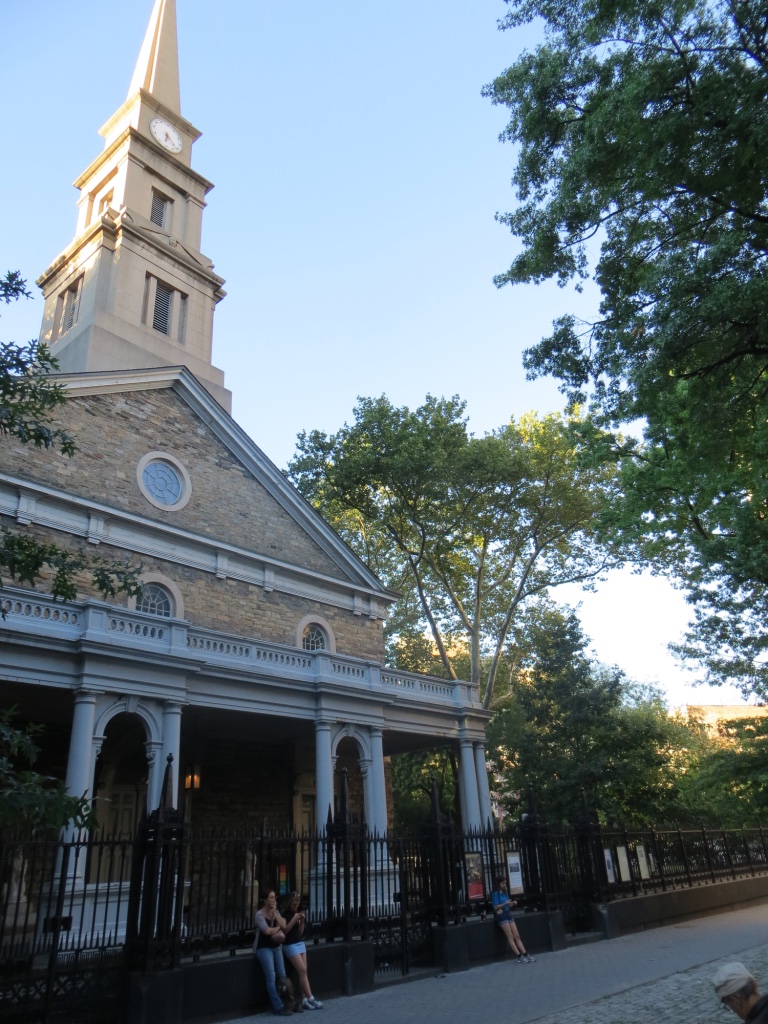 TRAVELTips: On Personal Safety in Manhattan, New York
Manhattan is surprisingly safe. One of the reasons is the presence of police everywhere. You could think… that's a bad sign, but really it isn't. We felt absolutely safe during our 10 day visit in Manhattan, New York.
However, as in every major city, there's a lot of petty crime, mainly around the busy tourist attractions, like Time Square.
First of all, you have to know that pickpockets are always on the lookout in busy areas. Don't carry too much money around & other personal belongings. Be aware of your mobile phone, photo camera, amongst other things.
Secondly, be aware of other tricks to steal your money or personal belongings.
To name a few "fashionables":
Illegal taxis, even at the airports
CD "sellers" who offer you a free copy, but not really…
Guys & girls that try to sell you fake tickets for certain attractions or tours
Or false tickets for the metro or even the FREE Staten Island Ferry
Fake Buddhist monks who try to sell you incense or something else
Dressed-up TV & Movie stars – like Superman – who after posing with you for a picture, oblige you to pay them (Times Square)
Another well-known trick is to hire a bicycle taxi ("pedicab") or horse-drawn carriage which in the end charges you per person, and not per group.
And surely, there are others…
The best you can do, STAY ALERT!!!
At #4. Visit to the American Museum of Natural History, Manhattan
The American Museum of Natural History is a world-famous museum, with an enormous collection exhibited in an impressive building. You already feel small the moment you enter the entrance hall, watched over by a gigantic dinosaur. That is, its skeleton.
The Museum was founded in 1869 and has a collection of more than 30 million artefacts…!!! Not all exhibited, though, to not go completely crazy…
The museum consists of halls. Every hall covers a certain theme (Planet Earth, Ocean Life, Human Origins, the Universe, Meteorites), a continent (America, Mexico/Central America, the Pacific, Africa, …) or wildlife (Dinosaurs, Birds, Primates).
In every hall you get lots of information. Written, as well as through sound & vision. Interesting for adults, but for kids as well.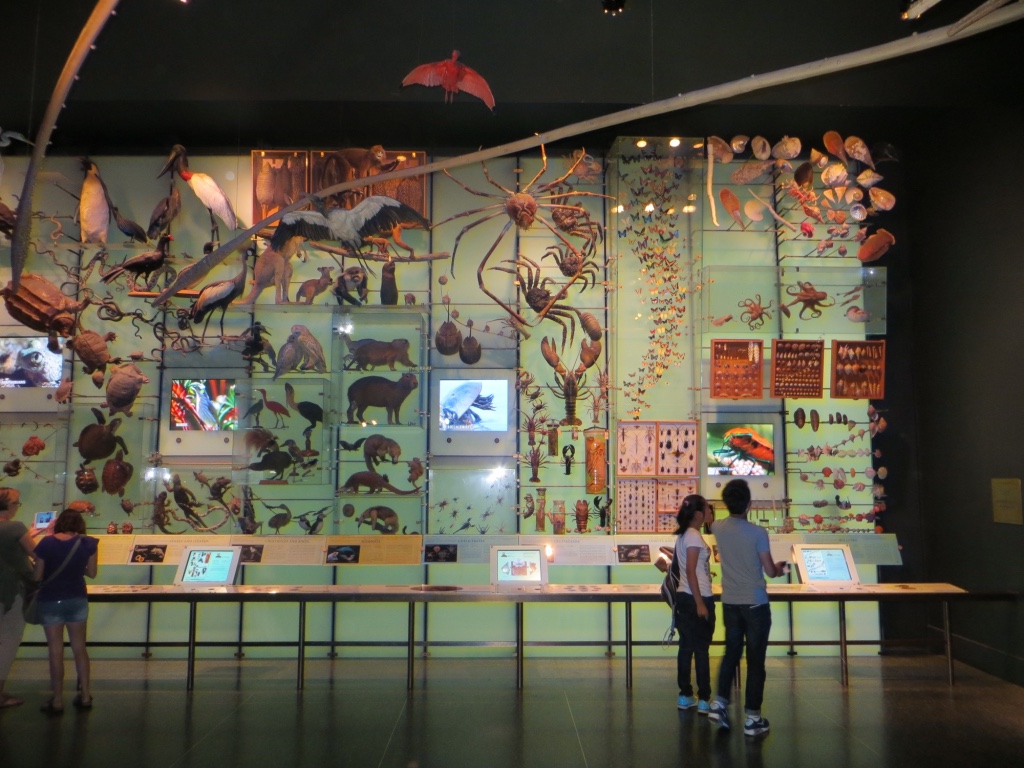 TravelTips: The only disadvantage of a BIG museum, is its size. It's actually too much for one single visit. Because we didn't have time to go there twice, I visited the museum's collection virtually months before. To get a global idea & so be able to concentrate on our personal favourites.
Personal Highlights (which may inspire you too):
The skeletons of the dinosaurs on the top floor (including a still dangerously looking Tyrannosaurus Rex)
An imposing mammoth (skeleton)
A blue whale (real size, remodelled in fibre-glass)
The planetarium
A modest Easter Island giant head or Moai
Some Maya artefacts – my favourite World Civilisation
A scene of the first Dutch colonists meeting some Native Americans.
Representations of our ancestors, early day ancestors like Lucy.
Some meteorites, like the one found by US explorer Robert E. Peary on the North Pole…
… well, here I go. It's obvious I have to go back asap.
All in all, the visit to the Museum of Natural History, Manhattan, New York was a wonderful experience. It left the three of us exhausted, though, and we were happy the museum borders Central Park. To relax the mind & the body for a while before exploring the rest of Manhattan.
As with other popular attractions, I'd recommend you to buy tickets in advance (if not already included in a City Pass) & to skip the line:
To buy you tickets in advance:
.
Other attractions in the vicinity of the Museum of Natural History:
Besides bordering Central Park, nearby you'll find the New York Historical Society, The Dakota Building & Strawberry Fields, the Grand Bazaar NYC (flea market) & Zabar's gourmet grocery store.
At #5. Visit to the World Trade Center Site – 9/11 Memorial + Museum
More than impressive was our visit to the World Trade Center site on Lower Manhattan, New York.
Although already some years ago, hundreds of visitors from all over the world were standing in line to visit the Memorial.
9/11. Who doesn't remember that fatal day in 2001? In other words, where were you when the first plane hit the north tower of the World Trade Center?
My answer being: … on my way from Antigua to the capital of Guatemala, where I worked at the time. At a gas station an employee told me about the attack. He was clearly upset and convinced it was the start of the Third World War. Once at the office, I turned on the television and phoned my wife at home. What an impact! A dark day really.
In contrast, our daughter Lisa doesn't remember a thing, because she was only three years old at the time. Knowing only the images afterwards & the outcome. The start of many changes in the world & world traveling.
With us, though, she was emotionally impressed by the site. What a beautiful monument to all those innocent people who died that day or were injured physically and/or mentally.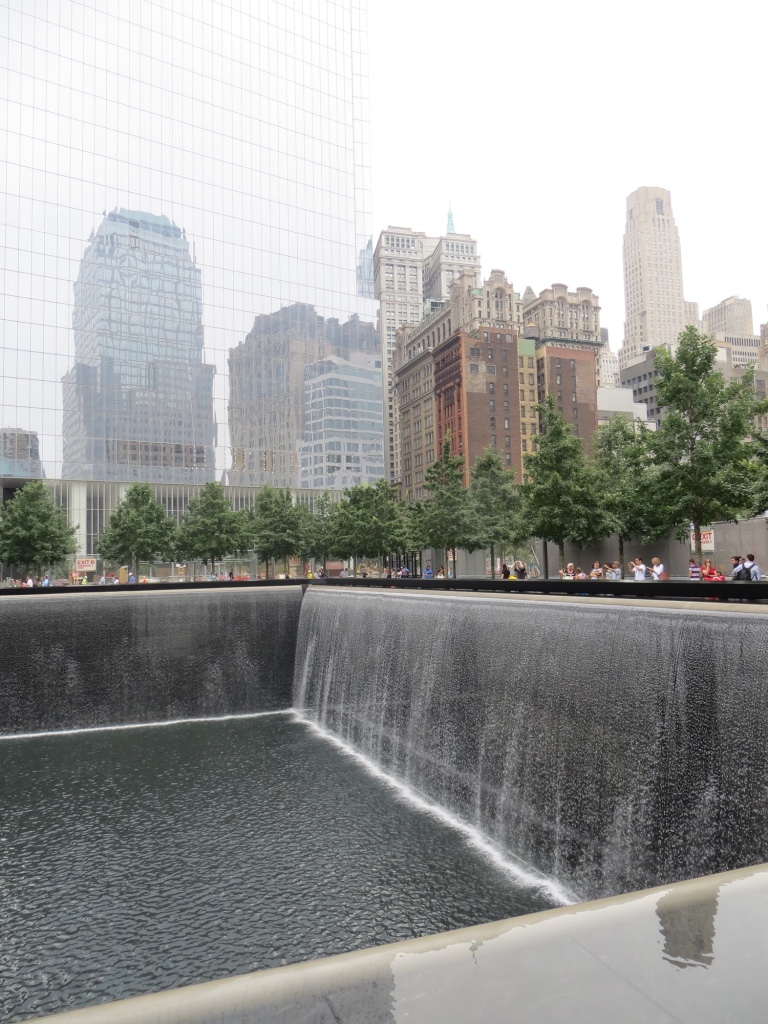 And New York wouldn't be New York, if it didn't rebuild the Twin Towers. A new, even higher World Trade Center (125 m/ 410ft higher than the ones before). It was inaugurated in November 2014.
TravelTips: At the time of our visit, the 9/11 Memorial Museum was closed. Too bad, but also reason enough to visit Manhattan, New York again soon. A MUST SEE, if you visit the Memorial.
To learn more, or to buy your tickets in advance:
Near the Memorial, you'll find the One World Observatory, with magnificent views of the tip of Manhattan & beyond.
Other attractions in the vicinity of the 9/11 Memorial & Museum:
9/11 Tribute Museum, One World Observatory, City Hall Park
.
At #6. A visit to the Metropolitan Museum of Art, better known as "The Met"
Like the earlier mentioned American Museum of Natural History, the Met also is a famous & world-class museum. This time though, showing off an impressive collection of Art works. A worldwide collection in which – again – you can lose yourself. I mean, literally lose yourself.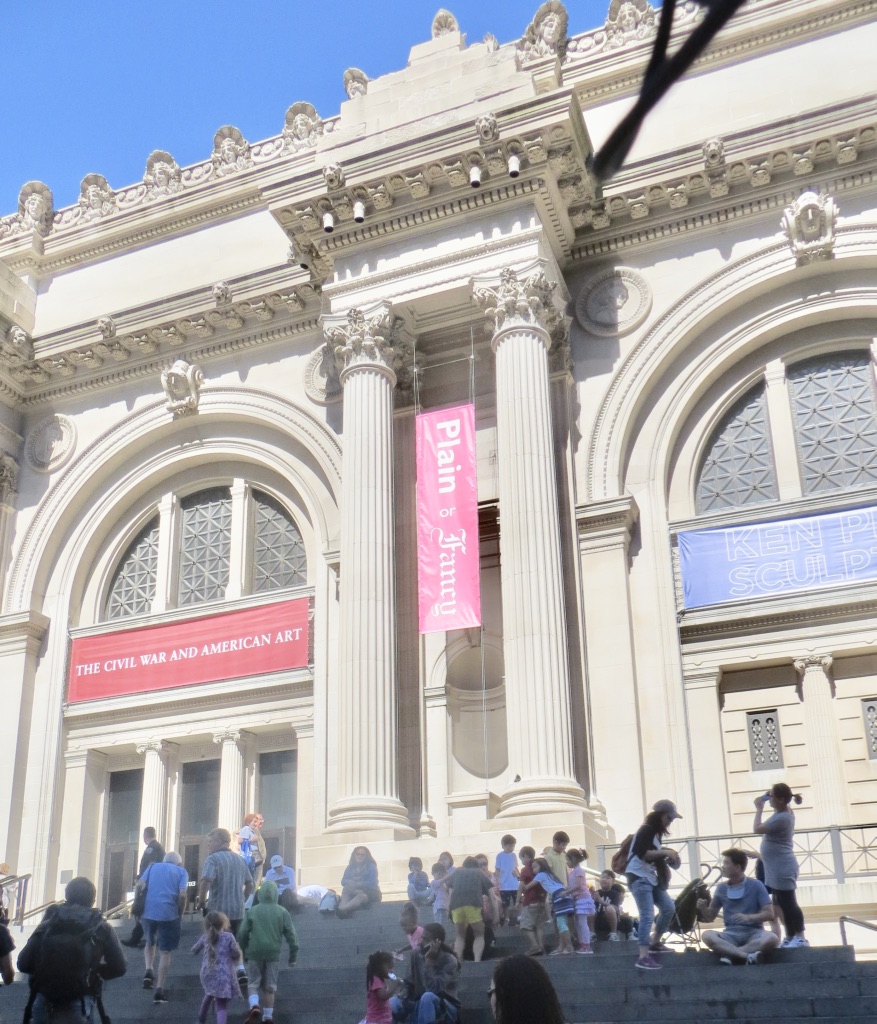 The Met was founded in 1870. Today, over a million artworks are exhibited permanently.
Besides the rooms with historical artwork of the old civilisations (Mesopotamia, Egypt, Greece & the Roman Empire), you'll find rooms with art from all the continents. With a special American Wing & a majority of rooms for European Art.
Besides paintings & sculptures (ancient & modern), there's also room for photographs, musical instruments, arms & armour, decorative arts, drawing & prints.
We visited them all…
Just kidding. As in the case of the Museum of Natural History, it's just too much to visit it all in one single day.
TravelTips: Again, we prepared ourselves months before. Visiting the museum virtually to select our personal highlights. A great idea, although … In the end it still felt like running the Met.
Personal highlights
We started with the unique art works of Mesopotamia, followed by
The beautiful finds from Egypt
Some impressions of Greece & Rome
Before heading out searching for European painters, like Cézanne, Gauguin, Monet, Manet, Klimt, Frans Hals
Concentrating on our "own" Dutch masters, Rembrandt, Vermeer & of course Vincent van Gogh.
Ending up in the American section, on the lookout for a special painting by Frederick E. Church – Heart of the Andes, painted by him during a visit to my second home country, Ecuador. Surprisingly big & beautiful.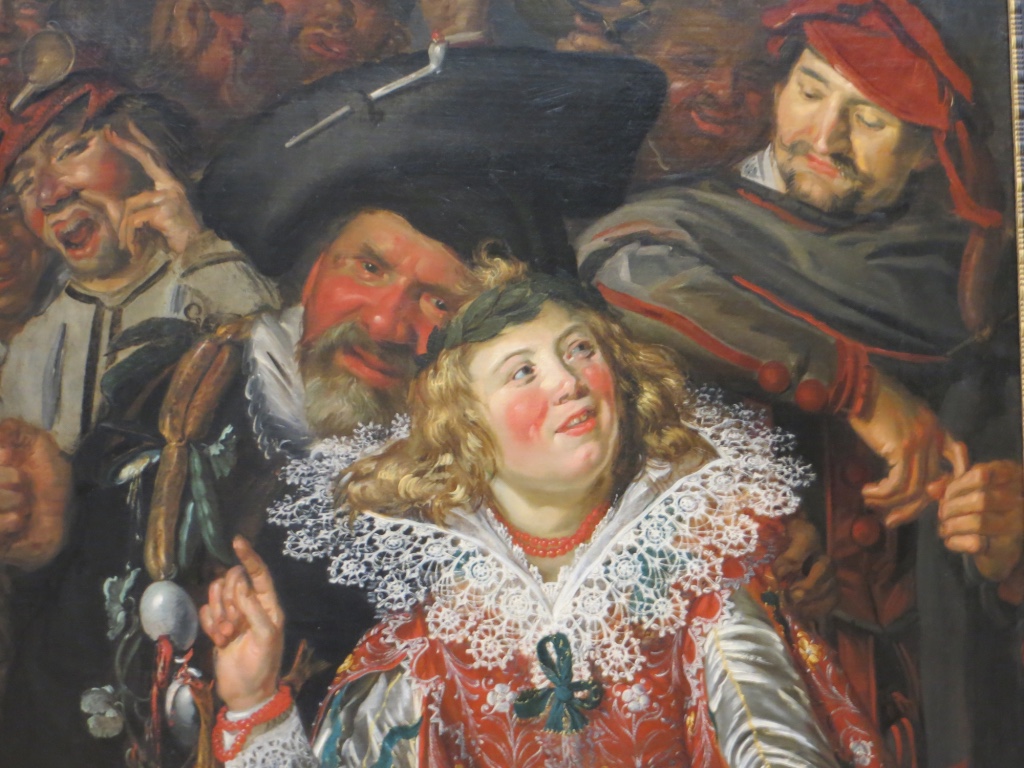 Of course, a very personal list of highlights, serving me to give you an idea of what the Met has to offer.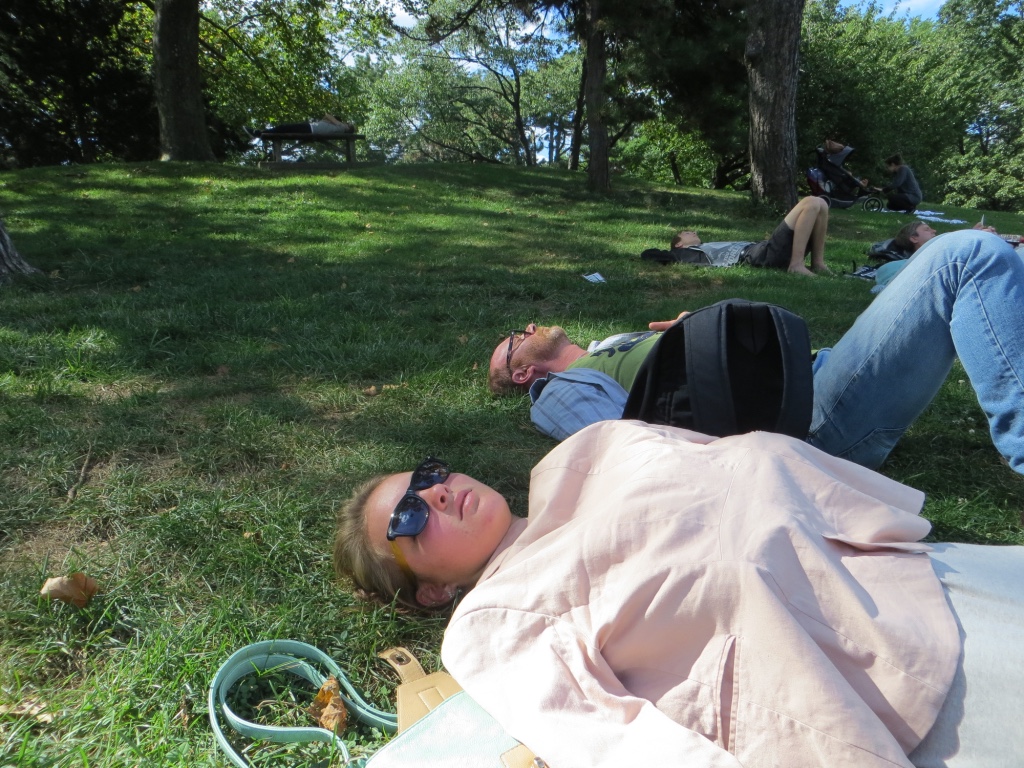 If you didn't prepare virtually, I would recommend you to go for a guided tour of this enormous museum (& skipping the long entrance lines simultaneously):
For more details, click on add below:
Other attractions in the vicinity of the MET:
Besides bordering Central Park, nearby you'll find the New York Historical Society, The Dakota Building & Strawberry Fields memorial.
TRAVELTips: Concerning the weather in Manhattan, New York
The climate. Although always unpredictable – more so, the last couple of years – NY usually has its hottest months in July & August. While December, January & February are generally the coldest.
Also important concerning the weather: NY has four seasons. Summer can be tropical hot – as we experienced, without bothering us too much – Winter icy cold, with snow storms even. For many people, that makes Spring or Autumn the best time to visit Manhattan, New York.
As NY is located just above 40° North of the Equator. As a consequence in July/Augustus you can enjoy around 15 hours of sunlight. In the middle of the Winter, only around 9 hours.
Finally, rain… Although Manhattan receives a lot of sunshine during the year, rain can fall every day, in every month. Just be prepared. When you pack your bags, but also in your planning. Fortunately Manhattan has as many indoor attractions as outdoor, so there's always an alternative thing to do, when rain, heat or cold is bothering you.
At #7. Walking the Brooklyn Bridge
The only time we left the island during our visit to Manhattan, New York was after crossing the Brooklyn Bridge. One of the most beautiful bridges in the world. A walk we shared with thousands of other visitors.
The main reason the bridge was named the Brooklyn Bridge, was because the initiative to build it was taken from that side. Construction was started in 1869. The bridge opened to the public on May 24, 1883.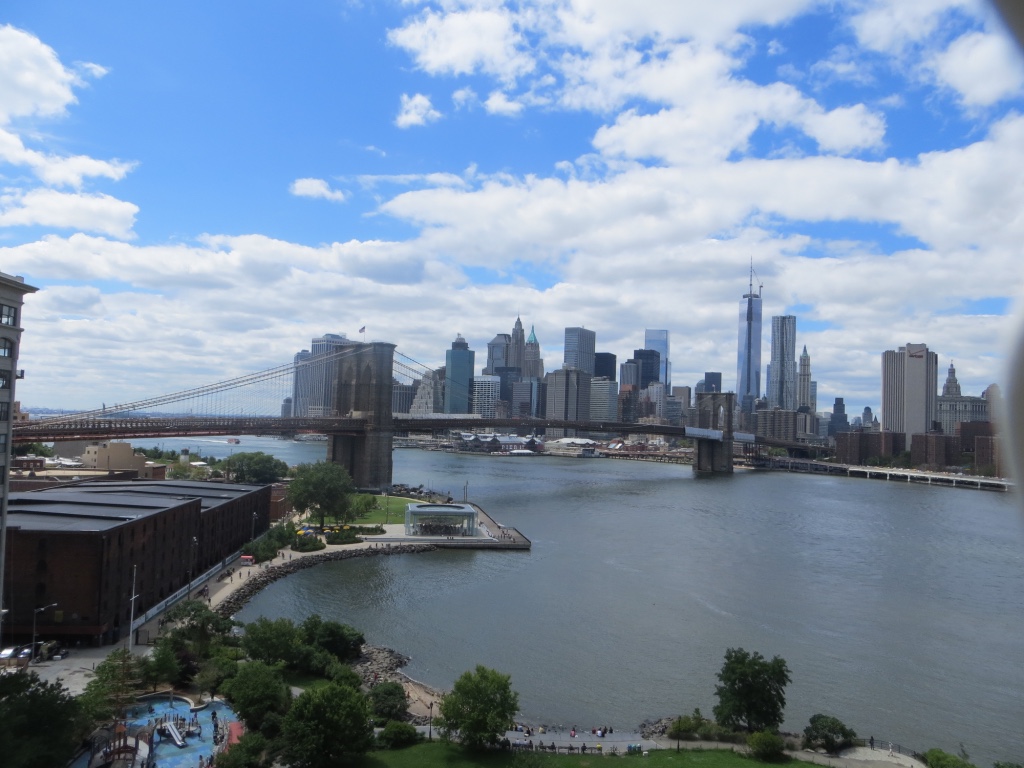 BookTip: Just before our visit to Manhattan, New York, I finished a marvelous read about its construction by father John A. & his son Washington A. Roebling: The Great Bridge, written by David McCullough, 1972. What a story!
While constructing the two towers that hold the bridge, Roebling Sr. got seriously ill. Because of the work underwater – installing the foundations for the bridge – he contracted Caisson Disease, also called Decompression Sickness. An awful affliction that causes a lot of pain, can paralyse someone or even lead to death.
Sr. barely survived, but he never went to the worksite again, following the construction of the bridge from his house in Brooklyn Heights.
Crossing the bridge
TravelTips: To cross the Brooklyn Bridge (1834 m/ 6016ft long) on foot takes approximately an hour. Meanwhile, enjoying beautiful views of the tip of Manhattan, the Statue of Liberty and the surrounding islands. A nice walk through history.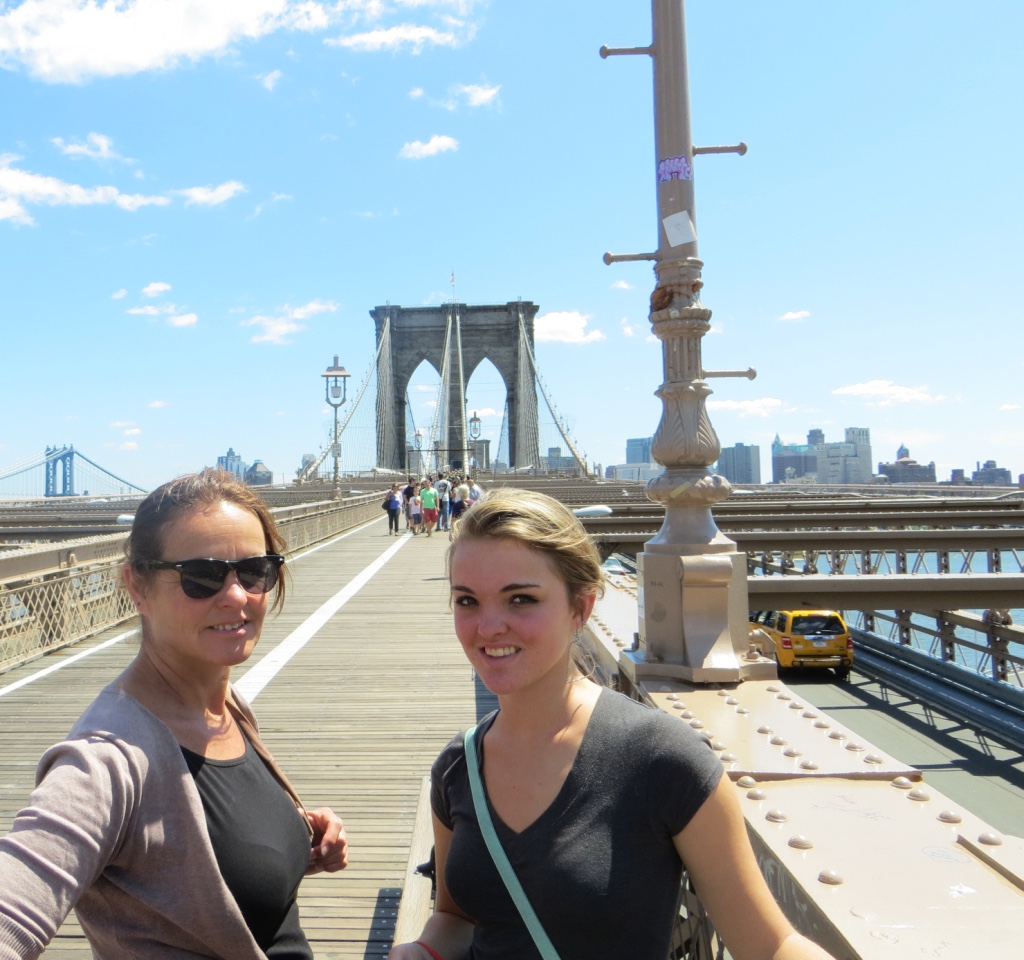 A famous spot on the Brooklyn side is DUMBO (Down Under the Manhattan Bridge Overpass), where you have a unique view of the Manhattan Bridge. An ideal location to take some special pictures.
After a short break on the Brooklyn promenade, we crossed the East River again. This time over the Manhattan Bridge. Not as impressive as its nearby neighbour, but leading us to my number #8 attraction in Manhattan.
Other book titles on New York
BookTips: Besides the specific book title on the Brooklyn Bridge, there are two books I'd like to recommend if you're interested in New York's history.
The first, a Historical Novel by Edward Rutherfurd, New York – The novel, 2010.
The second a Non-Fiction work, written by Edward Robb Ellis, The Epic of New York City, 1966.
.
Other attractions in the vicinity of the Brooklyn Bridge:
On the Manhattan side, you're very near City Hall Park. On the other side, you can visit the Brooklyn Bridge Park with beautiful views of Manhattan.
At #8. A visit to China Town & Little Italy, Manhattan
The Manhattan Bridge ends up in Chinatown. A busy, colourful part of Manhattan. "Doing business" is all over the place. Little shops, markets, restaurants. It's a relatively small neighbourhood, with its own unique atmosphere.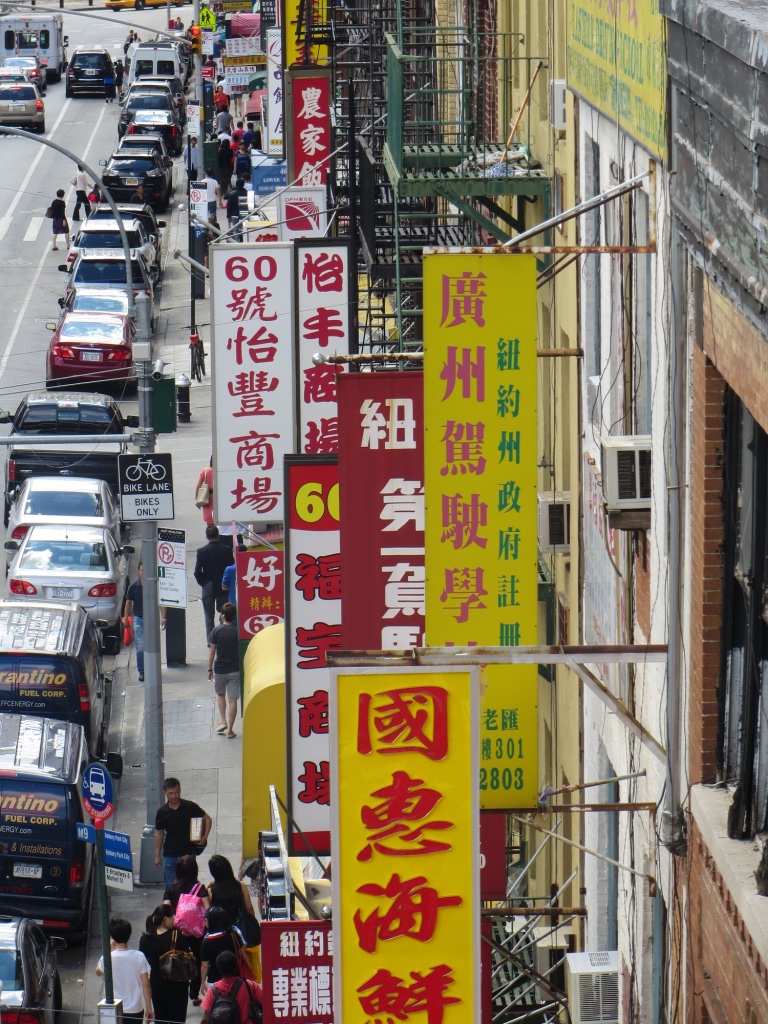 After Chinatown, we crossed over to Little Italy. A neighbourhood with a completely other vibe, … Italian, of course. Some of it is long gone, but still… the streets, the houses, the people, the many restaurants, the shops, the names on the buildings.
One of my favourite film directors, Martin Scorsese, as well as actor Robert De Niro, grew up in Little Italy.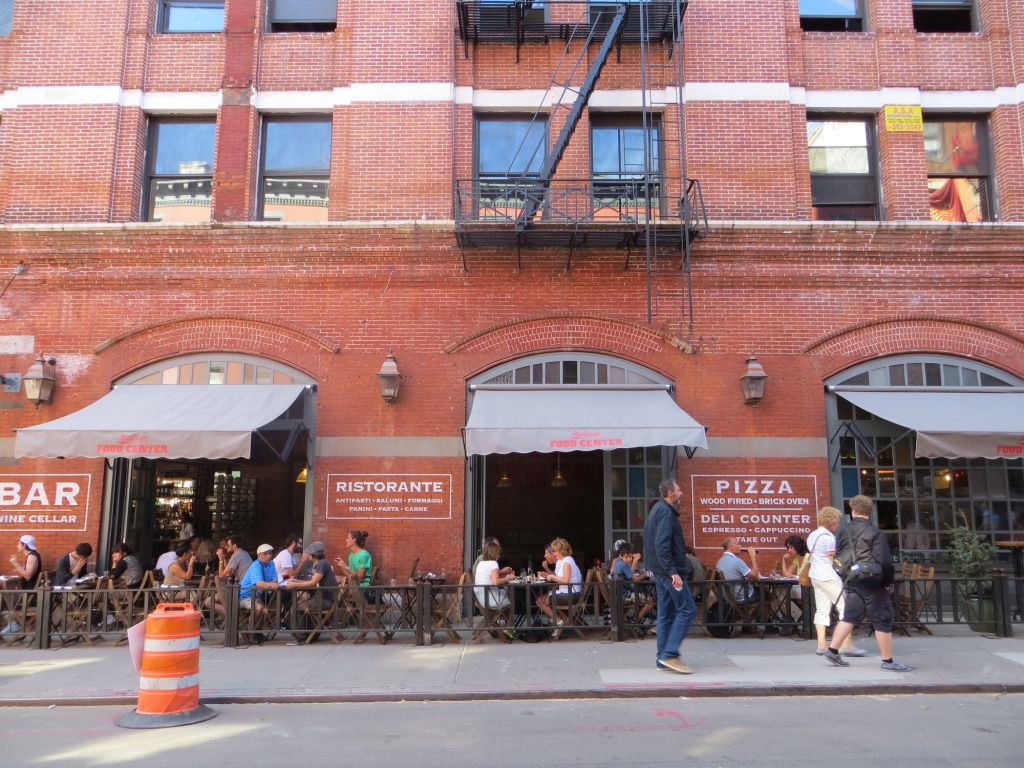 Manhattan itself, at number #1
TravelTips: After a visit to these two neighbourhoods, I wondered: "Isn't the biggest attraction of Manhattan, New York, not Manhattan itself? Its number #1 MUST SEE?"
Just walking its streets, trying to feel the vibe of every neighbourhood & getting to know its history. From the Dutch past in Lower Manhattan to the actual jigsaw puzzle of nationalities & cultures, races & classes that live in this unique metropole.
A worldly vibe all together. Something New York shares with cities like London, Paris, Barcelona, Rome, Rio, Tokyo, but also Amsterdam. Yeah, for me, New York felt like a Big Amsterdam (New Amsterdam still?). In other words, Amsterdam feels like a small New York.
The next time I visit Manhattan, New York, I'm gonna just do that … walk its streets. Crossing over from one "hood" to the next. Nothing else.
Eating out
Besides its own vibe & history, every neighbourhood has its own restaurants. Surely, the two mentioned – Chinatown & Little Italy – are well known for it.
TravelTips: We visited restaurants in both these areas. Mainly because we love Chinese, as well as Italian food. That said, besides these two, we didn't visit too many restaurants during our stay in Manhattan, New York.
One reason was our 10-Day Budget (Manhattan, generally being really expensive). Another reason was the fact that there were so many alternatives. That is – for us – buying delicacies in markets and stores instead (see below, under Shopping in Manhattan, NY).
To be honest, our need to go for delicacies was also "fed" by the fact that we live in Ecuador (& being born in Europe). In other words, missing out on many delicacies from the past, we learned – preparing our visit to New York – Manhattan houses many special food markets, shops & deli's. A perfect opportunity to recover some taste buds.
.
At #9. A night on Broadway
TravelTips: Have your pick of a Broadway show.
Beforehand, we studied the different options offered to us and finally chose "The longest-running show in Broadway history!". The Phantom of the Opera, written by Andrew Lloyd Webber.
A historical show in a historical place, the Majestic Theatre. One of the biggest theatres on Broadway.
The Majestic opened its doors in 1927.
Although already running many years – from 1988 – we didn't get the sensation The Phantom was pure routine. In other words, we enjoyed the performance. As well as the accompanying live music.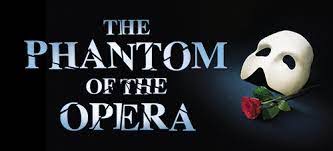 TravelTips: Another way to enjoy Broadway is to book a walking tour & get to know more about its history (including nearby Hell's Kitchen & Times Square).
For more details on this tour:
.
At #10. Shopping in Manhattan, New York
Last, but not least… You can't escape "shopping" on your visit to Manhattan, New York.
I'm not so much talking about a shopping spree or "buy until you burst", but referring to the fact that Manhattan houses many interesting & entertaining stores. Depending of course on everybody's tastes & needs, but also on your hobbies & passions.
TRAVELTips: Shopping in Manhattan, New York
A personal shopping list
My two companions – my wife & daughter – spent a few hours shopping for clothes (While I was out watching, & in the end almost regulating the NY traffic outside). Unavoidable, also because prices in the US for clothes are low compared to many other countries.
I needed some good shoes, so I – almost as soon as we arrived – visited a Timberland Store. Buying two pairs for the price of one in Ecuador.
Besides clothes & shoes, we visited some special stores like the NBA Store, the M&M Store, the LEGO store & the famous FAO Schwarz Toy Store (on Rockefeller Plaza).
Closer to Central Park, we visited the famous Apple Store (or is it an Apple-supermarket?). A monumental store with its all-glass-cubicicle-entrance. We needed an iPod & an iPad. As if we were buying groceries!
As the three of us love books, we visited several bookstores. The absolute highlight being The Strand Bookstore (near Union Square), with – besides thousands of new books – a good selection of second hand & signed ones.
All over town, we bought some souvenirs. Mainly at the museum shops.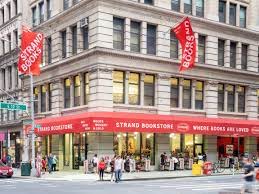 TravelTips: The moment we were sure to visit Manhattan, New York, we started saving money for shopping. Every time we needed something – especially clothes, electronics & books – we joked with each other: "Well, that can wait until New York!".
One thing we soon noted during our visit to Manhattan, New York is that most people that attend you in shops (& most attractions as well) speak Spanish. Not because they learned it, but because they were born in Latin America. Born in Mexico, Central America, Colombia or the country we live in & where our daughter was born, Ecuador (see About Me).
Outlet shopping near Manhattan
Another option is go on a Shopping spree at the famous Common Premium Outlet at Woodbury. Discounts in almost 250 stores full of well known brands, like Ralph Lauren, Calvin Klein, Louis Vuitton, Diesel, Gap, Nike, Adidas, Timberland, Tommy Hilfiger, and many others (Here's for: A list of Woodbury's Outlet stores).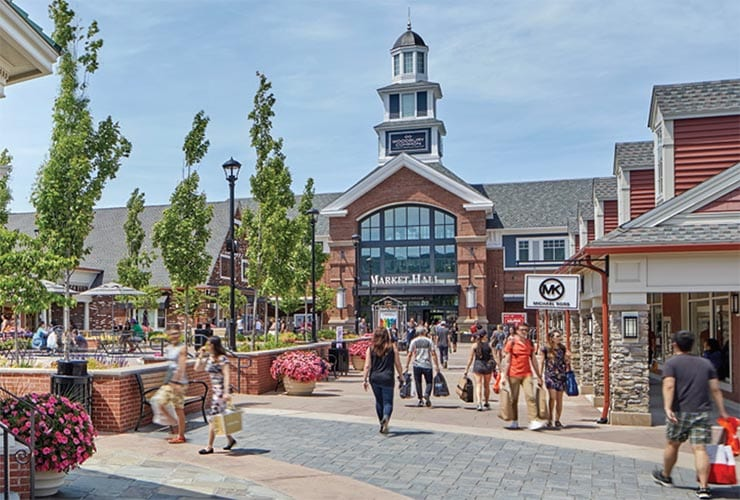 As the outlet is out of town – 1 hour by car – you can think about a tour to the outlet, which includes transport to & from, but also a VIP discount e-booklet.
Click on the name to learn more about this shopping tour:
.
TRAVELTips: Food shopping in Manhattan
Earlier on, I mentioned our passion for food. Resulting in a search for local delicacies. We try to do that in every country we visit.
Manhattan is full of bars, restaurants, delis and food shops & markets. We visited quite a few, but I will only mention the ones we will surely visit a next time, giving you mainly alternative ideas for eating out:
1. At the Eataly market in Little Italy you'll find fresh Italian products like pastas, cheeses, hams, salamis, bread, tomatoes, olives & olive oil, wine, coffee, cookies, etc. Enough to make it hard for every visitor to make a choice. (Besides the Eataly of Little Italy, there's another one near the Flatiron Building).
2. The Jewish Specialty store Zabar's is just a few blocks away from the American Museum of Natural History/Central Park. A historical, famous food store full of unique delicacies (Wikipedia defines it as "an appetizing store"). A real treat!
3. Chelsea Market – a former cookie factory turned into a sort of shopping mall/ food hall/office building – offers special plates from all over the world. (And if planning to take away some delicacies, The High Line is nearby. Ideal for taking a break).
4. Finally, I would like to recommend Zucker's Bagels & Smoked Fish, which has several shops in Manhattan.
Besides "delicious" alternatives, at these food shops, markets & delis you can find all you need to organise a picnic, taking your "catch" to a nearby park. Simultaneously, keeping your budget under control.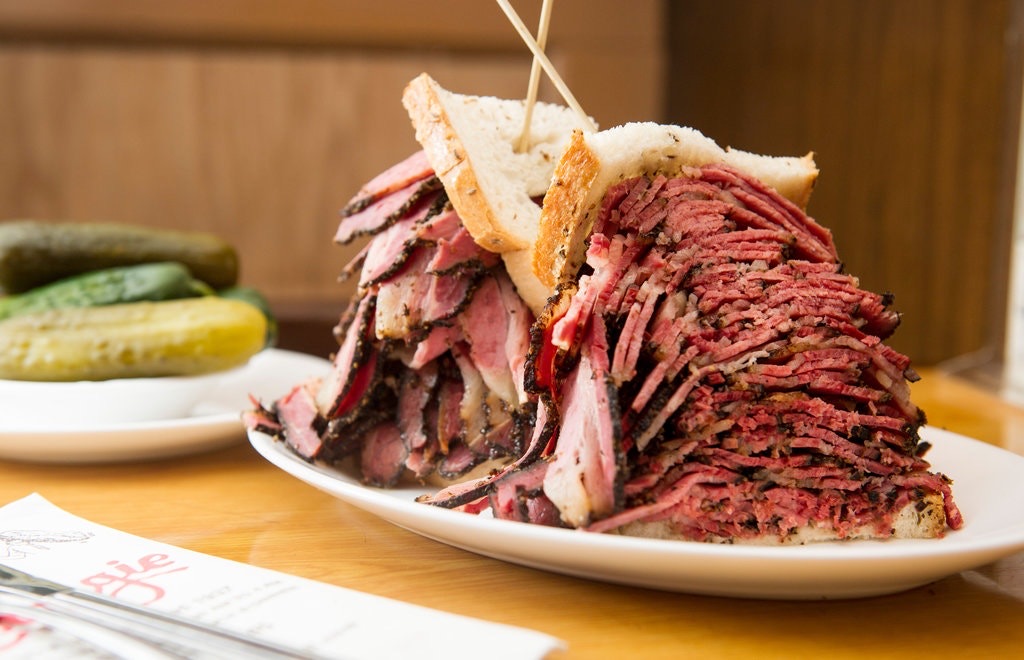 Typical NY
Another possibility is to commit once in a while to NY street food (& others) like pizza, hot dog, burgers, bagels, cheesecake…
One delicacy you can't miss – although a personal choice, of course – is to buy yourself a typical Pastrami sandwich. You can buy them all over Manhattan (Google it!). They may seem pricey at first, until you get one (see photo above). It took us three days to finish ours.
New York City Food tours
Another great way to explore Culinary Manhattan is to book a Food Tour. Certainly when participating on one of your first days, may help you find the best places for you "eat out".Depending your preferences there are many options, but I've chosen the most popular ones.
If interested in a particular Food Tour, click on the name to learn more: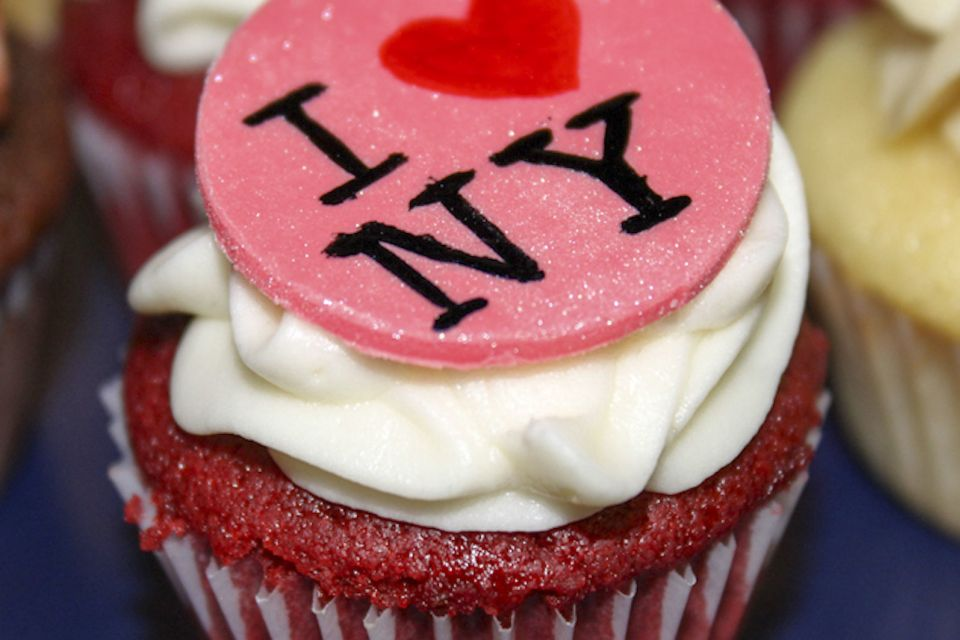 TRAVELTips: How expensive is a visit to Manhattan, New York?
Well, first of all: Manhattan is an expensive destination. Like almost every major metropolis, like Rome, London, Paris or Tokyo. Mainly caused by the presence of so many MUST SEE attractions.
Exclusive things to do, like a view of Manhattan from the top of the Empire State, a cruise along or to the Statue of Liberty, a visit to the Museum of Natural History, expensive hotels, bars & restaurants.
Of course, everything depends on what you want to do & how you want to do it.
Buy individual tickets, or a city pass.
Go to a luxurious hotel, or look for something less expensive.
Let yourself drive around in a taxi or learn to use public transport (like the subway)
Eat out every day, or settle for street food once in a while, if not always (pizza, hot dog, burgers, bagels, …)
Visit attractions all day, or alternate with relaxing moments in parks or walking certain neighbourhoods.
Buy everything you like, or buy some smaller, specific souvenirs.
All these choices determine how much your visit to Manhattan, New York will cost. Simultaneously, this post surely has given you some ideas on how to save money.
Other attractions we visited
Besides the Top #10 attractions mentioned, we visited many more.
Grand Central Station
The first place we went to, arriving with the metro. An overwhelming entrance to NY. Also, because you remember this particular station from so many movies & television (North by northwest, Men in Black, Superman, Armageddon). An impressive building really.
The NY Public Library
Another historical place to visit. A beautiful library. A personal highlight for me because I could hold one of my own books there. That is, after I became a member (which only took 5 minutes) and could order it up from I don't where (which took 15).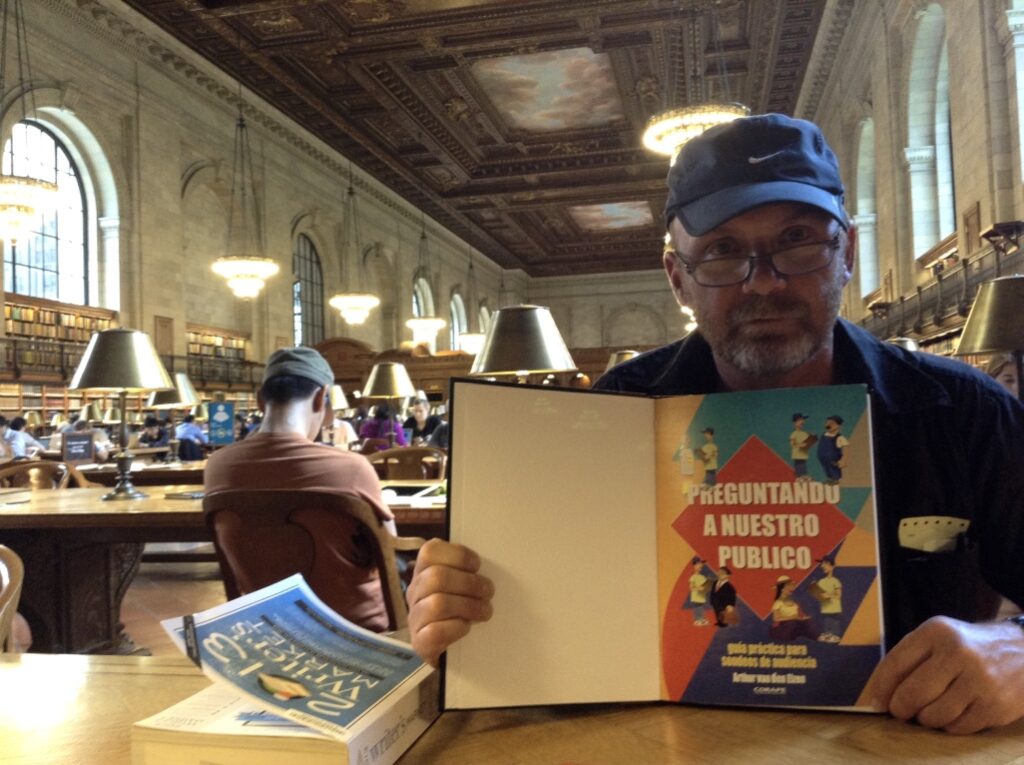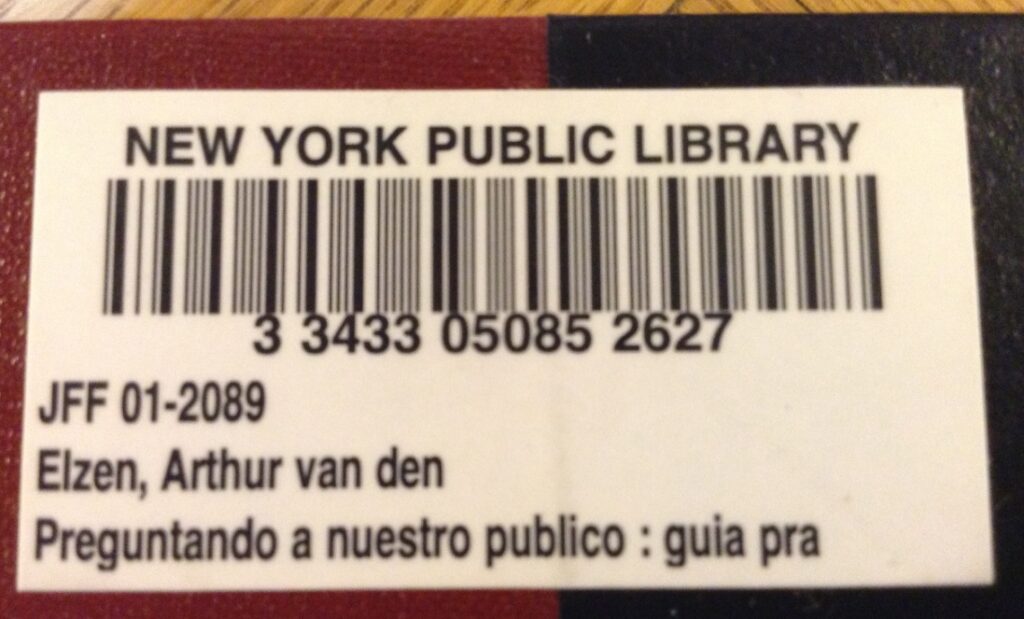 Statue of Liberty
Impressive, of course, but I have to say that because of security measures we felt a little bit like prisoners going to the Statue of Liberty instead of welcome-guests to the US. (Unfortunately Ellis Island was closed at the time of our visit).
To buy your ticket(s) in advance:
Circle Line Tour
In that sense, a circle line tour of the NY harbour might be enough to get an impression of the Statue of Liberty, Ellis Island, Governor's Island, the Brooklyn & Manhattan Bridge and the tip of Manhattan…
And more…
Central Park Zoo
A nice, somewhat old-fashioned, cozy zoo. Not too big, not too small.
Flatiron & Chrysler Building
Outside impressions of two of Manhattan's multiple architectural landmarks.
Madam Tussauds
We had some fun at Madam Tussauds. Met some presidents, the first Apollo 11 astronauts, the "old" Beatles, some former NY Nicks players, like Anthony and Ming. As well as, Cassius Clay aka Mohammed Ali, Elvis, Rihanna & Salvador Dalí.
Museum of the City of New York
Beforehand, I had heard this museum exhibited a scale model of the former Dutch colony – "New Amsterdam" – which was located at the tip of Manhattan. Unfortunately it wasn't on display anymore. Too bad, but there were several other interesting expositions at this museum & a short film on how Manhattan changed over time. So, if you're in the neighbourhood.
.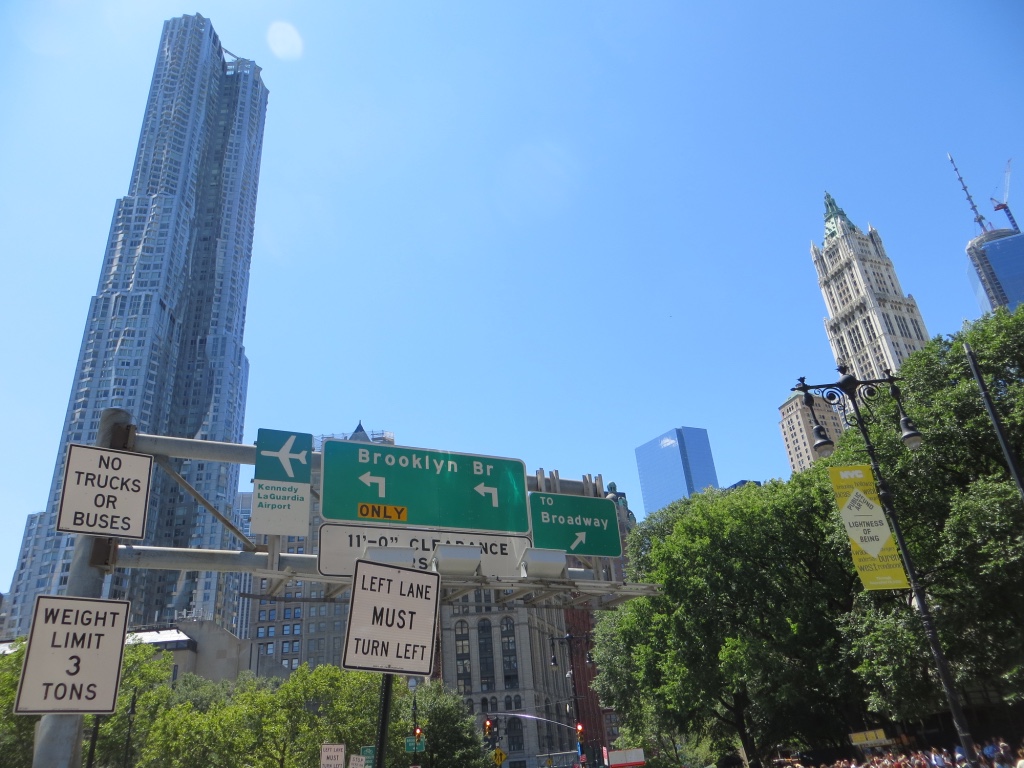 Next time we'll visit Manhattan, NY
As stated before, Manhattan, NY is an expensive travel destination. Not only costly when it comes to stay the night, eat & drink, but also to visit its biggest attractions. Something we consciously planned to do the first time around.
TravelTips: Next time though, we want to focus our attention on the lesser known attractions. Visiting smaller museums & lesser visited places, like:
Walk the High Line
Theodore Roosevelt Birthplace
St. Patrick's Cathedral
Yankee Stadium
NY Botanical Garden
Italian American Museum
The Skyscraper Museum
The National Museum of the American Indian
Ellis Island & Governor's Island
The Bronx Zoo
Dyckman Farmhouse Museum
United Nations Building
Staten Island Ferry
The Lower East Side Tenement Museum
Also, we would like to walk through some historical neighbourhoods. Try to get the vibe …
And surely, we will again – in preparation – put money aside for shopping. Delicacies, clothes & shoes, maybe some electronics & books of course… (including some second hand bookstores).
.
TRAVELTips: Some popular Day-trips from Manhattan, New York
From experience I can tell you, 5 days, 10 days, 15 days… It simply isn't enough to visit all the attractions Manhattan, New York has to offer. After 10 days on the island, we know we have to go back one day to do the rest. Beforehand knowing that won't be enough either.
Worse when you learn there are other beautiful & interesting things to do nearby. Depending on your preferences – again – there's a lot to choose from. I will only mention the most popular one's, to give you an idea.
Popular Day-trips near Manhattan, New York
North of Manhattan you can explore The Bronx, with its Zoo, Botanical Garden & Yankee Stadium (Babe Ruth!).
A tour of other NYC Boroughs, like Harlem, Queens, Brooklyn, as well as Coney Island.
The Hamptons, Sag Harbour & Outlet Shopping Tour.
Sunset Cruises or Helicopter Rides around Manhattan & the Hudson Valley.
Day-trips further away
A 1 day tour to Washington D.C. & Philadelphia.
A 1- or multi-day visit to Niagara Falls on the Canadian border.
How to get there?
To get yourself & your family and/or friends to the places mentioned, there are several options. If you've got the time & energy you can do it on your own. Public transport or a taxi. Surely not too difficult when the location is nearby, like the Bronx or Brooklyn (easy to reach by metro!).
When further away, it's better to rent a car or go on a Tour.
If you want to rent a car, I would recommend RentalCars (part of Booking.com), which – by experience – provides the best prices & excellent service.
To learn more, click on the banner below:
.
Alternatively, you can make a Day-trip with a Tour-Agency. To arrange a tour, I recommend GetYourGuide, which not only offers many options, but also the best prices.
To learn more:
.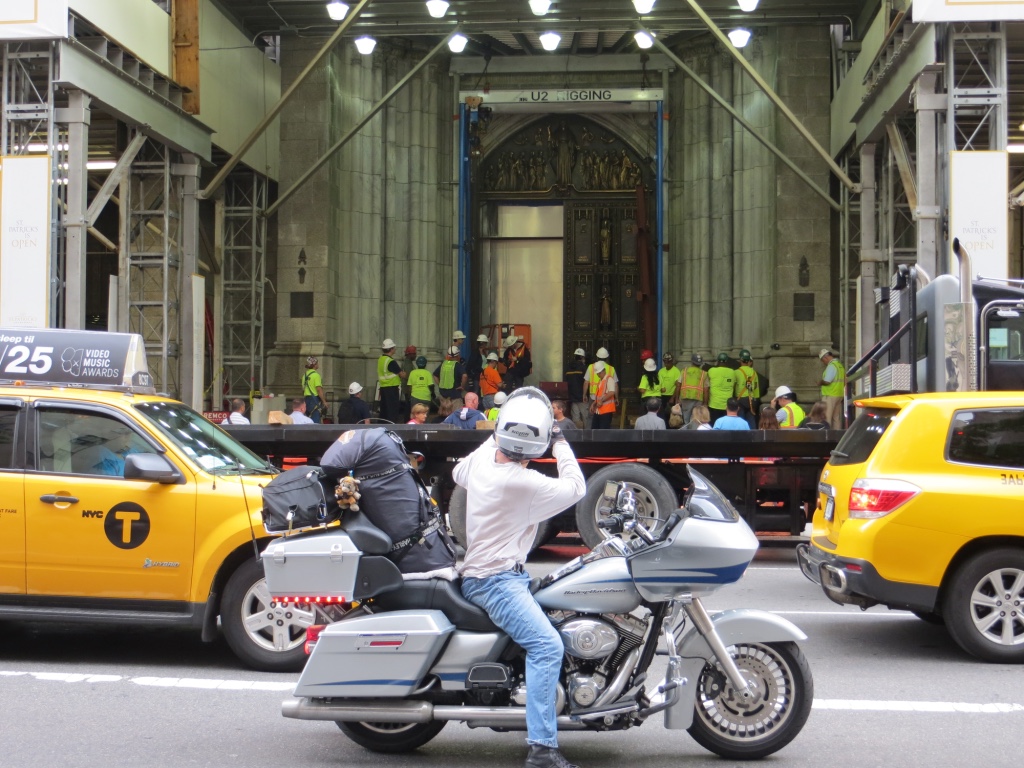 Last TRAVELTips: Before you go….
Tourist Visa
(IMPORTANT(!) TravelTip:: Don't forget to apply for a visa to enter the USA. If you are a citizen of a Visa Waiver Program (see VWP) country though you only need to solicit authorisation of ESTA – actual cost, $14 (see Electronic System Travel Authorization).
The Best Flight to New York
There's a chance you've already booked your flight, but if not and you're still searching for the best & cheapest flight … I – for one – recommend CheapOair.
A website that in a few seconds checks all flights available, comparing prices & flight times.
To learn more, visit: CheapOair.
.
How to get from/to the Airport
There are three airports in New York: John F. Kennedy International (JFK), LaGuardia (LGA) & Newark Liberty International (EWR). Most people arrive at JFK – by far the biggest airport – but sometimes also at the other two. LaGuardia is the nearest to Manhattan.
The best & cheapest way to get to Manhattan is by metro or subway, which operate 24/7.
From JFK to Manhattan: Take the JFK AirTrain to Jamaica station (connecting subway to Midtown & Uptown) or Howard Beach (Lower Manhattan). Cost: $10.75 Travel time: 60-90 minutes. Alternatively there's a commuter train (Long Island Railroad/LIRR) between Jamaica and Penn Station or Grand Central Madison (opened Feb 2023 – below Grand Central). Cost: $15.75. Travel Time: 35 minutes.
From LaGuardia to Manhattan: From the airport take the M60 bus to 125th street, Manhattan, which connects to most subway lines. Cost: $2.75 Travel Time: 30 minutes.
From Newark to Manhattan: Take the AirTrain to the AirTrain Station, change over to the New Jersey Transit train which heads to NY's Penn Station. Cost: $15.25 Travel Time: 40-60 minutes. Alternatively, there's a Newark Airport Express which can leave you on Times Square, Bryant Park or Grand Central ($18, 45-60 minutes).
For an overview of the Subway system in Manhattan, New York, go to the: Subway Map.
*****
Alternatively, you can take a taxi (yellow cab) or arrange a private transfer beforehand. More expensive, but sometimes the best option if you arrive late, have a long flight ahead and/or will bring quite a few suitcases.
Click on the following links to arrange: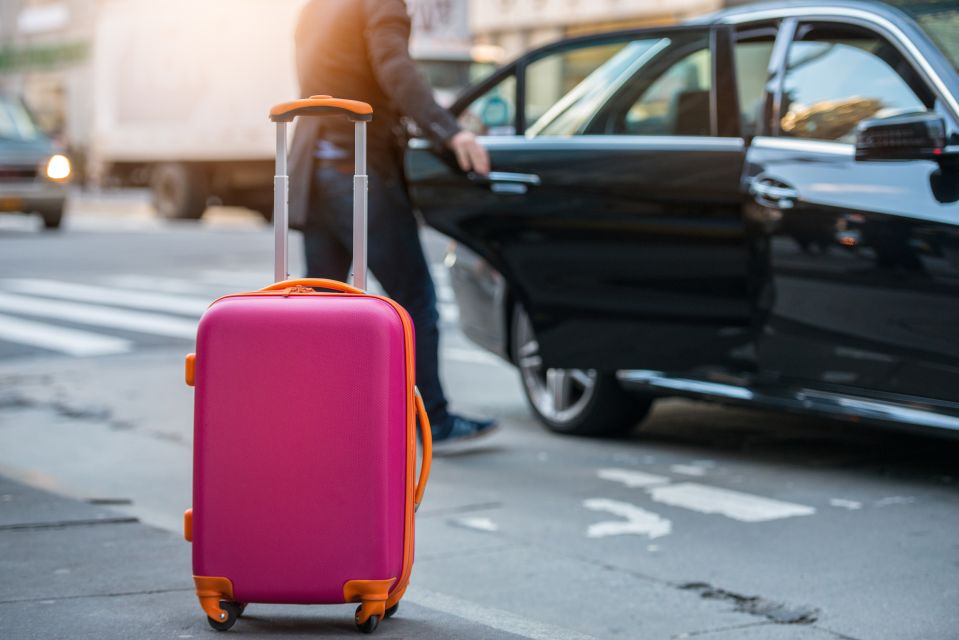 *****
In conclusion, there are so many ways to enjoy your next trip. I sincerely hope this post has helped you to plan the perfect visit to Manhattan, New York.
For an overview of all travel posts of my blog, go to: My Home Page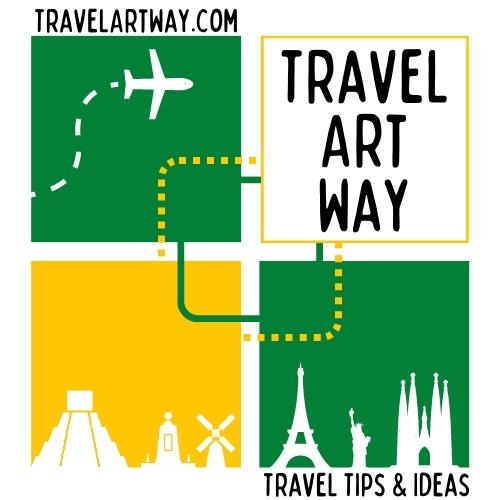 ,