After Fez, we brought a 3-day visit to the Blue City of Chefchaouen, located in the northern part of Morocco.
A somewhat hidden, easygoing and surely photogenic marvel in the Rif Mountains. A perfect place to relax & enjoy the local culture. If not some hiking adventures in the natural surroundings of this small town.
Chefchaouen – also known as Chaouen or Xauen – is a Berber/Amazigh name & means "look at the horns". The name refers to the twin peaks which stand guard over the city – the Jebel Megou & the Jebel Hassani.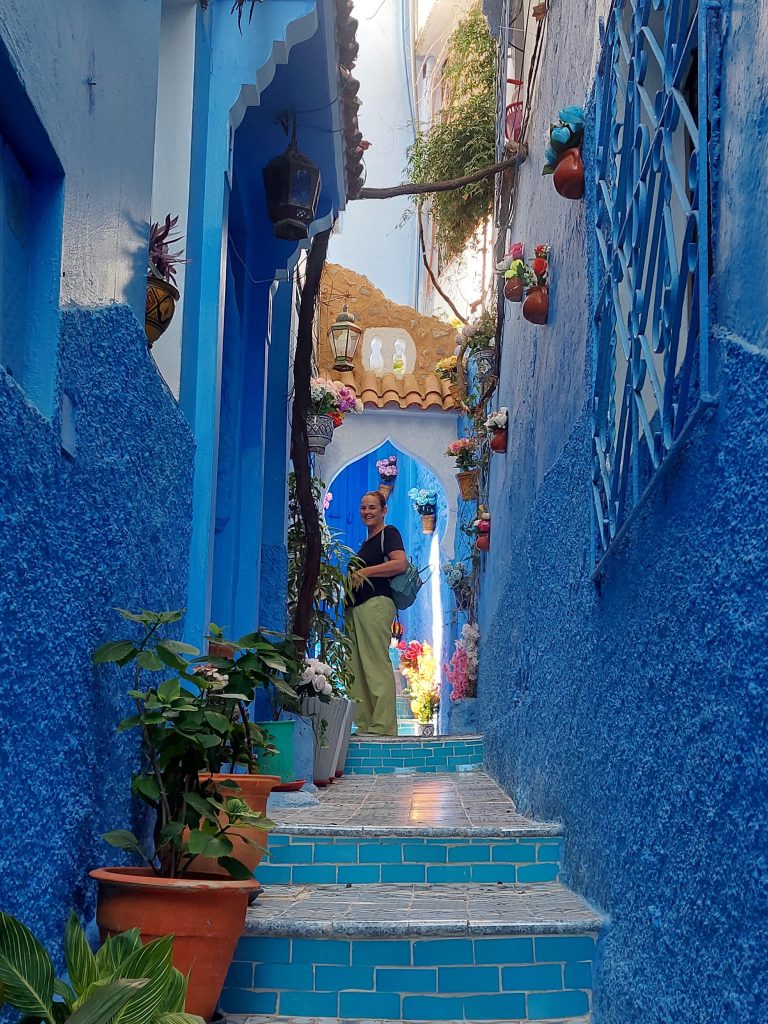 In all – in comparison to Fez, where we were earlier on – an open city with beautiful views inside & out. Besides the fresh & clear mountain air all around.
Short historical introduction to Chefchaouen
Chefchaouen was founded in 1471 AD by Moulay Ali Ben Rashid, a direct descendant of Idris I, the first major Islamic ruler of Morocco.
The city was originally built as a walled city – a fortification against the Portuguese invasions. Strategically located in de Rif Mountains to block the enemies' pass to the south.

Soon enough – after the Reconquista of Granada (1492 AD) – many Islamic refugees from Spain crossed over to Morocco & ended up in places like Chefchaouen. Among them, many Jews who left Spain because of the Inquisition. Immigrants who would play an important part in Chefchaouen's history.
A town which furthermore, because its location amongst the Rif mountains, stayed isolated for centuries – that is, until the first half of the 20th century. This being one of the main reasons it kept its Spanish outlook, culture & language.
One noteworthy characteristic of Chefchaouen – when it opened up to the world about a hundred years ago – was that many of its inhabitants still spoke a medieval sort of Castilian.
Nowadays it's mainly a touristic destination with its own vibe. For me/us personally, a must-see if you're in the neighborhood.
*****
For a longer, yet concise version of the eventful past of the entire country, go to: History of Morocco.
Besides this short history, I've prepared another post with general travel tips & ideas for Morocco. Including segments like Getting Around, Personal Safety, Guides & Tours, Weather, Best time to go, Clothing, Shopping, Money. To learn more, go to: Tips & Ideas for your visit to Morocco
Chefchaouen as a tourist attraction
Chefchaouen is one of the nicest & most relaxing tourist attractions in Morocco. It somehow seems like the inner city is solely built for tourism & nothing else, but that's not true of course.
To underline the relaxing vibe of the place, Chefchaouen is famously known for the use of "kif" (cannabis), which is cultivated in the surrounding area. As a consequence it is not hard to find for visitors, but be warned to not walk or travel around with too much of the "stuff" to avoid problems with the police/local authorities.
Soon after the country's independence – in 1956, from Spain(!) – Chefchaouen already became one of Morocco's main attractions. The city's blue buildings, narrow alleyways & traditional architecture make it a popular destination for international & national tourists alike. Besides that, a photographer's dream.
Local products
Chefchaouen is also famous for its local handicrafts. The inner city/medina is filled with shops, selling colorful shawls, scarves & carpets, but also ceramics, leather goods & many other typical Moroccan handicrafts.
In that sense, Chefchaouen is a perfect place to purchase unique souvenirs for friends & family and/or for yourself, to remember your visit .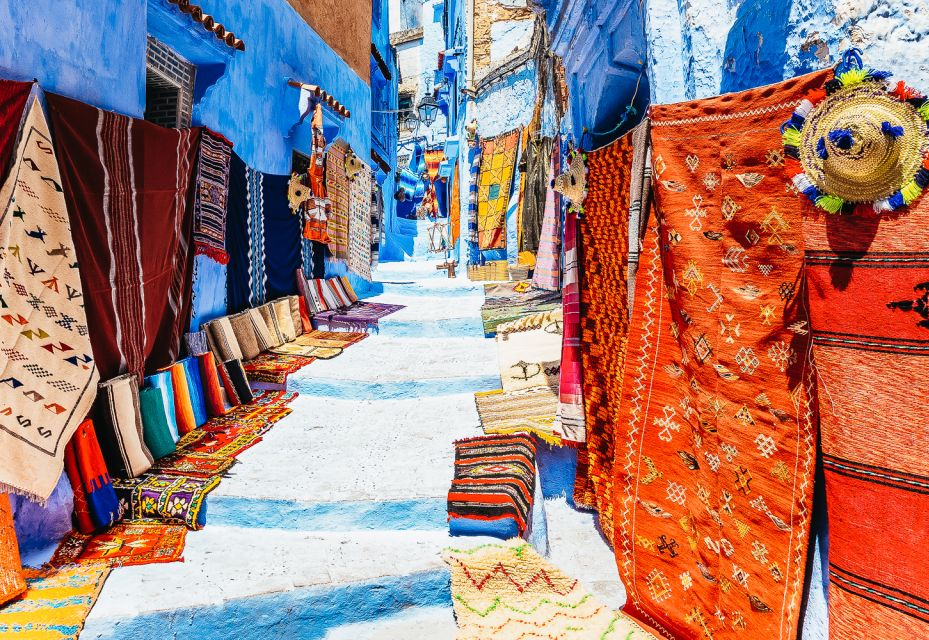 Outdoor activities
Besides being attracted by the laid-back, peaceful atmosphere of the city itself – contrasting completely with the busy & noisy cities like Fes, Marrakech or Tangier – many visitors also visit Chefchaouen for its beautiful natural environment.
An area which invites visitors to explore the countryside on hiking trips, but also to have a picnic or a swim in the surrounding Rif mountains.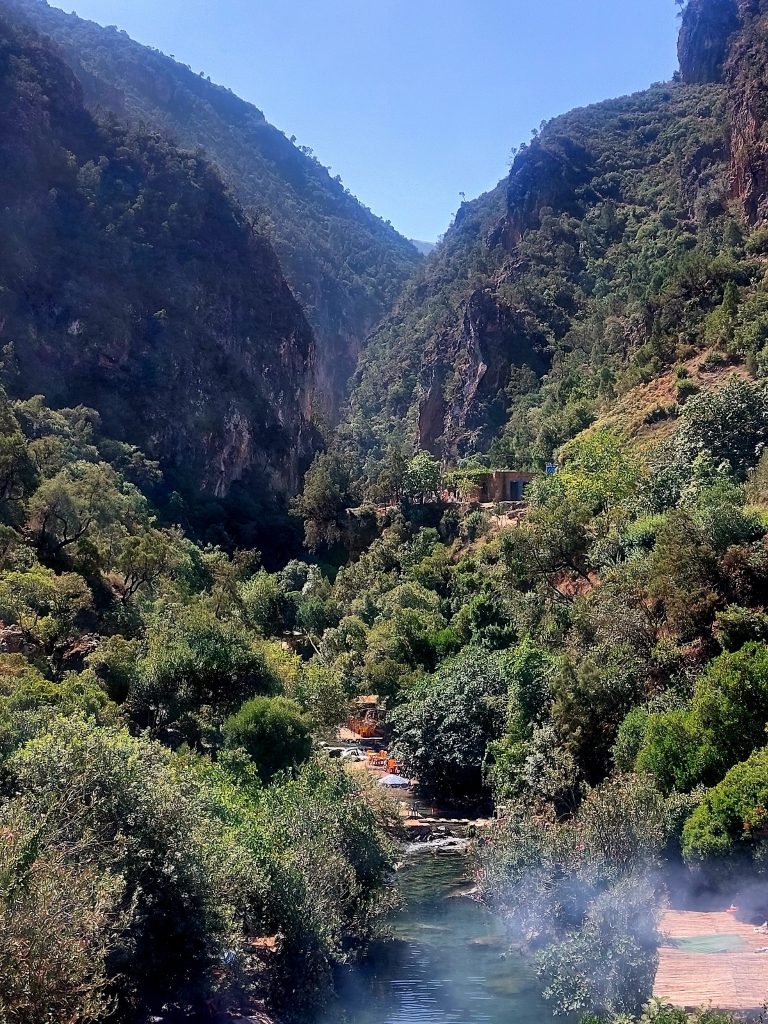 Most visitors stay in Chefchaouen for a few days, but others visit the city on a day-trip from nearby places like Fes, Tangier or Casablanca.
In short Chefchaouen stands for: local culture (in blue), eventful past with a Spanish touch, religious piety, architectural gems, photogenic, relaxed atmosphere, outdoor adventures, craftsmanship & souvenir shopping.
Important to know, before you read on…
Throughout this post & others I'll give you TRAVELTips which may help you plan your upcoming visit to Chefchaouen, Morocco. Using links provided by affiliate marketing platforms like  TravelPayOuts, GetYourGuide & others.
If you click on them & buy a ticket for a museum, book a tour or rent a bike a small commission of your purchase will go to me (paid by the provider, without any extra cost to you).
If you want to learn a little bit more about me, the blog writer, click on: Better call me Art.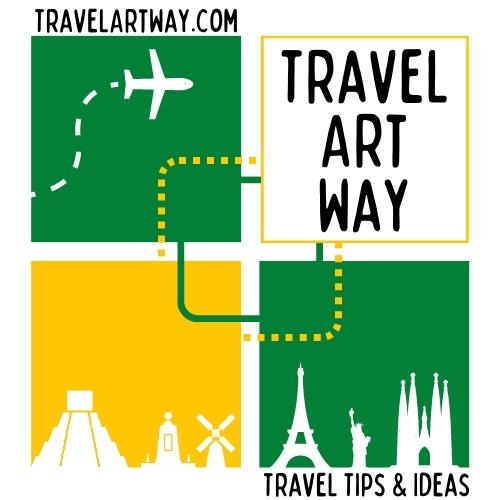 Main attractions to visit in Chefchaouen
Visit to the Blue Medina of Chefchaouen
At number one for your visit to Chefchaouen stands the beautiful medina of Chefchaouen. A lively city center full of historical monuments, small handicraft shops (souks) & restaurants – besides residences.
Impressions of our visit to the medina of Chefchaouen, Morocco.
Chefchaouen itself is mainly known for its weaving history.
Nowadays most products are made of wool. In the past however local artisans produced high quality silk products, which became less attractive because of international competition. Still though, you can find silk shawls & scarves amongst the many other handicrafts you'll find in the medina.
Alternatively there are products made of sabra or cactus silk. A strong, durable & shiny fiber that looks & feels like silk. Sabra is made from the leaves of the agave plant – a slow and labor-intensive process. In the end the fibres are not only used for making all kinds of clothes, but also rugs, carpets & pillows.
Because of the fact that the medina is small, you can't really get lost. Something which happens permanently in the medinas of the bigger cities like Fez, Marrakech or Tangier.
Still you may consider a Tour of the medina with a local guide. Someone who can tell you all about Chefchaouen's history & show the most interesting places, shops and/or restaurants.
Visit the Kasbah, Chefchaouen 
This 15th century fortress is located centrally in the medina. It overlooks the inner city, but also provides beautiful views of the city & its natural surroundings from its towers.
Impressions of our visit to the centrally located kasbah in Chefchaouen, Morocco.
The Kasbah – besides a beautiful & peaceful inner garden – houses the interesting Chefchaouen Ethnographic Museum. A collection of photos, maps & several artifacts that showcase the history & culture of Chefchaouen.
WARNING: Descriptions are given in Arabic & Spanish, not in English.
TRAVELTIP: Besides that, entrance prices of the museum differ considerably for locals (10DH) & foreigners (60DH). If you don't like this fact, don't go,… but you may reconsider knowing the fees support the maintenance of the fortress & museum.
Outa el-Hammam Square, Chefchaouenam
This is the main square in the medina. It's a great place to relax, watch other people go by & enjoy a bite or a drink.
On one site of this square you´ll not only find the mentioned kasbah, but also the Mezquita Grande, the grand Mosque (An impressive sight you may admire from the outside, as it's only open to muslims).
The best time to visit the main square of Chefchaouen is when the sun goes down & people gather there.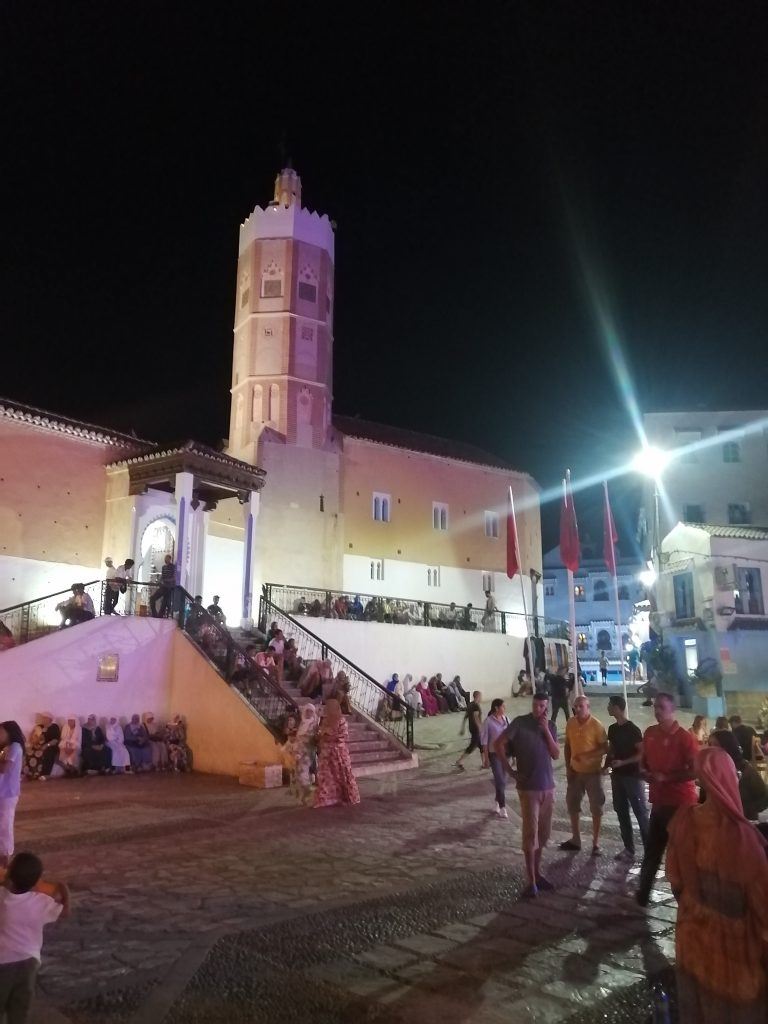 When we were there, every evening something was going on at the square. Artistic performances of musicians, magicians & others, but also exotic birds & some Disney figures or Super Heroes to take pictures with. Very popular with local visitors – the absolute majority when we visited in August – & foreign tourists alike.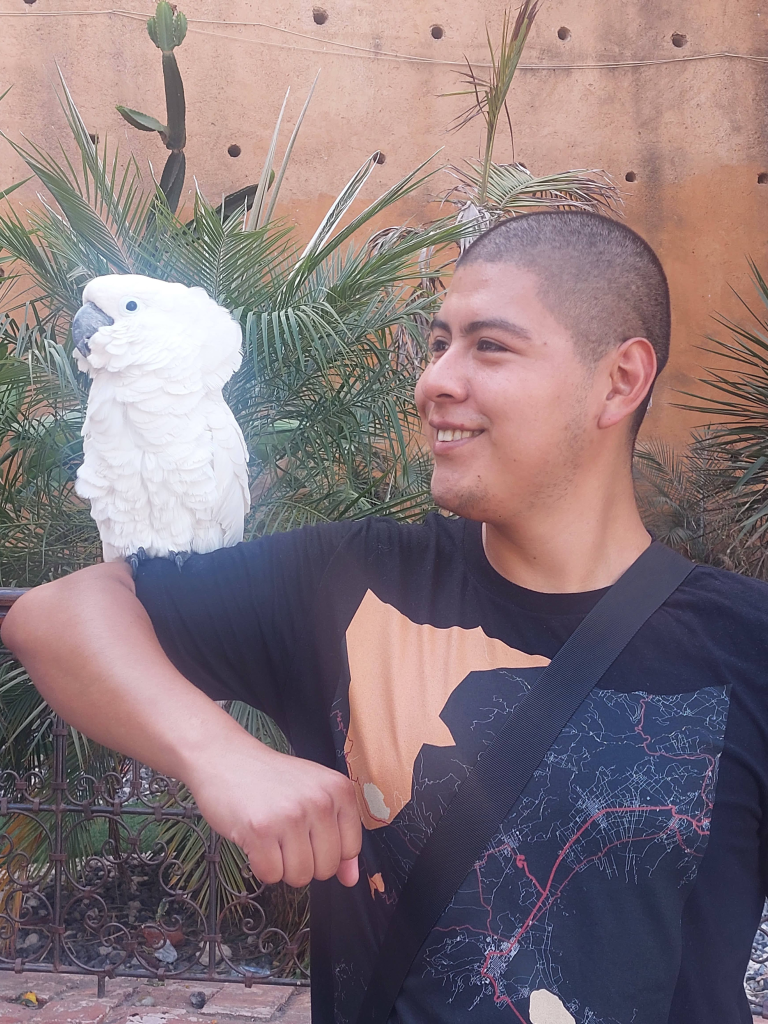 Ras El Maa Waterfall
This is a small waterfall located just outside the medina – a 10 minute walk from the central square. It's a great place to take a break & relax a little.
We visited the waterfall in the hottest season of the year & although we didn't swim – I saw only local children taking a dive – it was refreshing to see & feel the ice cold water running down the lower flanks of the Rif Mountains.
Besides us, we didn't encounter many other foreign visitors, but yes, hundreds of Moroccans. While their children played in the water most of them were only putting in their hands and/or feet in the water to cool off.
When we arrived at the higher level – just under a bridge which leads back to the city center – we found some welcome fruit stalls. In this case thousands of "seasonal oranges" floating in the icy cold water, waiting to be converted in juice.
A scene from paradise & one I will never forget.
A cooling visit to the Ras El Maa Waterfall in Chefchaouen.
The Spanish Mosque
Another attraction worth your visit while in Chefchaouen is the Spanish Mosque. It's located on a hilltop overlooking the city & natural surroundings – a 25 minute walk from the central square.
Besides being a beautiful, unique building, it's an ideal place to see the sun go down. A ritual which repeats itself daily when people walk up to the mosque. (Be aware though, the mosque itself is only open to muslims).
A climb to the Spanish Mosque provides beautiful views of the city of Chefchaouen & around.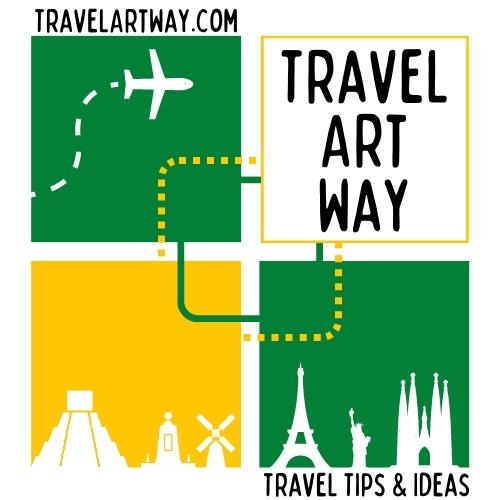 Visit Chefchaouen: Hotel Tip Chefchaouen
We stayed in Casa Blue Star, located in the higher part of the medina, but very close to all the major attractions.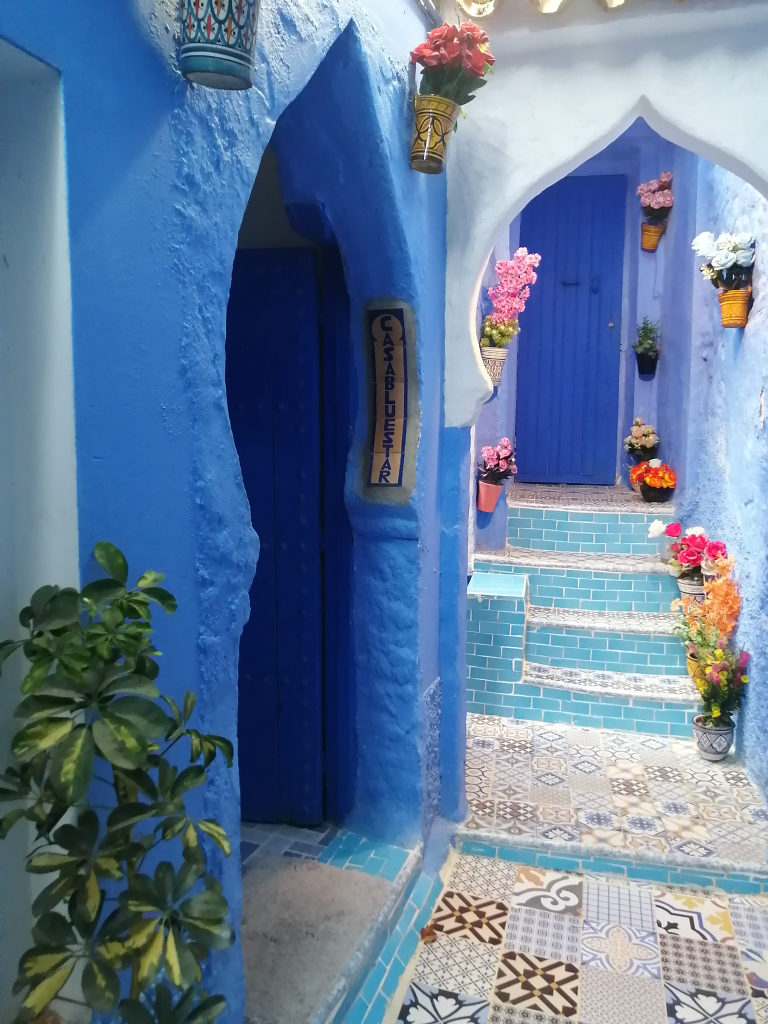 Positives:
Rooms are big, clean & colorfully decorated (including a sitting area & small fridge)
Good price (middle segment)
Including an excellent breakfast
FREE wifi
A relaxing atmosphere
Rooftop terrace & restaurant with great views all around
Friendly staff & owner (helping you out with every questions/request you"have)
Negatives:
In short, highly recommended!
To learn more, click on: Casa Blue Star
Visit Chefchaouen: Eating out
Although my travel posts aren't really set up to give you an overview of all the restaurants I've visited at certain travel destinations, I will sometimes give you a Eating Out Tip when I think a restaurant deserves it.
In this case I'd like to mention Cafe Clock, located in the medina. A restaurant which not only provided us excellent, special Moroccan plates – what to think of a Camel Burger? – but also with a nice, laid back atmosphere on their rooftop terrace (busy busy, but cozily so), with live music as an extra.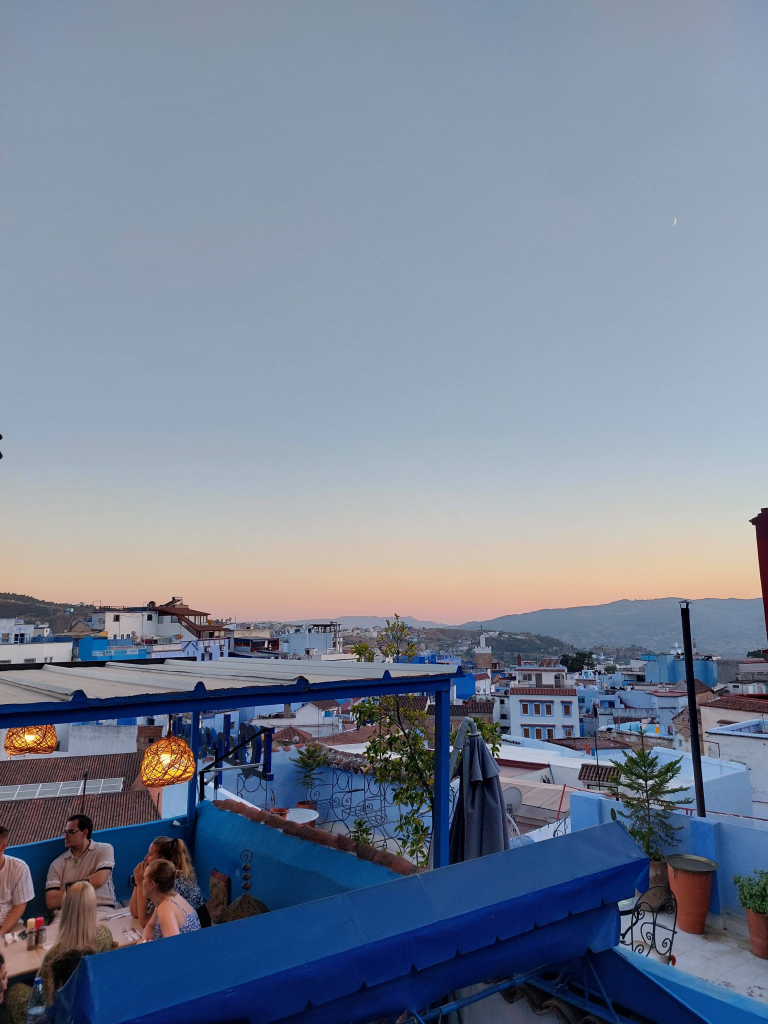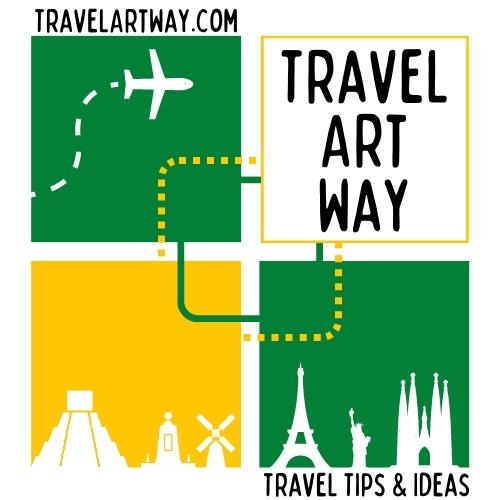 Popular tours in & around Chefchaouen
Flexible half-a-day tour of Chefchaouen
This 5 hour tour takes you to all the major attractions of your own choosing in & around Chefchaouen's city center or medina.
In consultation with your local guide you can choose between:
Historical & architectural highlights in the medina
The best, most authentic handicraft shops in town, and/or
Some nearby hotspots (Like the Ras El Maa Waterfall or the viewpoint at the Spanish Mosque).
To learn more, go to: Highlight tour of Chefchaouen
Chefchaouen cooking class/ food tour
Alternatively, there are some nice tours organised around the local cuisine.
One cooking class which takes you to a traditional Moroccan home, where you'll learn how to cook some of the region's most famous dishes.
Besides that, an interesting food tour of the inner city of Chefchaouen, which includes 6 tastings & a lunch or dinner.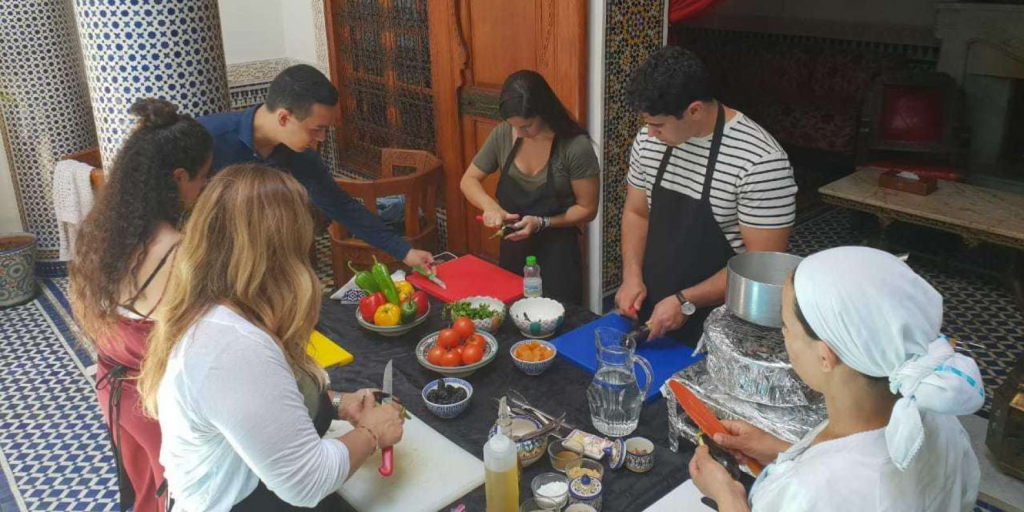 Akchour Waterfalls 
Akchour is part of the Talassemtane National Park, located in the Rif Mountains near Chefchaouen.
The impressive Akchour Gorge is part of this park & a perfect place to hike, swim or organise yourself a picnic. (You'll reach the base of this gorge after a 45 minutes drive from Chefchaouen).
If you choose to hike you can reach a series of beautiful waterfalls or walk up to the equally impressive Bridge of God (see below).
The Berbers/Amazighs consider the bridge – Kantara D'Rabi in their lenguage – a Holy Place and visit it often for pilgrimages & religious ceremonies.
*****
We went to Akchour on a day-trip from Chefchaouen & it was great. Besides a beautiful natural area, it was a perfect way to take a break, relax a bit & escape the Summer heat in inner cities for a moment.
TRAVELTip: Akchour is as popular with the Moroccans as with foreigners, so be prepared – on the weekends & during holidays – to see many local visitors, which in my personal opinion was a big plus.
At the Akchour Gorge we noticed – more than elsewhere – how many Moroccans visit their homeland during the Summer season. Amongst the license plates at the parking lot we saw many from Spain, France, as well as from Portugal, Italy & the Netherlands & most were clearly owned by Moroccan migrants.
Impressions of our visit to the Akchour waterfall near Chefchaouen.
TRAVELTip: As you can see on the pictures, you'll find (FREE) terraces along the whole first stretch of the gorge/river. And better still, on every terrace food/drink sellers who can serve you a plate of food and/or a drink,… if you wish.
We ordered a tagine – a traditional Moroccan cooking pot – which, served with bread & olives, was big enough for the 4 of us. And delicious as well.
Hiking tour to the Akchour Waterfalls/God's Bridge 
As stated above, many people visit the Akchour Gorge to hike. After the swimming area in the lower part the trails continue taking you higher up still.
The trail to the left – starting at the Akchour Dam, located at the base of the gorge – leads to several waterfalls. First a middle-sized one, but in the end – after 1,5 to 2 hours – the Grande Cascade.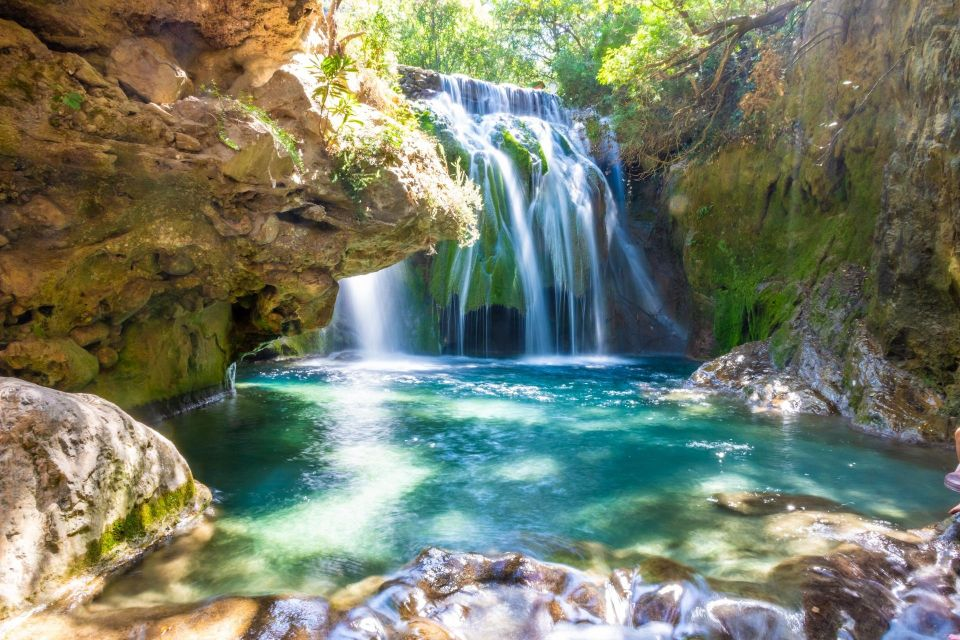 The trail to the right – also starting at the Dam – leads to God's Bridge – a natural bridge – which you'll reach after about 45 minutes.
TRAVELTip: The hot climate was the main reason we didn't walk or hike too much & choose to take a break in and near the refreshing river. Be aware of this fact when you want to hike in the hottest season (June, July &August). Bring enough water if you decide to walk up to the falls or the bridge.
Besides doing a hike on your own, you can also go on a tour with fellow travellers. A tour which in this case includes transport from Chefchaouen & a guide.
To learn more, go to: Hiking Tour Akchour from Chefchaouen
Our visit to Chefchaouen in a few words
After the fascinating, but busy city of Fez, our visit to Chefchaouen was perfect. A small place, with lesser attractions, but for that reason also easier to "handle". Open skies, reflected in the blue-est of blue of the majority of houses & shops in the lively inner city of this friendly, relaxing town.
An extra was to have the Rif mountains nearby. A natural environment we could admire from every roof terrace in town, including the one on top of the pleasant hotel we booked in Chefchaouen (see above).
Besides that, the visit to nearby Ras el Maa Waterfall, as well as the Akchour Gorge with hundreds of locals were experiences we will never forget.
Finally, to learn more about the other destinations we our visited on this trip to Morocco, click on: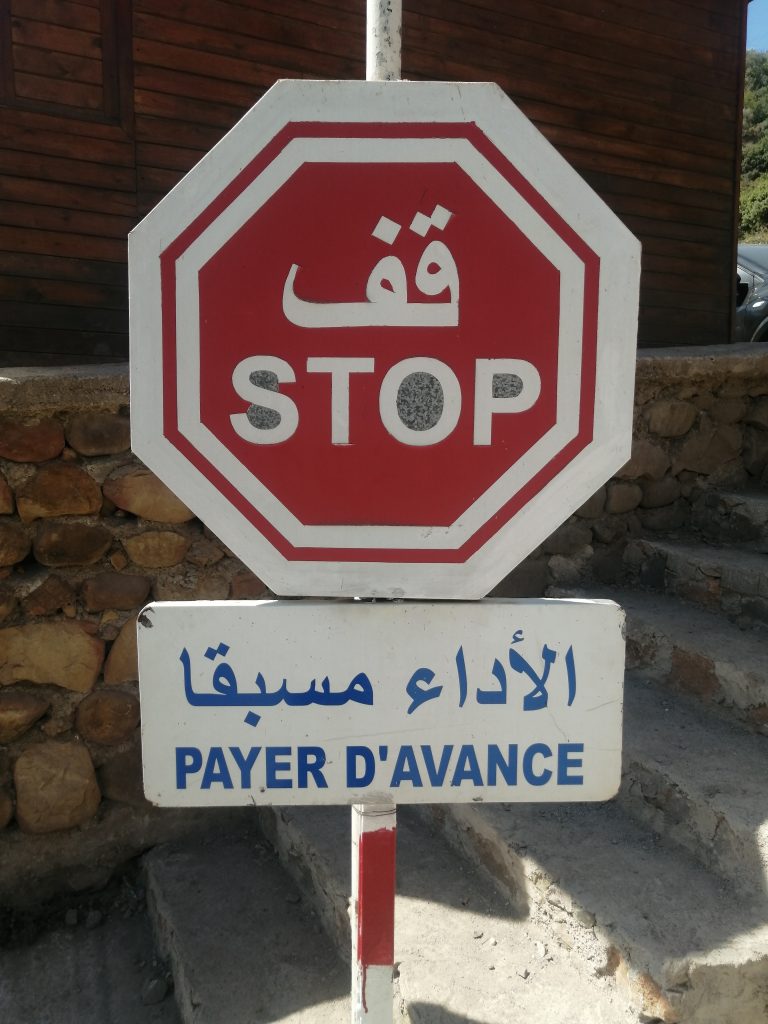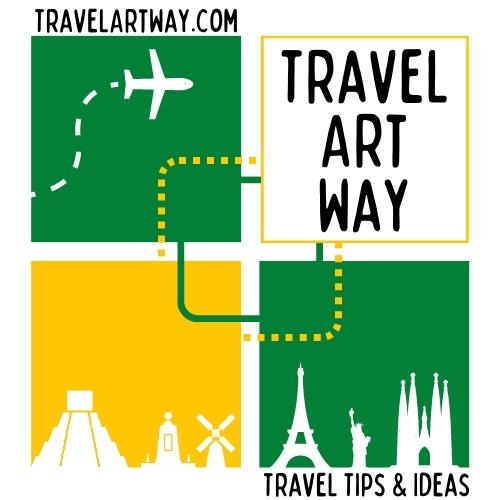 For an overview of all travel posts of my blog, go to: the Home Page.