Visit Spain, fourth stop: Granada
After a visit to Barcelona, Valencia and Úbeda, we arrived in Granada, in the heart of Andalusia. A beautiful, mysterious city where you can experience the local culture at every corner. Doesn't matter if you talk about Granada's eventful history, unique architecture, culinary traditions or colourful folclore & art.
A city mainly known for a historical highlight like the Alhambra, but blessed with many more monuments which you can discover while sightseeing the city.
Besides that, Granada is located in a Spanish region which lends itself perfectly for many unforgettable outdoor activities. Tours to the rough, but inspiring highlands of the Sierra Nevada. Or else, the whitewashed Arab mountain villages of the Alpujarra Valley.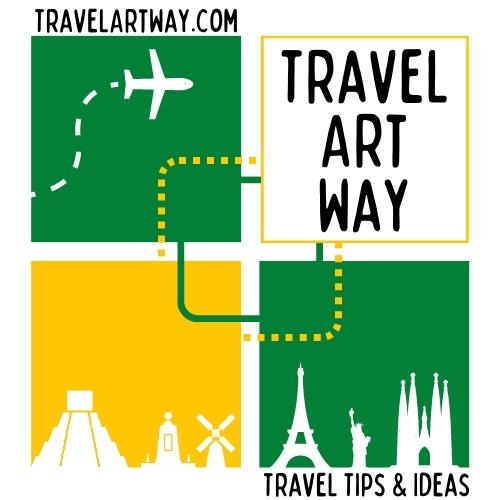 Staying in the Albayzín
Beforehand, we had booked an apartment in the old Arabian neighbourhood of Albayzín. Characteristic for this part of Granada are its narrow streets. Winding up & down through the old barrio or neighbourhood, that lays exactly below the hill of the Alhambra.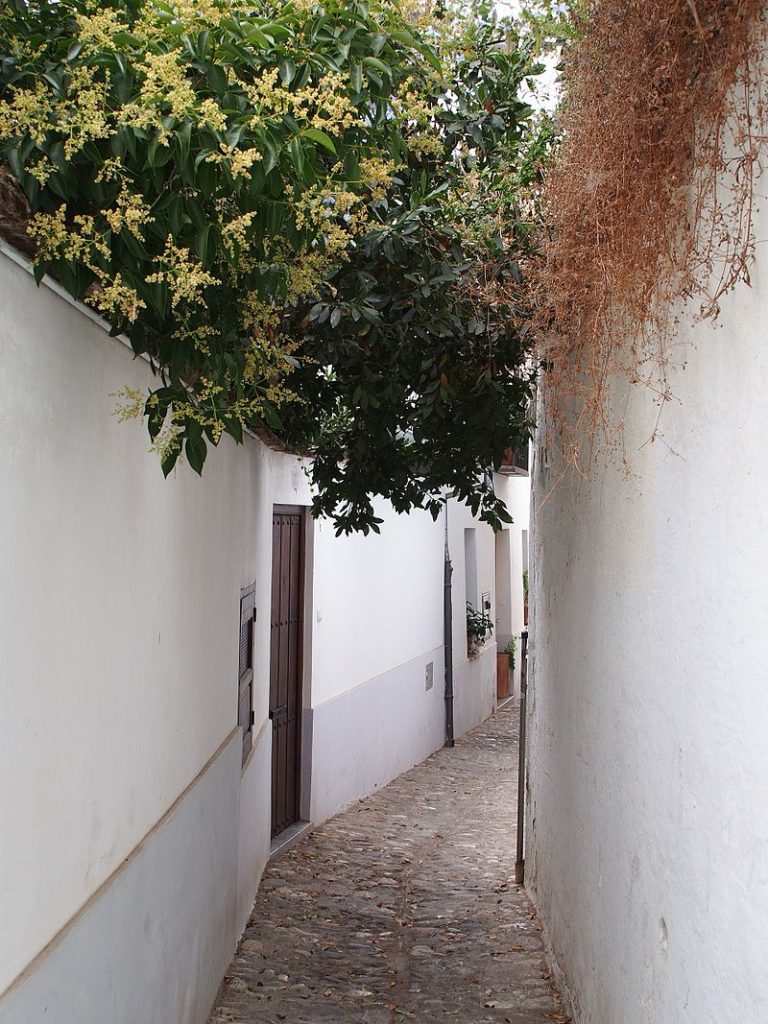 The Albayzín is a perfect base when you visit Granada. First of all, because it's just a few minutes away from the city center. But also because the neighbourhood has its own attractions, including some mini-markets, shops, bars & restaurants. We easily could get lost in this part of town, … and wouldn't mind.
We rapidly settled in our temporary abode and went out to get to know the neighbourhood & the city center. Obviously, after our days in Úbeda, we had to get used to mass tourism again. Soon though we perfectly understood why so many people want to visit Granada.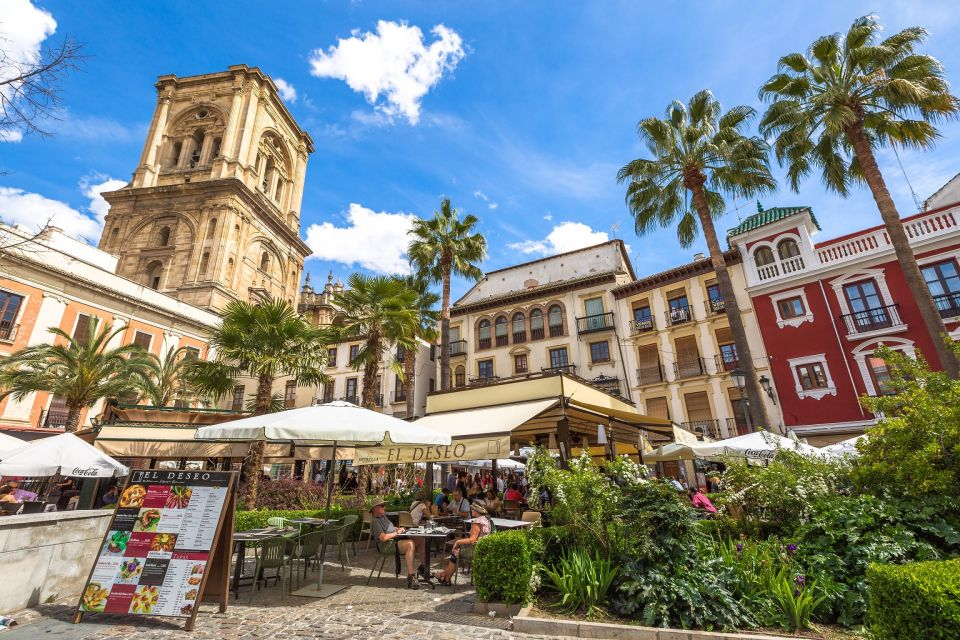 Throughout this post you'll find affiliated links & ads provided by marketing platforms like TravelPayOuts & GetYourGuide. Links & ads that may help you plan the perfect trip to Barcelona. If you click on them & buy a ticket for a museum or book a tour a small commission of your purchase will go to me (paid by the platform, without any extra cost to you).
If you first want to learn a little bit more about me, the blog writer, click on: Better call me Art
TRAVELTip: Getting around in Granada
I can really be very short on this one. Staying in a central neighbourhood gave us the advantage of being able to walk to every point of interest. The only time we used public transportation was to get to the Alhambra (see below). However, if needed you can use taxi & buses and there's even a single metro line.
Alternatively there's the Hop-on Hop-off mini train who covers two routes along the city's main attractions. However, I have to say not all users have positive commands on this means of transport.
To learn more, click on: The Granada City Pass
A better way even to get an idea of Granada's fascinating history is a walking tour – lead by a local expert – of the inner city and its many highlights.
To learn more, click on: Historical walking tour of Granada
Finally, there are many positive reviews on the eBike tours in & around Granada, which includes an exploration of the Albayzín neighbourhood (see above).
To learn more about this unique bike tour, go to: Electric Bike Tour with 2 Options to Explore Granada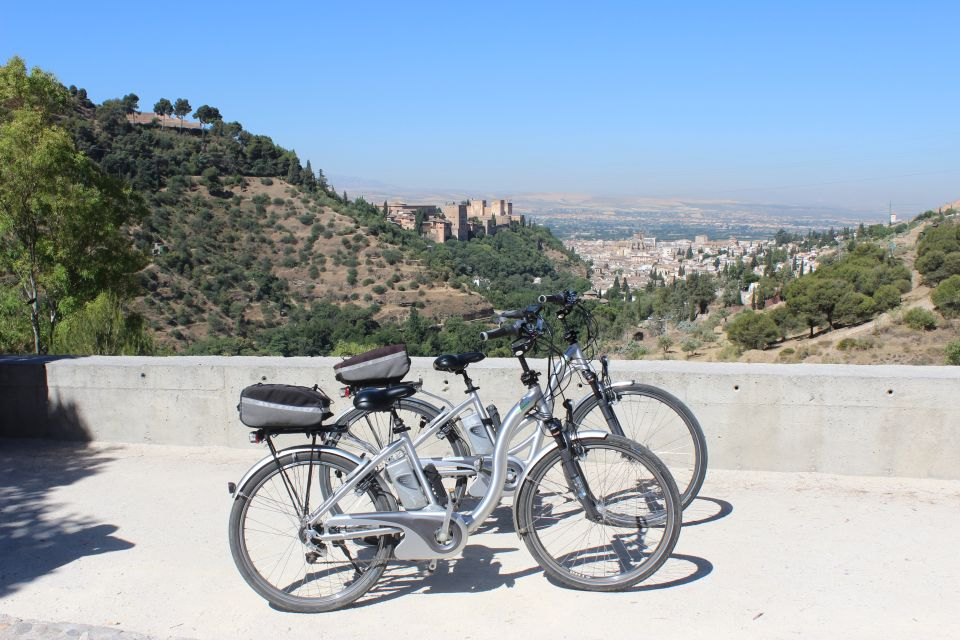 Historical Intermezzo: Last Islamic stronghold
In my earlier post on our visit to Úbeda, I introduced you to the Islamic occupation of Spain. An occupation that lasted almost eight centuries. Some parts were reconquered rather soon, like the northern regions of Spain. But for other regions, it took much longer. Granada was the last one, in 1492.
Under the leadership of the catholic kings – Ferdinand of Aragon & Isabella of Castile – Spain little by little reconquered the last remnants of Islamic Spain. Of course, that meant war, death & destruction.
Surprisingly though Granada got away with it, because just before the Castilians planned the final battle, one of the muslim leaders decided to hand over Granada peacefully. (His name was Abu Abdallah Muhammad XII – better known as Boabdil. A man who, because of his act, for some was a traitor, but for many others a hero.)
In short, Granada was reconquered without a siege or real man-to-man battle.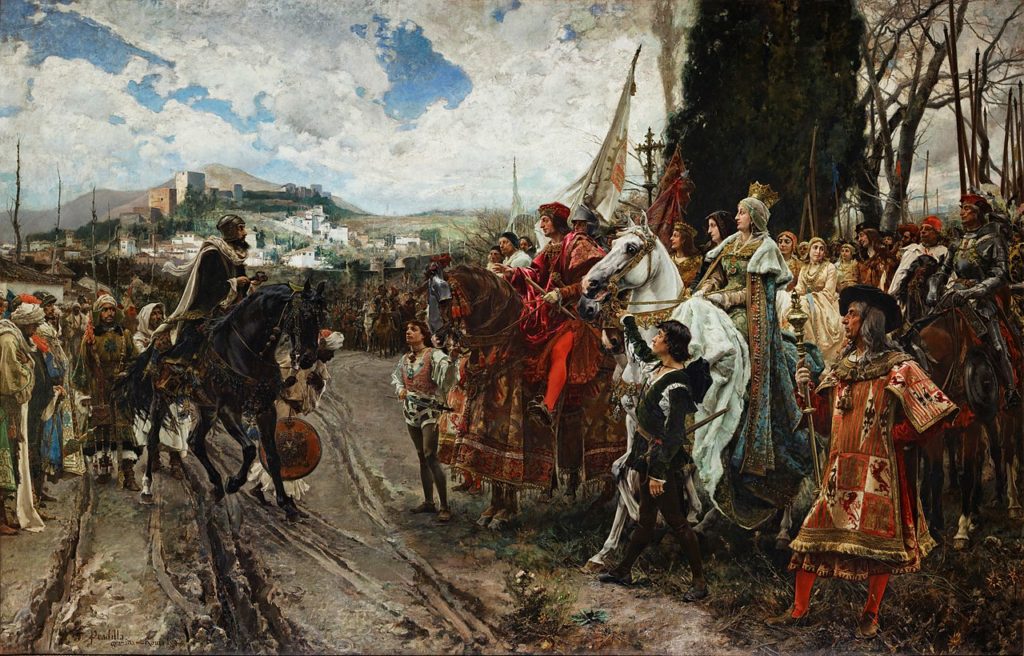 This way the beautiful muslim palaces of the Alhambra, high above the city, were spared destruction. Something we, as well as the city of Granada, may be very thankful for.
A visit to the Alhambra, Granada
Of course, one of our first goals in Granada was to visit the Alhambra – the Red Castle. Something we planned to do the first full day of our stay there.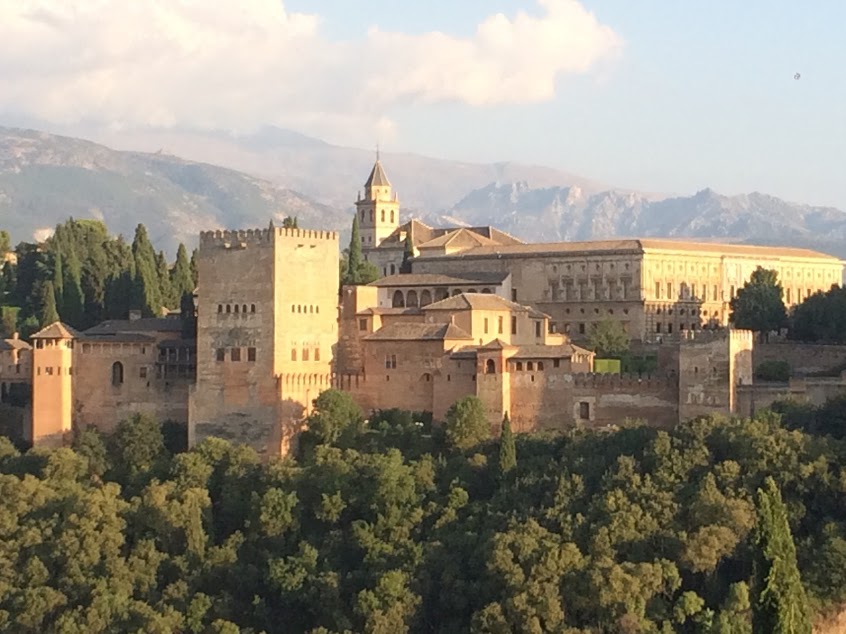 A magical spot
From the moment we arrived at the Alhambra, we knew – or rather, felt – that we were visiting a magical place. Mainly because of the amazingly beautiful palaces & wonderful gardens in their interior. Unique architecture!
The ones that stood out the most for me were the palaces that are built in the Arabic style. These are not only more beautiful than the European style palaces. They are also – in my opinion – better constructed. That is to say, more resistant to the hot summers of Southern Europe. Healthier in all.
These Arab palaces were obviously built as little paradises – like oases. Places where you still can imagine yourself playing a small part in the tales of One thousand and one nights.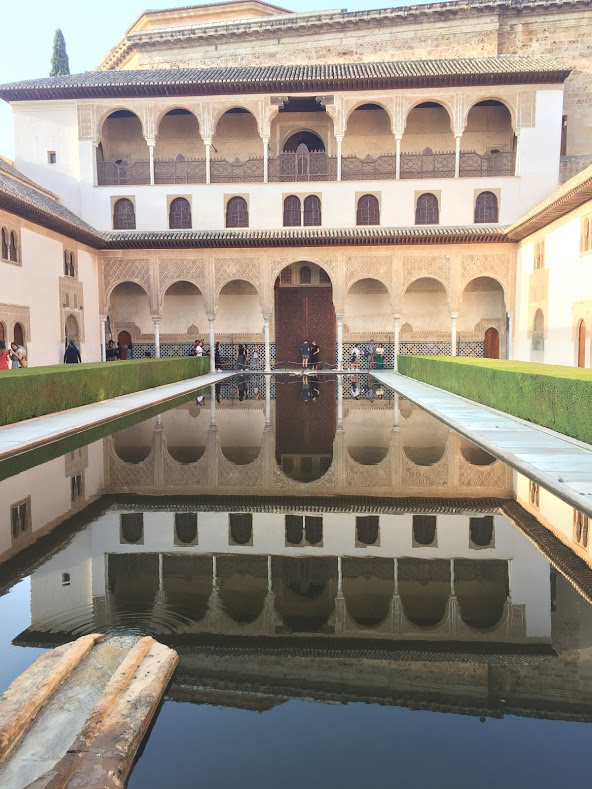 Arabic Art style: Mudéjar
The only thing the Spanish conquerors after 1492 did, was adapt the Arab style a little. In other words, use the Arab style construction as a base and embellish them with typical European decorations. A style we nowadays call Mudéjar. Actually a mixture of Arab & Spanish styles.
A style we can still admire all over Spain, but mostly in the south. In that sense, Arab culture has continued to be a visible part of Spain's DNA. Not only through its architecture, but also through certain food & the presence of tea houses, thermal baths. As well as certain old traditions & festivities, names of neighbourhoods, streets, et cetera.
And by the way, many muslims live in Granada today, as they do in many other European cities. Resulting in a unique local culture you can experience all around.
European Renaissance style
Besides that, the later Spanish kings planned their own building projects on the grounds of the Alhambra. Like the Palace of Charles V or Carlos V, which he – surprisingly – never saw finished himself.
To build his own castle, apparently a wing of the Nasrid Palace-ground was destroyed. Too bad, but at least it was only a wing.…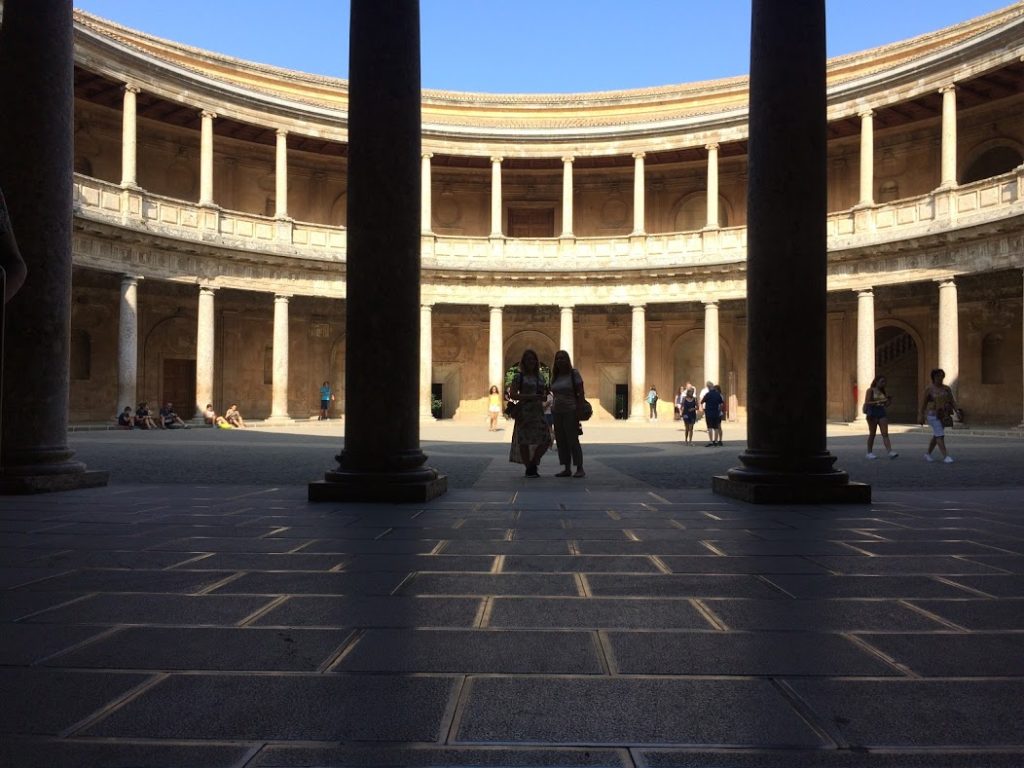 A unique and impressive Renaissance building, but – for me – not as impressive as the Arabic neighbours. In that sense it's almost amazing the Spaniards didn't copy more elements of the Arabic palaces around. Maybe not so much the artistic style, but more the construction itself. For example, the way the Arabs led water through their palaces, planned interior gardens or the manner in which they ventilated the high ceiling rooms.
The Alhambra, little by little forgotten
During the 17th & 18th century – after the Spanish Empire definitely lost its leading role in Europe – the Alhambra little by little fell to ruins. Its historical value was only rediscovered when French troops under Napoleon Bonaparte invaded the country and for a few years occupied Granada & the Alhambra (almost destroying it, using the buildings to house their troops and store their ammunition).
The real rediscovery of the Alhambra by a North American writer
In 1828 Washington Irving (1783-1859) brought a visit to the Alhambra. Although in ruins, he was in awe of the buildings and temporarily settled in one of the rooms of the Nasrid Palaces & started to write a book about the magical place.
His Tales of the Alhambra (1832) finally brought the first tourists to the Alhambra. Tourism which – more than anything else – rescued the Alhambra from oblivion. Nowadays, you'll find Irving's book for sale in every bookstore or souvenir shop you visit in Granada.
We ourselves stayed in the Alhambra from early morning until late afternoon. We did see a lot, but certainly not everything. However, we managed to visit every major palace, the gardens, the local church of Santa María & passed the beautiful convent of San Francisco.
An interesting fact about this last place is that it held both the bodies of Queen Isabella & King Ferdinand. That is, until finally the Royal Chapel in the city center was finished in 1521. Their final resting place, which was commissioned by their grandson Charles V. An impressive monument & the second MUST SEE in Granada, (see below).
All in all, an unforgettable visit & a memorable day.
TRAVELTips & recommendations for your visit to the Alhambra, Granada
First of all, buy your tickets in advance! That sometimes actually means, months ahead. There are several options. From a general visit to access to certain parts. In daytime or nighttime. With or without a guide.
Secondly, I would recommend you to go for the earliest hour available (gates open at 8:30 AM). That's when you avoid the masses. At least, for the first hour or so. You have to know that besides the tourists that stayed the night in Granada, a lot of visitors arrive each day on day trips from other places, mostly the southern beaches.
Thirdly, include the Nasrid Palaces in your ticket & go there first.
* An absolute MUST SEE these amazing palaces. But, be aware! The time of access on your ticket is the hour you have to be at the gate of the mentioned palaces. We saw several people who arrived too late & were left out! From the main entrance it took us about 10 minutes to the Nasrid Palaces.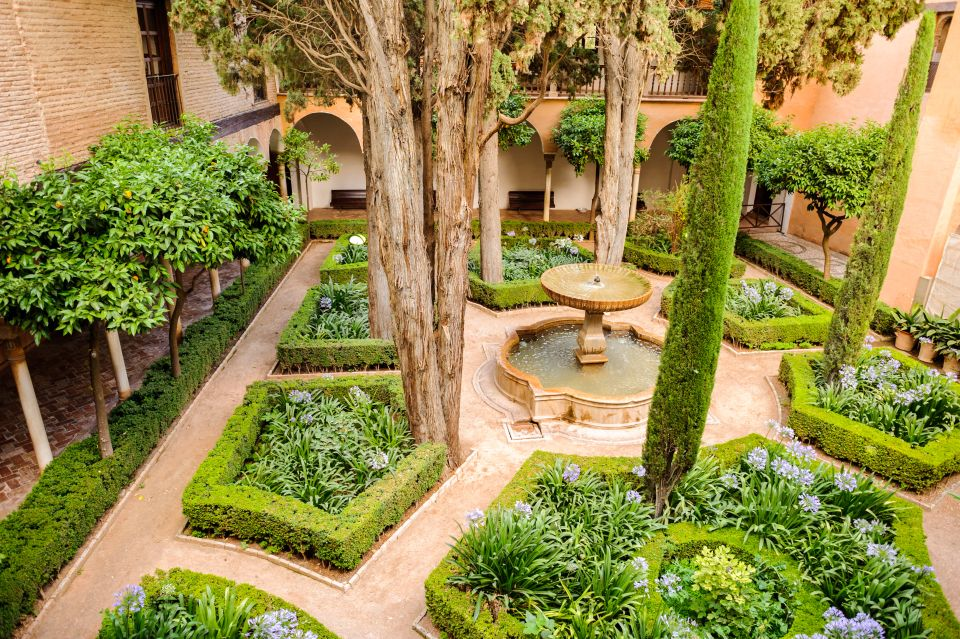 Every group who enters is limited in total. This probably has to do with the fact that from the moment you enter these palaces everyone starts looking up, down, right, left, … so, not straight ahead anymore. In conclusion, it's to avoid accidents.
There's so much to see in these palaces and grounds in between. Connected through small corridors, stately gates, little corners everywhere, beautiful gardens, pools, fountains, …
It's a kind of magic, really.
If you are inside these palaces, there's no time limit to your stay. Once outside though, you can't get back in.
To know if tickets are still available for the dates you plan to visit the Alhambra you can use the following calendar:
TRAVELTip: After your visit to the Nasrid Palaces
The Palacios Nazaríes are definitely the highlight of the Alhambra. However, the whole place is worth a visit. Inside & out! Also referring to the spectacular views you'll almost constantly get of Granada & the surrounding area. One of the finest views is from one of the towers of the Alcazaba, the former military quarters of the Alhambra.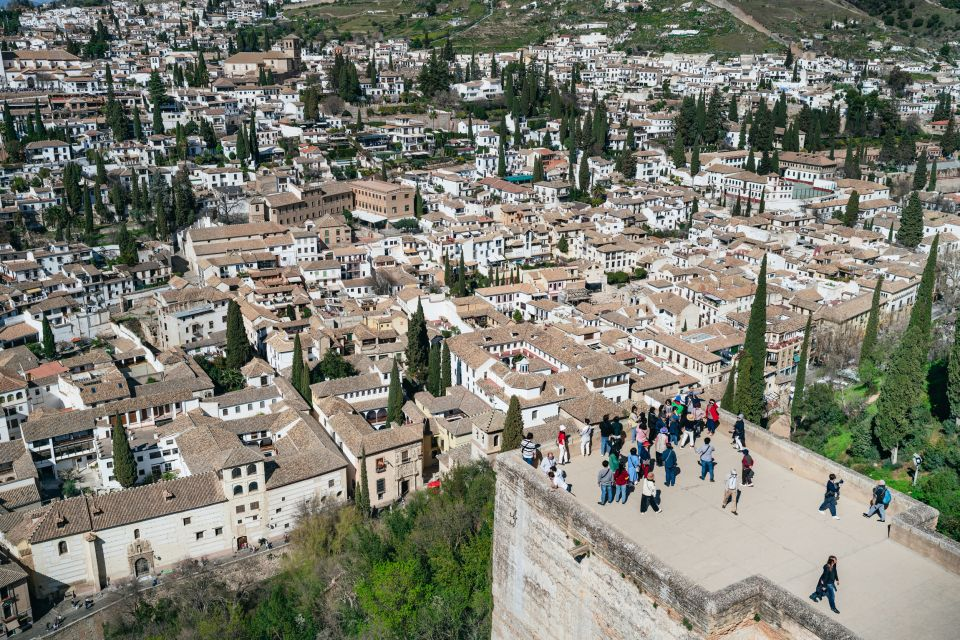 After a visit to the Palacios Nazaríes, the Palace of Charles V (with a small, but well-organized museum), the Alcazaba, we brought a quick visit to the church of Santa María & convent of San Francisco, before we ended up at the Generalife. The Generalife, that besides ample gardens, houses its own palaces, patios, corridors & what not. Enough to lose yourself again.
TRAVELTip: Buy a guide book beforehand
After that, we headed to the main exit and visited the gift shop. One of those shops where you feel almost obliged to buy something. Being at such an impressive historical place.
Our daughter bought a beautiful guide book of the Alhambra (see below). So good, she wished she had read it beforehand, instead of afterwards. So, highly recommend, but buy & read it before you visit the Alhambra & Generalife.
.
After our visit to the Alhambra, we took a bus back downtown. The same that took us up and starts/ends at the Plaza Isabel la Católica in the middle of Granada's city center.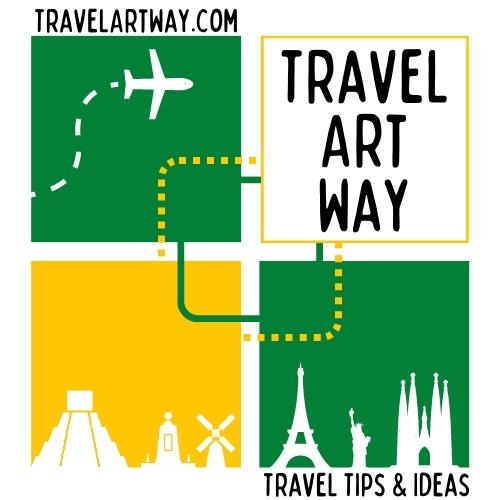 A visit to the Royal Chapel
The next day we started with a visit to the Royal Chapel/ Capilla Real, integrated in the neighbouring Cathedral of Granada.
The chapel was especially built for Queen Isabella after her death in 1504, commissioned by her grandson Charles V. Because its construction wasn't finished until 1521, Isabella's remains were kept in the Convent of San Francisco on the Alhambra grounds (see above).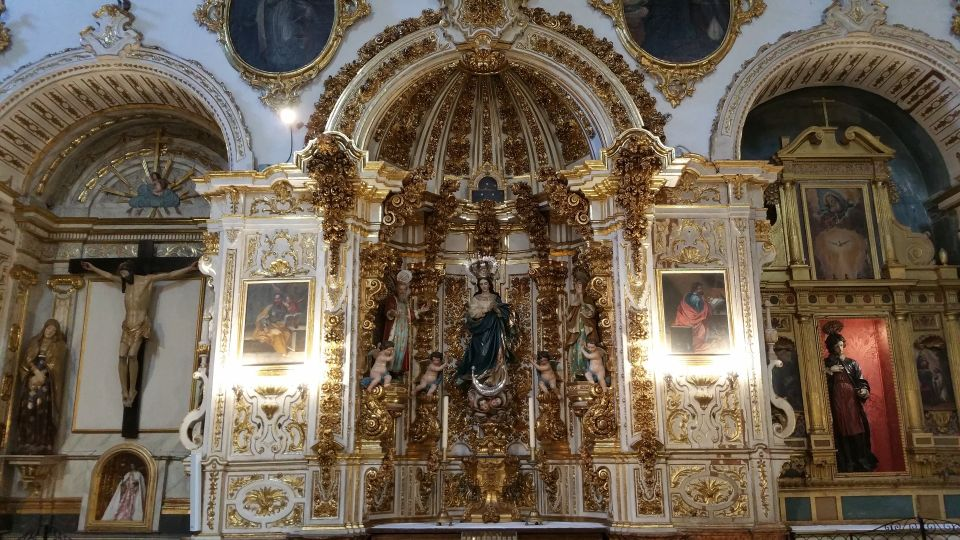 In the middle of the Royal Chapel you'll find an "majestic" monument, made out of white marble, representing the resting bodies of Isabella & Ferdinand. On one side, downward stairs lead to their crypt.
Besides Isabella, inside the crypt you'll find the remains of her husband Ferdinand of Aragon (the couple who, for many, through their marriage unified the country). As well as their daughter Joanna "the Mad" & her husband, the Habsburg prince Philip "the Handsome".
Finally, there's a small coffin containing the remains of Queen Isabella''s grandson Miguel
Miguel was heir to the throne of Portugal, but he died shortly before his second birthday.
You can't go inside the crypt, but can watch the interior through an iron gate. What you'll see there are five simple lead coffins. All in all, the sight made a enormous impression on us. I even went down a second time!
Attached to the chapel you'll find a small museum where you'll find some personal items of the Royal family. For example, a dress that belonged to Isabella, her crown, as well as a sword that was Ferdinand's.
The Cathedral & Royal Chapel of Granada are really worth a visit. Highly recommended!
There are several options if you want a tour of the Cathedral & Chapel, also combining it – if you like – with a tour along other historic highlights nearby.
To learn more, click on: Granada Chapel Tours
Strolling through Granada
The rest of our time in Granada we mainly wandered the streets of the different neighbourhoods. Sightseeing the city.
Soon we all concluded that Granada has its own unique vibe. European & Arabian in one. A fascinating mixture. Also very touristic, with many shops, hotels, restaurants, bars, teahouses – the so-called Teterías. Meanwhile you'll pass monumental buildings, beautiful squares, historical statues and what not.
Historical Intermezzo: Columbus
1492 was a special year for Spain. Not only because of the recovery of the last stronghold of the muslims, Granada. Also because it was the year Christopher Columbus "discovered" America.
It was in Granada that Columbus finally got Queen Isabel's approval for his revolutionary plans to sail westwards. A project he had presented to several European sovereigns before.
Nowadays, the famous admiral lives on in many ways. In Spain, as well as in the Americas. In my earlier post about Barcelona I wrote about his meeting with the royal couple on the Plaza del Rey after his first voyage to the Americas.
Right in the middle of the center of Granada there is a magnificent statue of his meeting with Queen Isabella before crossing the Atlantic. While at the next stop we would visit his grave. Well actually, one of his graves (see my post on Sevilla).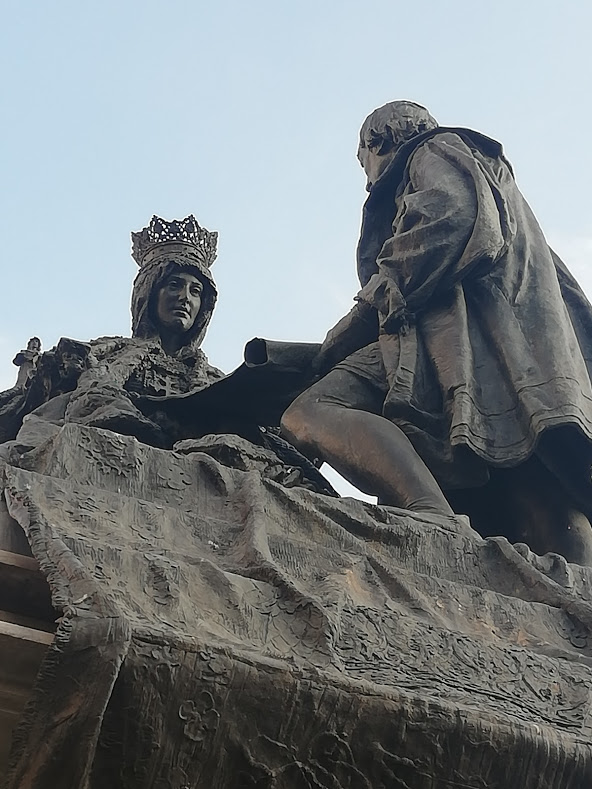 Back to our wandering through the city of Granada 
Although a little higher in altitude (a little over 700m) than other cities we visited in Spain, it was still fairly warm during daytime. Reason enough for us to incorporate a real time siësta around noon. Heaven.
Automatically, the evenings lent themselves perfectly to go out and enjoy the city anew. Having a bite & a drink in a friendly and inspiring environment.
TRAVELTip: Visit the lookout point, Mirador San Nicolás!
One late afternoon we climbed up through the small streets of the Albayzín to the Mirador San Nicolás. A lookout where every late afternoon hundreds of people gather to watch the sun go down and see the Alhambra change colors. With the Sierra Nevada as a background it's perfect for the best pictures of the Alhambra.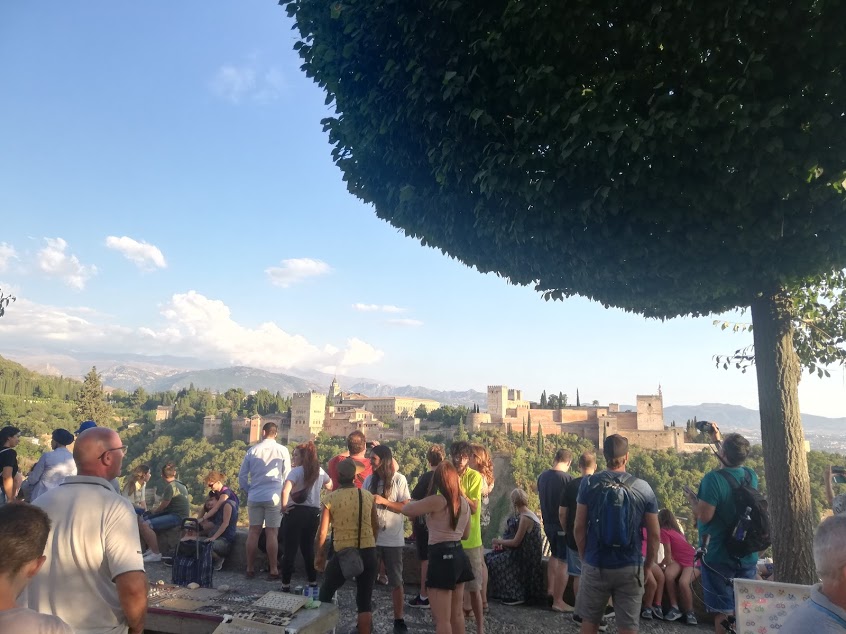 A must see, despite warnings about pick-pockets. When we climbed up the narrow streets, or in the time we were up there, nobody bothered us (still high-season). However, when you feel discouraged by the warning, you can take a taxi up to the plaza.
While we were there, a gypsy band was playing. I don't know if they perform their music on the plaza every night, but for me it was another piece of the multicultural and mysterious vibe that hangs over Granada. The local culture in its highest form.
Although disputed, many people agree it was the Gypsies who brought the Flamenco music & dance to Spain. Foremost, Andalusia. Nowadays there are professional shows all over the country, but it gets real in this province. Mainly because of the mysterious vibe that hangs around in places like Granada, Sevilla, Cadiz & others.
In Granada there are several Flamenco shows you can visit. An evening event you will never forget.
To learn more, click on: The most popular Flamenco Show in Granada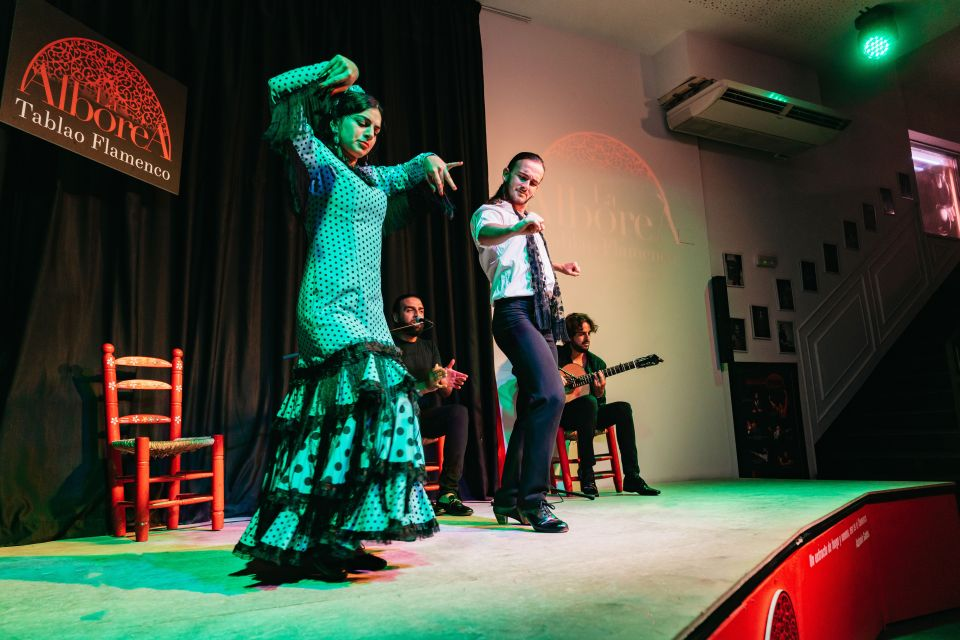 TRAVELTip: Eating out in Granada
At least once a day we went out for a bite, mostly during the cooler evenings. As mentioned in my earlier post about Barcelona, Valencia & Úbeda, be careful where you eat.
Mass tourism implies a lot of so so food, for ho ho prices. Even in culinary countries like Spain. In that sense, it can sometimes be hard to find a good place to eat.
If you look for a place to eat in the middle of the city center of Granada there's a good chance you'll end up in an average restaurant. A place you forget the minute you walk away from it. The main reason for that is because you are in the most expensive tourist zone. A zone most locals & Spanish visitors avoid.
This doesn't mean that there aren't good restaurants in the town center of course, but generally they are harder to find. We also made some wrong choices, before we found a good place, a "lucky" find actually. And because it was that hard to find and surprisingly good, I will mention it.
A restaurant that – at the time (2019) – just recently opened on the Plaza de la Alhóndiga. A place that obviously wanted to do things differently, namely Mostaza Green Burger. Maybe, to some of you that sounds to "fastfood-ish", but really …
Besides great homemade burgers, they offered a good selection of fresh salads with delicious ingredients & other delicacies. We ate there twice in the few days we were in Granada. It was just what we needed, …and maybe you too. Just an idea!
Granada food tour
Alternatively you can join a highly popular food tour of the city, which includes many tasting of local delicacies: tapas & others.
Click on the following link to learn more: Food Tour Granada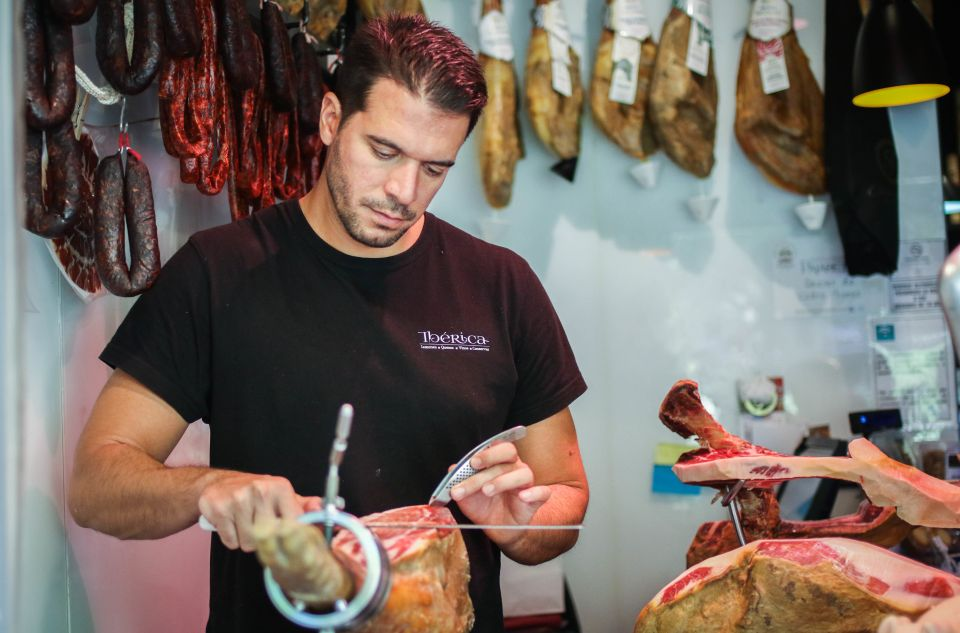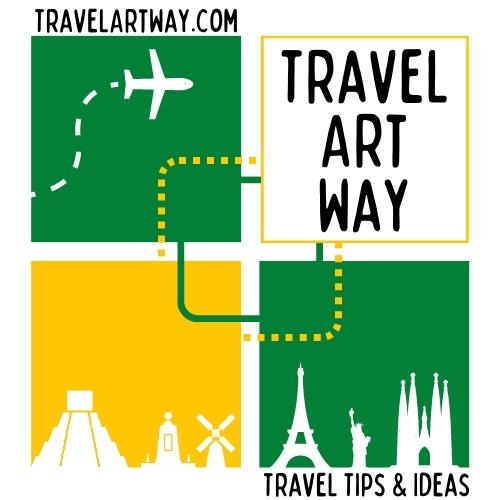 Take a break in Granada
Logically there are many ways to take a break in Granada. Eating out, watching the world go by while having a coffee or a drink on one of the many terraces, shopping around in the narrow alleyways, visiting one of the many parques or squares, looking for some shadow from the sun.
Historically though many cities of Andalusia are blessed with amazingly beautiful bath houses. Another tradition the Arabs left behind in southern Spain. And absolutely the best way to escape the busy city center & relax for a while.
The most famous bath house is the Hammam Al Ándalus. The ideal place to unwind a bit, alternating between smoking hot, ice cold & foggy steam rooms (with the option to treat yourself with a short, but intense massage as well).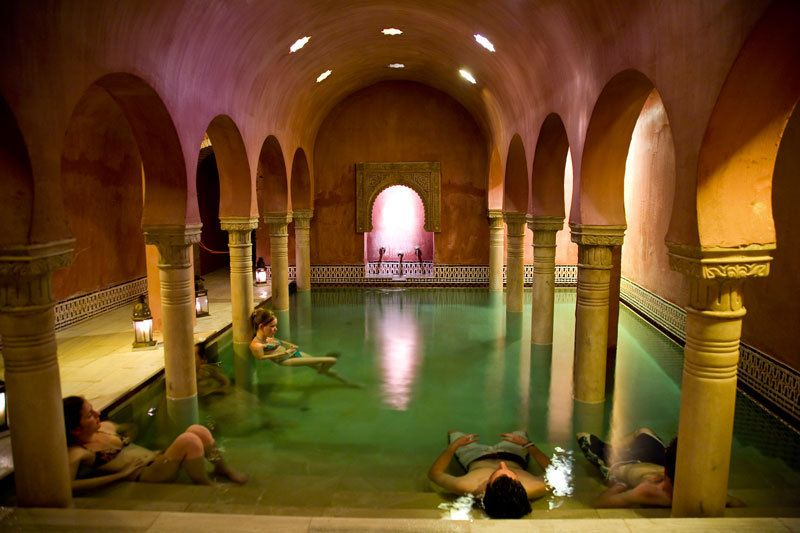 TRAVELTip: Be aware though, you have to book in advance, because the Hammam allows only a limited amount of visitors.
To learn more and/or book a visit in advance, you can use the following availibility widget:
Popular day-trips from Granada
When staying in Granada a little bit longer – let's say, 3 days or more – there's the option to go on a day-trip to explore Granada's impressive surroundings. A rough, desert-like but surprisingly beautiful part of Andalusia, Spain. Ideal for outdoor activities
Click on the highlighted names to learn more:
By far the most popular day-trip visitors to Granada make is a 4WD Sierra Nevada Excursion. A day tour, which besides being amazing & interesting, also is a guarantee for a lot of fun (6-7 hours).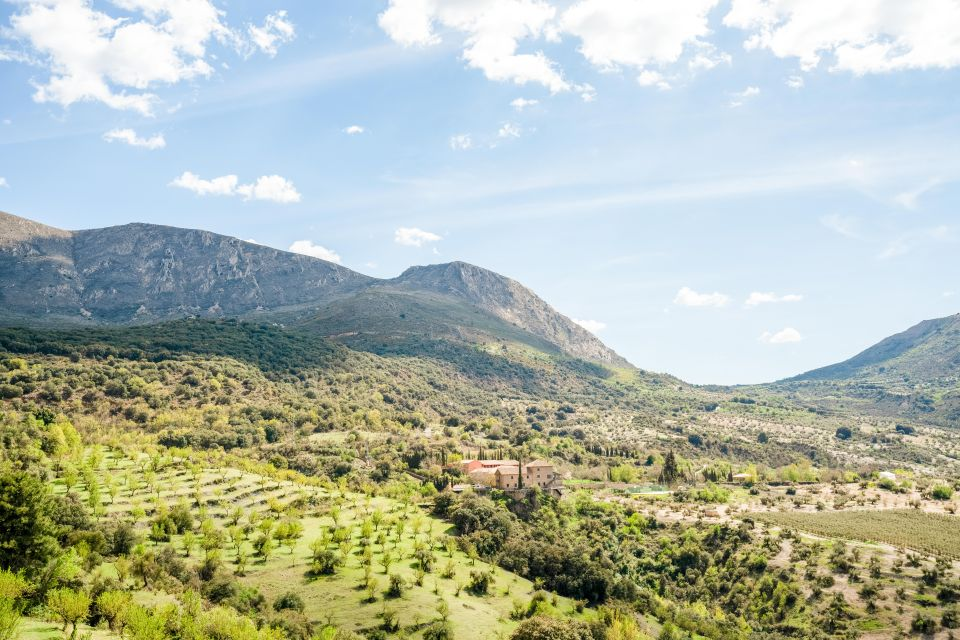 Less active, but still highly inspiring is a journey along Spain's highest mountain villages on a Trip of the Alpujarra Valley. Beautiful historical places where Arab whitestone houses mix with the best Iberian hams you can wish for in the country.
Last, but not least is The Guadix & Tabernas Desert Tour. An tour which includes visits to one of the many Cave Dwellings the local inhabitants of Guadix still use to live in, a museum, a cathedral, a castle & finally a a desert which was used in big Hollywood productions like Lawrence of Arabia, The Good, the Bad & the Ugly, A Fistful of Dollars & many more. As well as, in some episodes of the Game of Thrones (9 hours).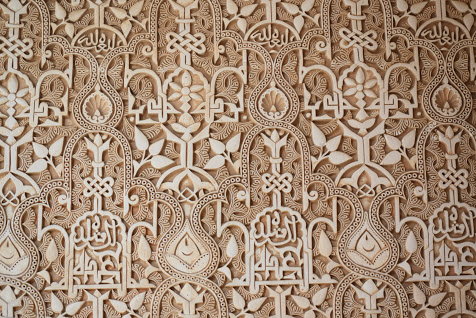 To put our visit to Granada in a few words:
For me personally our visit to Granada was the highlight of our journey through Spain. The heart of Andalusia. There's still a mystery hanging around this place: ghosts of the past, footsteps that follow you, shadowy figures in broad daylight.
And I am not only talking about the main attraction – the Alhambra – but many others as well – like the MUST SEE Royal Chapel.
In Granada, you can discover something new every minute. It's easy to stay a week or longer and keep entertaining yourself. And if you have the time, there are some spectacular outdoor tours heading out from Granada every day.
For an overview of all travel posts of my blog, go to: the Home Page.