Visit Spain, third stop: Úbeda
After our visit to Barcelona and Valencia, we continued westward to Úbeda, in the interior of Spain.
For us, thé perfect stop between Valencia and Granada.
(*We travelled from Valencia to Úbeda in a rented car. Alternatively you can get there by bus (from Valencia, but also from other starting points in Spain).
.
Throughout this post you'll find some affiliated links, provided by TravelPayOuts. Links that may help you plan your next trip to Úbeda. If you click on them & buy a ticket for a museum, book a tour or rent a bike a small percentage of your purchase will go to me (paid by by TravelPayOuts of course). To finance my work as a travel blogger.
Spain's interior – on the road to Úbeda
It's always fascinating to get to know the interior of a country. There where (almost) no tourist goes and life runs its own course.
After leaving Valencia and visiting the impressive medieval Castle of Xàtiva, we turned westward and noticed that soon the countryside transformed considerably. Little by little the industrial area around Valencia made way for the rolling hills of the interior. As well as the first of millions of olive trees that occupy those hills.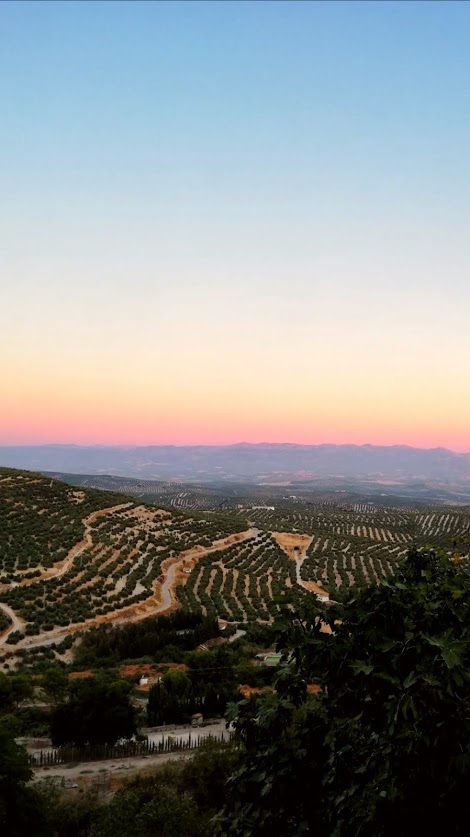 This part of Spain is mostly empty. That is, empty of human presence. Besides the olive industry, it's pure nature. The highway makes its way through never ending fields, with ever higher mountains on the horizon.
From time to time you pass a little town or village, often protected by a castle on a nearby hill top. Other times you pass an old windmill or a little abandoned finca or farm.
The farther you drive westwards, the more beautiful it gets, as well as the more mysterious. Colors and smells that make your mind wander off from time to time.
Well, not too much – because I was driving (we rented a car in Valencia for the rest of our trip)! In consequence, my eyes were mainly fixed on the road. However, I have to say that the interiors roads in these parts of Spain are easy going. In other words, as a driver it's fairly easy to get a good impression of the beauty of the Spanish countryside.
.
TIP: Use of your phone/access to the internet
When travelling through Spain (or in any other country, for that matter) it's recommendable to buy a Prepaid Sim-card for your phone. On our first day in Spain we bought one, which easily covered the three weeks we were there.
Alternatively you can buy an affordable international Sim card beforehand (operational in 229 countries), through the following link: DrimSim.
.
Úbeda, our first visit to Andalusia
Our next stop was Úbeda, a small town in the province of Jaén. Jaén is one of the eight provinces that form the autonomous community of Andalusia.
We mainly chose to visit Úbeda because we wanted to make an extra stop between Valencia and Granada, but also of Úbeda's past glory. Well, it's still glorious, but nowadays more so as a tourist destination.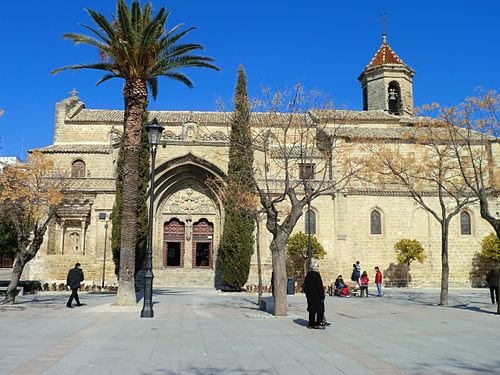 Historical Intermezzo: Islamic occupation
In 711 started an Islamic invasion of Spain from North Africa. In a relatively short time the muslims occupied the whole peninsula – including nowadays Portugal and a part of Southern France. Although the Iberians resisted the invasion from the start and soon would reconquer the northern provinces, the Islamic presence would continue until 1492. In that year the most famous royal couple of Spain – Ferdinand of Aragon & Isabella of Castile – would reconquer the last muslim stronghold in the south, Granada.
Logically, the influence of the long lasting muslim occupation in Spain was significant. Although the muslims were generally very tolerant to other religions and cultures, you can still feel their presence today. Mostly in the South, in the part the muslims baptised El-Andalus, nowadays Andalusia. You notice this influence first of all in the architecture, as well as in the food and certain old traditions.
Úbeda: A border town
Úbeda was one of the first southern cities that was reconquered. After some earlier intents, the Castilians liberated the city definitively in 1233. Long time it was a border town between the Christian and Muslim world.
Because of that position some noblemen of Úbeda occupied important positions at the royal court. Positions that not only resulted in power and money, but also in a clear identification of Úbeda as a Christian bulwark against the muslims.
After the reconquest the town grew in importance rapidly. In the 16th century it reached its golden age, when the richest families started building their own palaces and churches. It are these historical buildings that today form the main attraction of the old city center of Úbeda.
Impressive monuments, highly influenced by the Renaissance period that started in Italy.
Contrary to other cities of Andalusia – like Granada, Córdoba and Sevilla – you don't find many Islamic remains in these monuments.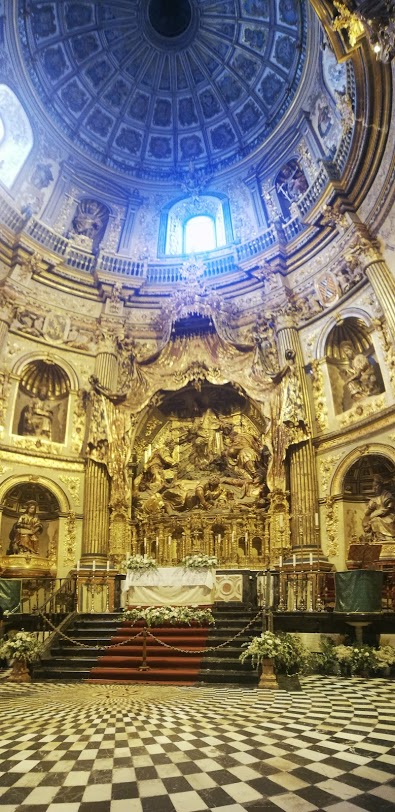 Notwithstanding these golden period, Úbeda didn't grow out to be one of the bigger cities of Spain. It still has less than 35 000 inhabitants.
One of the reasons for the stagnation in growth was that Úbeda lost its border town position after the Castilians reconquered the rest of Andalusia. Besides that, the town was always tormented by rivalries between the most important families – and their relation, or not, to the royal family. Finally, like every other place in the world, the town depended on where trade was flowing and the economy was heading.
Úbeda: a tourist attraction
In 2003 UNESCO named Úbeda a World Heritage Site – together with the neighbouring town of Baeza.
Justly so, because the city center of Úbeda is really worth a visit, medieval in almost every aspect. You get that sense almost constantly, but more so when you walk the streets at night and are lucky enough to be the only tourist around.
Strange thing, isn't it…tourism? Promoting the most beautiful places and giving tips for things to do, while sometimes wanting to be the only one present when you're there.
TIP: Transport through the old town of Úbeda
Get the rhythm. Because you're in medieval times, you have to change gear. Úbeda feels like an open air museum, there's a lot to see and visit, but walking the streets is part of it.
That also means, avoid driving your car through the old center. Some parts are luckily closed to traffic anyway, but other streets are open. I only had the drive in, because of the hotel & parking, but that was it.
An experience in itself, by the way, because in some places the streets get so narrow, we had to fold in the side mirrors to get in and out of town. That's like saying: "You don't belong here, …better buy yourself a horse.".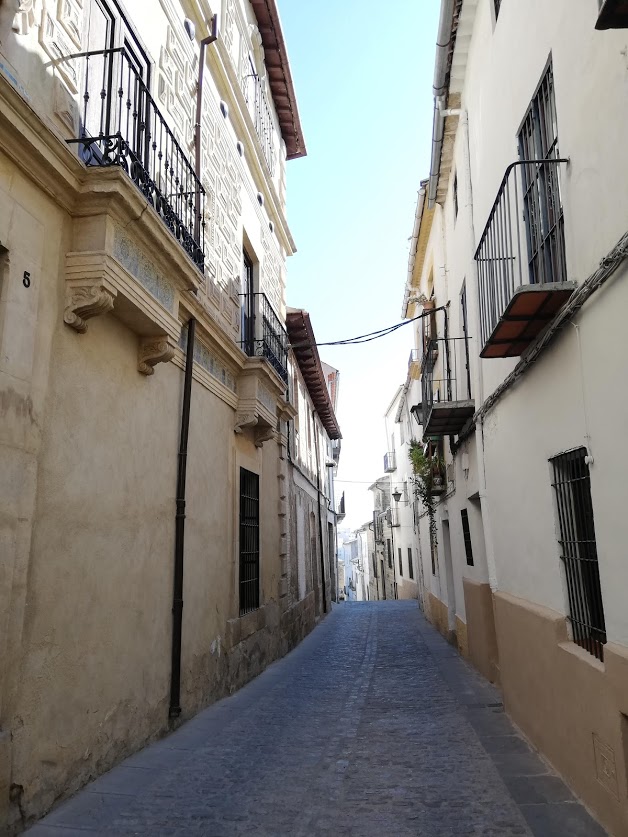 .
TIP: Where to stay?
If you plan to stay in Úbeda, I would recommend you to find a place in the old town. There are different options and prices are reasonable. We found ourselves a beautiful hotel in a former "casona"/mansion (16th century) and although I didn't really plan to name places to stay or eat, I think this place deserves the mention: Apartamentos Turistícos El Losal. Highly recommended.
Our room – and I think all the rooms in this hotel – had its own kitchenette. As the hotel doesn't provide breakfast, a great way to prepare your own with local products. The hotel has a garden and a pool (Although I have to admit, the water in the pool at the time was soooo cold, it took me 10 minutes and some restrained screams to get in).
Besides that, a great place. We met the owner/administrator only during check-in, but he was very helpful. He gave us many useful tips of what to do in & around Úbeda. Also, he told us where to eat and, and more importantly, where NOT to eat. At the end of this warm welcome, he even gave us a little tour of the old wine cellar underneath this beautiful hotel.
Úbeda : A Renaissance city
Úbeda is foremost an open air museum. Nevertheless, there are several monuments open to the public. During weekdays, you can visit the municipality, which was the former palace of one Úbeda's most famous nobleman.
Every day you can visit the main churches of Úbeda. Like the Sacra Capilla del Salvador/ Sacred Chapel of the Saviour. This church was built in the "golden" 16th century – like most monuments and the hotel we stayed in.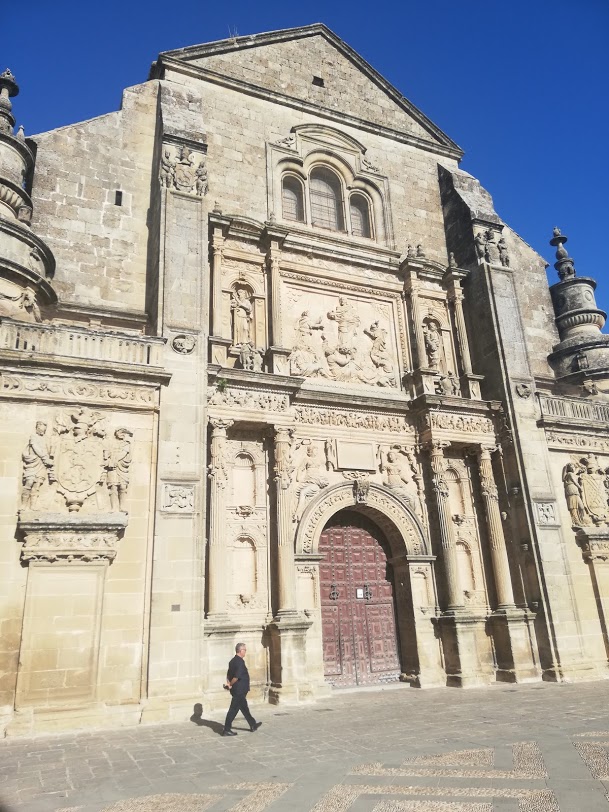 Another beautiful old church is the Basílica de Santa María de los Reales Alcázares. In contrast to the Sacra Capilla in this church you find a mixture of architectural styles. Mainly because it's an older construction, built over the remains of mosque. Besides European styles like gothic, romanesque and renaissance, there's still a islamic influence palpable.
Day trip: …that is half a day trip, a visit to Baeza
From Úbeda we made a day trip to the nearby town of Baeza (only 8 kilometers/ 5 miles away).
Baeza's past in many ways runs parallel to that of Úbeda. Although it was reconquered a few years earlier than the bigger neighbour, namely in 1227. From then on, they grew up together and went through the same highs & lows.
Baeza, as Úbeda, had the its golden age around the 16th century. Responsible for the main Renaissance monuments in its old center.
We visited the Catedral de la Natividad de Nuestra Señora, which was as impressive as the churches we visited in Úbeda. Although also built over a mosque, the church was completely reconstructed in the 16th century, and the few islamic remains are almost hidden from sight ever since.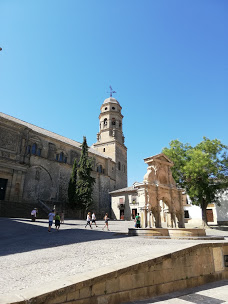 TIP: Oh, give me a break…
After our visit to the cathedral, we explored the rest of the city and had a bite and a drink on a few of the many terraces in Baeza.
The first tapa bar was in the center of town, in a shopping area, and named after a world famous dolphin (!). A nice place to sit, but a service soooo bad….. Bad enough to mention it in this blog.
It was the first time we noticed that some places – or better say people – aren't yet prepared to attend tourists. Not only foreigners like us, but also the Spaniards themselves were surprised by the lack of service. Later on, we even saw that there were more complaints on the internet. Our mistake!
Just outside the old center, we found a better place, more authentic and friendly. Besides that, with excellent tapas that went with every beer/wine we ordered. Because of the fact that I mentioned the first as a bad omen, I will give you a hint on this one too. The place was named after the nearby city tower or Torreon. Because they deserve it … as you deserve your well earned break.
Sinagoga del Agua, Úbeda
Back in Úbeda, in the evening we brought a visit to the Sinagoga del Agua. The synagogue was only recently discovered, when a local builder was renovating the house on top. The public spaces and probable living quarters of the rabbi occupy the first floor and the basement.
There are 4 guided tours a day. We visited the last one in the evening and were impressed. Not only by the construction, but more so by the atmosphere. The tour takes between 30 and 45 minutes and costs only a few euros.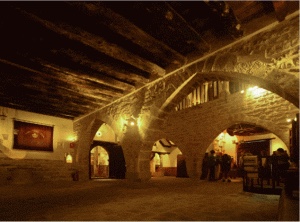 TIP: Discount with Student card
If you have one, bring your student card. Even our daughter – who's studying in Quito, Ecuador – got discounts on tickets everywhere in Spain. Entrances to museums, monuments, churches & other attractions.
TIP: Eating out in Úbeda
The owner of the hotel had some useful tips where to eat… and where not. He warned us for some restaurants, where they still treat foreigners as stupid tourists. That means, charging too much and providing a bad service. I forgot their names, mainly because we – obviously – didn't visit them!
Finally, we ended up at two places on the main square. Both good places to eat & drink something.
The second night was the most memorable though, because we ended up as birthday guests of the restaurant's owner. While attending random visitors at his place, he received friends and family. Finally, he got so tipsy that he wouldn't/couldn't distinguish anymore between his intimate friends and others. That's when we learned that his name was "Juan", but also that he was born in Rumania, exactly 38 years ago. Fun!
It would be a good joke if he celebrates his birthday every day of the year, but I wouldn't be surprised. Anyhow, we had a great time, good food and became pleasantly drunk ourselves in the end.
TIP: Shopping in Úbeda/Baeza:
Every town or village in Spain has its own specific products. It's no surprise that you'll find an ample variety of olive oil products, when you visit Úbeda or Baeza. Another speciality of the area though are ceramics, of which there are several good shops in both places. The real deal! Beautiful, handmade ceramics.
A special place in Úbeda I will mention is Alfareria Tito. Generally it's the artist himself that salutes you at the entrance. After that, lose yourself in years of artful produce. A museum of a shop really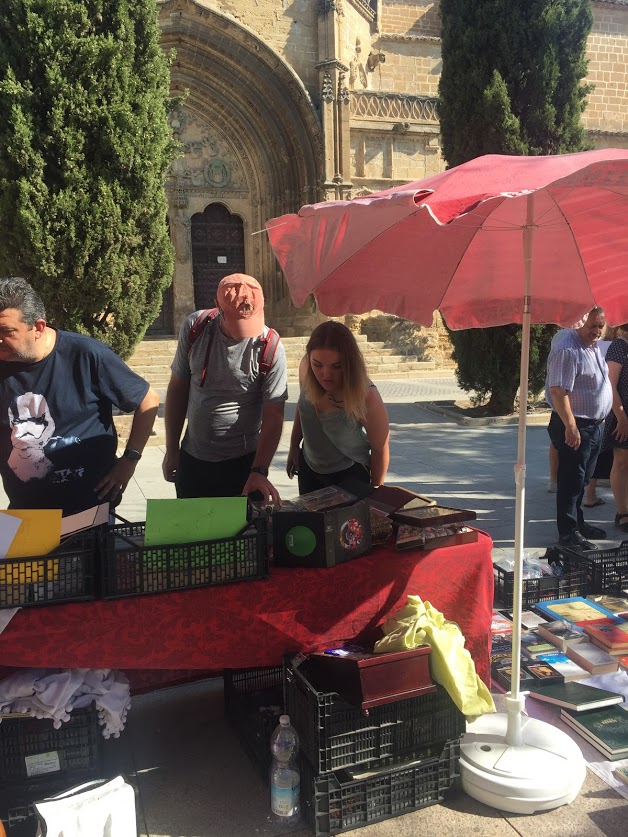 To put our visit to Úbeda in a few words:
Before we traveled to Spain, we decided on a stop between Valencia and Granada. To break a longer journey, but also to get to know a little more of Spain's interior. It was our daughter Lisa who found Úbeda. A perfect choice.
Although you notice that not everybody in Úbeda/Baeza is prepared for tourism, the next time I would stay a few days longer. And use it as a base to get to know more of the surrounding area. Ending up every night in Úbeda, walking its mysterious medieval streets after the sun went down.
Also to visit more of its historical buildings of Úbeda. Not only the churches, but also some of the palaces.
So, too bad we didn't have more time to spend in Úbeda, but we had to go on. However staying in Andalusia, with planned visits to Granada and Sevilla.
Final message for fellow travel writers & bloggers: TravelPayOuts is a global integrated affiliate program focused exclusively on travel offers. If it works for me, it will probably work for you too: TravelPayOuts.
For an overview of all travel posts of my blog, go to: the Home Page.