Index/Table of Contents
hide
Maya ruins to visit, #3: Tikal, Guatemala
There's nothing like a visit to Tikal. I've been there at least 5 or 6 times. Mostly during the years I lived in Guatemala. I didn't live nearby, but worked in the area for a while (see About Me).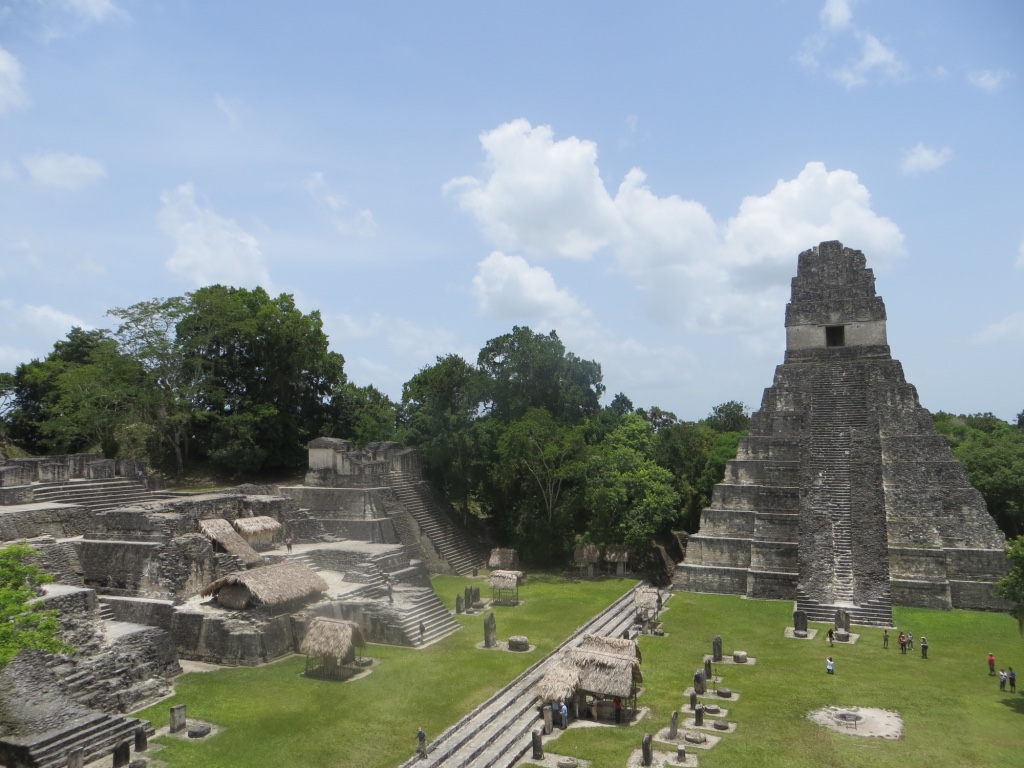 Every visit to Tikal was different, but always magical.
Note: The original name of the Maya city of Tikal was probably Yax Mutal (Yax Mutul). The exact significance of the name isn't clear, but a Mutal refers to a hair bun.
Although I initially missed the artistic embellishment of other Mayan ruins, like Copán or Palenque, I learned to appreciate Tikal more and more. That's why it deserves a 3rd place on my Personal Top 12, the Best Maya Ruins.
A historical visit
I made a very special visit (only my second one) to the Maya ruins of Tikal on October 12 in the year 2000. That was just after arriving in "Guate" with my small family. To work at a Network of Cultural & Educational radio stations.
That day I went to the ruins with my new colleagues. As well as hundreds of representatives of the Mayan people from all over the country. They held a ceremony on the Gran plaza, of which I was an honorable witness.
Impressive for me and all the other visitors to Tikal that day. It didn't take to long though before a military plane (with open doors) started circling over the plaza, taking pictures of the people gathered there.
Note: Guatemala has a harsh history, mostly after the Spanish conquered the country (1524). The main victims were the indigenous Mayan people.
That's why for some people October 12 is reason to remember the "Discovery" of America. For many others though, it's a day to remember the end of their Old World and the "Invention" of another.
A strange world in which the white people took over, speaking a strange language, enslaving them, victims of discrimination, marginalization & arbitrariness. Not even recognizing their glorious past, that was hidden from the records until rediscovered by the first Western adventurers more than three centuries after the conquest.
At once, it was clear to me that – although the last Civil war officially ended in 1996 – the tension was still there and visible. I soon learned that for many people & mostly indigenous people things hadn't become any better.
However, the Mayan people are still strong, as this ceremony in Tikal was showing to everybody present.
The Maya Biosphere Reserve
The Tikal National park forms part of the Reserva de la biósfera Maya. An area of 21,602 km2 (8.341 sq mi), that houses several other Maya sites, like the Post Classic Mayan city El Mirador.
This fact makes a trip to the Mayan ruins of Tikal also a visit to a protected area. A long road leads you through pure jungle to the ruins. At a distance of 19 kilometers (12 miles) of the ruins is the entrance gate where you'll have to buy your ticket.
As a consequence the area around the ruins is still full of wild life. Depending on the season – or pure luck – you can spot all sort of animals. During my visits I saw many tropical birds – ara's or "guacamayas", toucans, weaver birds nesting behind Temple II. Also different kind of monkeys, coatis or "pizotes" and wild turkeys.
Visit to the museums
The last time I consciously reserved time to visit both museums at the entrance, before entering the ceremonial centre. And that made a significant difference. Mainly because you don't see much artistic work in or around the temples themselves. So, I like to highly recommended a visit to the two museums of Tikal.
Then on we went to the ceremonial centre and the main temples. Passing the Holy Ceiba tree first.
Nowadays you can't climb the central temples I & II, but Temple IV is still climbable. Years ago I remember climbing up holding on to trees & roots. An adventure in itself. Now there's a safe wooden construction to get to the top.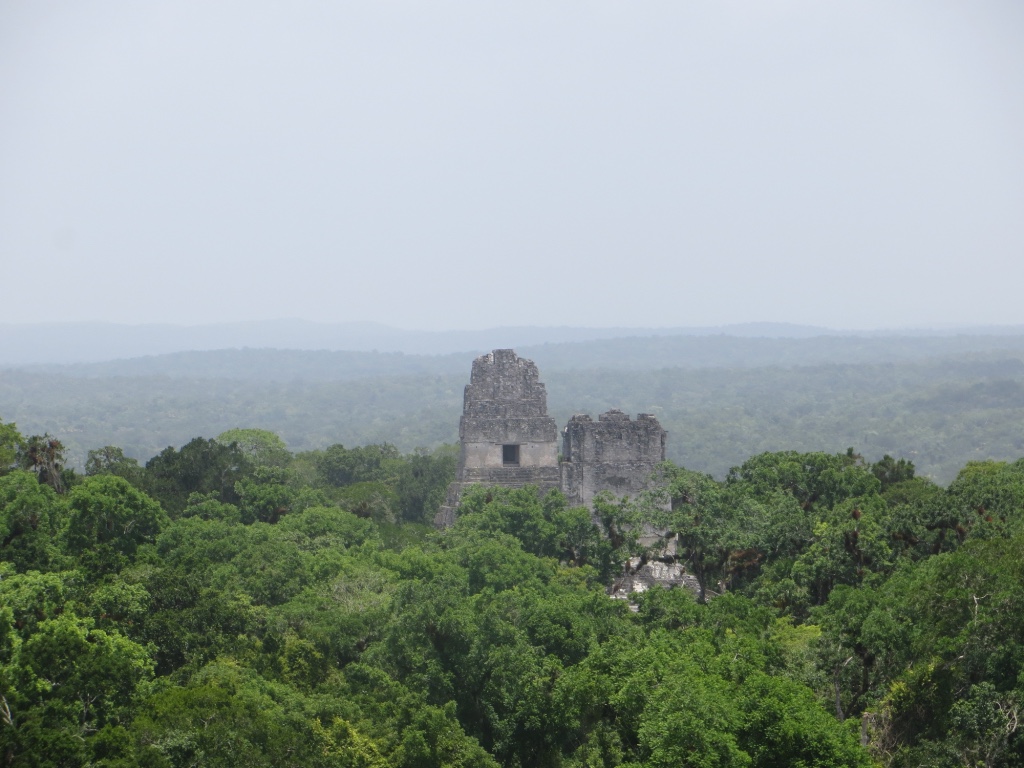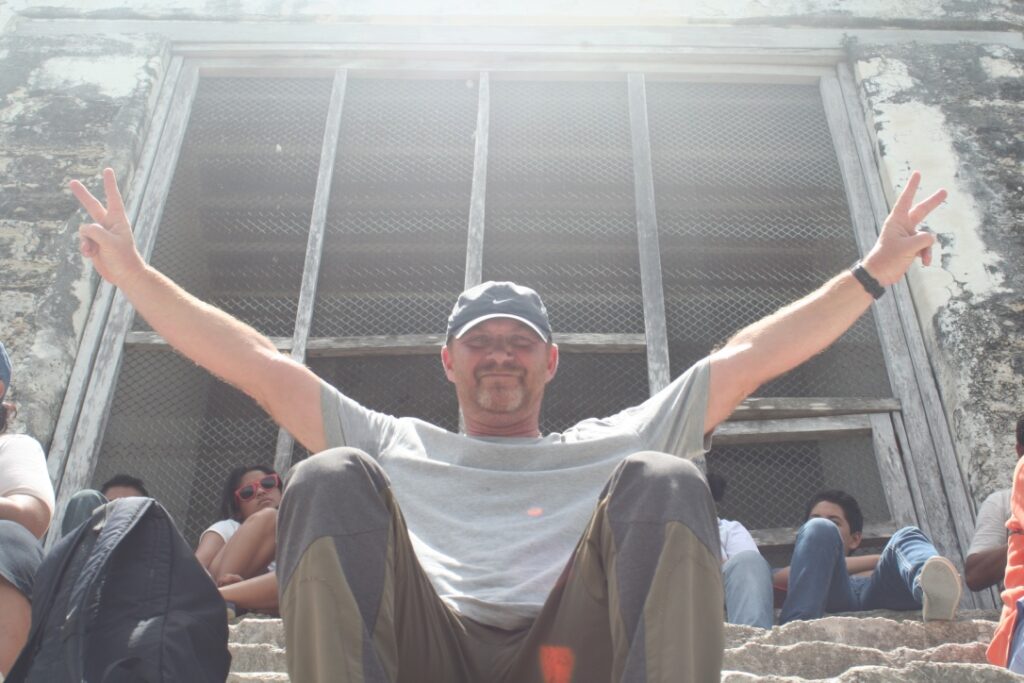 How did they build this city?
A little history
At its bloom Tikal was a big place. Probably the biggest Maya city during the Classic period. It wasn't the first big city though, because Maya history goes way back.
Tikal played a mayor role in Classical times (It had its blooming period roughly between the 3rd and the 8th century). Also because of a life & death rivalry with the nearby city of Calakmul – not far away, but located in nowadays Mexico.
The legendary duo Stephens & Catherwood (see Introduction to the Mundo Maya) never visited Tikal. However, there's a chance they heard about it while traveling through Guatemala.
Tikal rediscovered
Tikal was officially discovered just after Stephens & Catherwood traversed the Mundo Maya.
Tikal was rediscovered by two Guatemalans (1848) – Modesto Méndez & Ambrosio Tut. That's officially, because it's well known that many chicleros at the time were working in the jungle. The men who were gathering natural chewing gum that came from certain trees in the Petén jungle.
Because of her size & height, Tikal is was one of the first Mayan ruins that was researched by a professional team. The Tikal Project (University of Pennsylvania), which started during the 1950's, set many outlines for future research in Tikal & other Mayan sites.
Note: On the website of The Penn Museum you can find some interesting footage of the early fase of the Tikal Project.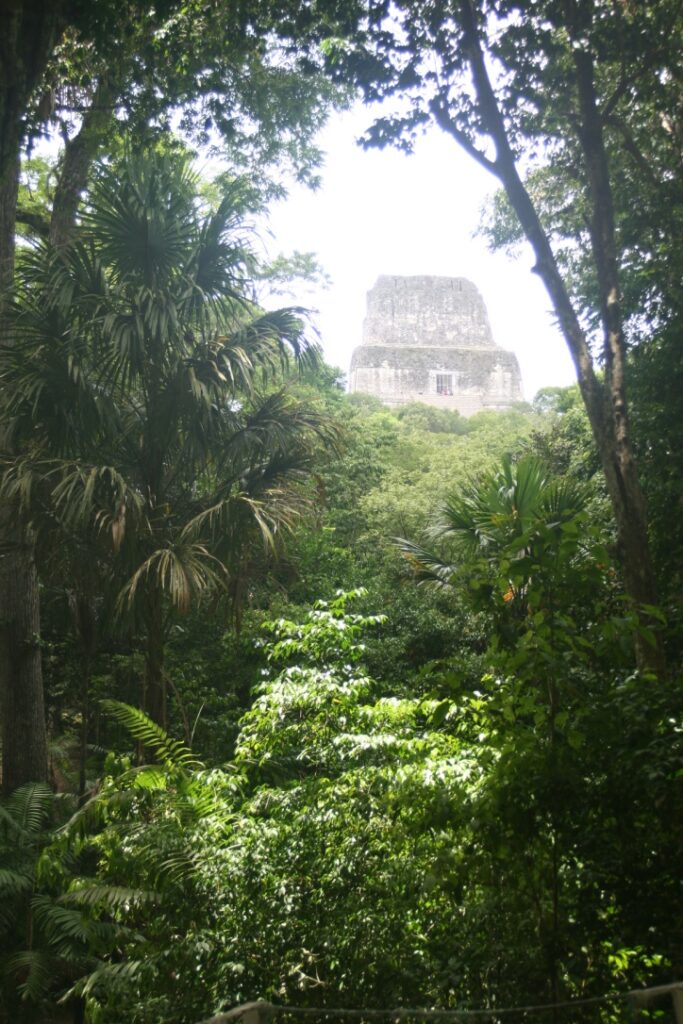 Tikal is a must visit for the traveler who chooses Guatemala as his or her next destination. An essential part to understand the History of the Mundo Maya.
Reading about Tikal
As a general book about the Maya civilization, I recommend to read:
Sharer, Robert & Traxler, Loa P., The Ancient Maya, 2006 (originally 1946), Stanford University Press, Stanford, California. ISBN 0 8047 4817 9.
Including quite a few parts about Tikal and the struggle with Calakmul.
A good specific work on Tikal I recommend is:
Harrison, Peter D., The Lords of Tikal – Rulers of an ancient Maya city, 1999, Thames & Hudson, London. ISBN 0 500 05094 5
For an overview of my personal favourites, go to: Top #12 Maya-sites
For an overview of all travel posts of my blog, go to: the Home Page.
Final message, for fellow travel writers & bloggers: TravelPayOuts is a global integrated affiliate program focused exclusively on travel offers. If it works for me, it will probably work for you too: TravelPayOuts.