Visit Spain, second stop: Valencia
After our visit to Barcelona, we continued southward to our second destination in Spain: Valencia.
TIP: Getting around in Spain – use the train
First of all, let's start with a useful tip.
We travelled by train from Barcelona to Valencia (350 km/220 miles, duration 3,5 hours). Economic and very comfortable. Comparing our train ride to our flight from Quito to Madrid, is like escaping a can of sardines and step into a Rolls Royce. In other words, an easy ride, … conversing, reading, dreaming with my eyes open. And besides that, getting a good first impression of Spain's interior.
Besides recommending you to travel by train, I would advise you to buy the train tickets in advance. Its cheaper and you are guaranteed a seat. Our train was fully booked, because a lot of Spaniards were heading to the beaches in the South of Spain, like Alicante.
TIP: Use of your phone/access to the internet
Buy a Prepaid Sim-card for your phone. On our first day in Spain we bought one, which easily covered the three weeks we travelled through the country.
Alternatively you can buy an affordable international Sim card (operational in 229 countries), through the following link: DrimSim.
Throughout this post you'll find some affiliated links, provided by TravelPayOuts. Links that may help you plan your next trip to Valencia. If you click on them & buy a ticket for a museum, book a tour or rent a bike a small percentage of your purchase will go to me (paid by by TravelPayOuts of course). To finance my work as a travel blogger.
Valencia city center
From the train station we first headed to our hotel, just outside the city center.
There we reunited with our niece Evi, who came over from the Netherlands to visit us. After settling in, we went to the city center on foot and discovered that walking is the best way to get to know the Ciutat Vella of Valencia.
TIP: Valencia Tourist Card
Because we planned to stay mostly in the city center & rent a bike if we wanted to head out, we didn't buy the city's special tourist card. However, the Valencia Tourist Card is very handy if you want to skip the lines at museums and hop on the public transport system without extra costs (includes bus, metro & tram).
The metro doesn't cross the inner city center, but can bring you to the outskirts of town, the airport and the beach. We only used the metro twice.
Another way to get around is to rent a bike (see TIP bellow).
.
Feels like a big village
Valencia is the third largest city of Spain, but after visiting Madrid (on an earlier trip) and Barcelona it almost feels like a village. A big and easy going village. Very relaxed.
One of the reasons for this may be that there's not much traffic in the central part of town. For sure, there were a lot of tourists, but the city has its own cozy & relaxing vibe.
Its own particular history
As Barcelona, Valencia has its own long, interesting history. In the center you'll find a lot of beautiful, historical buildings – like he Catedral, La Lonja (the former Silk exchange), the Mercado Central and the Torres de Quart. The last landmark was one of Valencia's main city gates. You can still notice the damage cannonballs caused during the French invasion under Napoleon.
In comparison to the Gothic Center of Barcelona, many historical sites are interspersed with modern constructions. As a result, it's a little bit harder to imagine yourself in medieval times, but if you look the right way and visit the main attractions that problem is solved.
Besides the historical sites, Valencia has many plazas or squares surrounded by restaurants, bars and shops. Terraces everywhere, for a bite and a drink.
In a few words, lots to discover in beautiful Valencia.
The cathedral of Valencia
One of the main historical buildings to visit in Valencia is the cathedral. Officially, the Iglesia Catedral-Basílica Metropolitana de la Asunción de Nuestra Señora de Valencia. Impressive by itself, but more so because of the presence of the Holy Grail – the cup that Jesus Christ supposedly used at the Last Supper.
There are different churches in the world that claim the Holy Grail. The cathedral in Valencia is one of the serious candidates though (together with the Cathedral of Genua, Italy). People from all over the world come to see the Grail.
A believer or not in these kind of legendary Christian stories, there's certainly a lot of history surrounding the cup. For example, in connection with the crusades or the life & times of King Arthur. (I know, my namesake…but you Better call me Art)
TIP: Buy a ticket to the cathedral
While we stood in line to get a ticket, I saw people sneaking into the cathedral to my left. No problem for me, but afterwords I learned that without an entrance ticket you don't have access to certain parts of the cathedral.
One of them being the Capillo del Santo Cáliz or Chapel of the Holy Grail. A beautiful chapel where you can behold the famous cup. Basically a simple design, but made of beautiful agate and – admittedly – embellished later on.
TIP: Discount with Student card
If you have one, bring your student card. Even our daughter – who's studying in Quito, Ecuador – got discounts on tickets everywhere in Spain. Entrances to museums, monuments, churches & other attractions.
A visit to the City of the Arts & Sciences
Our first full day we wanted to visit The City of the Arts & Sciences/ Ciutat de les Arts i les Ciènces, just outside of Valencia's city center. Because its located at the end of a 9 km/6 miles long, beautiful park that crosses through Valencia, we decided to rent a bike.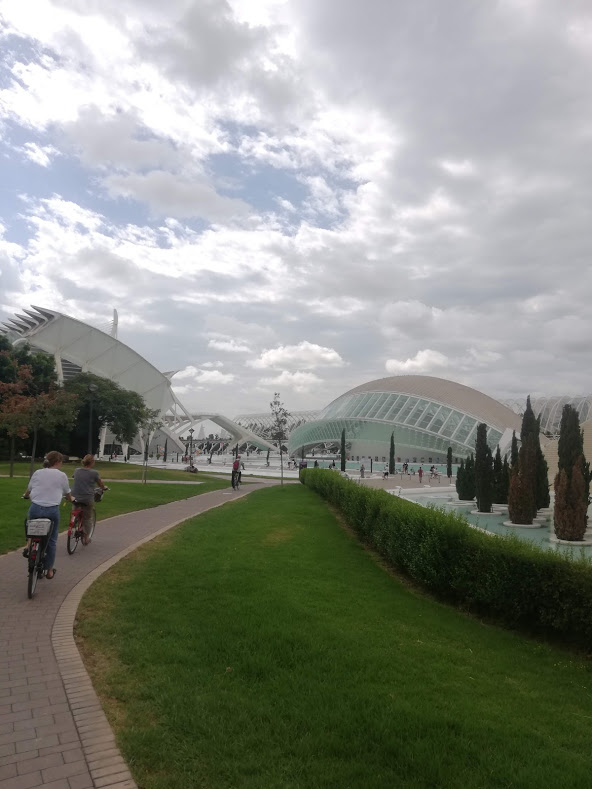 TIP: Rent a bike
The central part of Valencia is as flat as the Netherlands and perfect for using a bike. The city center is almost traffic free and most Valencianos are fully aware that there's a good chance they'll meet up with cycling tourists.
There are several places to rent a bike and because of the healthy competition, its affordable too.
To be sure to get a bike, you can reserve one beforehand on: BikesBooking
From the city center its was just a short ride to the park – the Gardens or Jardines de Turia. A beautiful park that is lain down in a former riverbed. It has cycle paths either way.
The first thing you see of the City of the Arts & Sciences are a series of eye-catching beautiful modern buildings. All of them designed by the Spanish architect Santiago Calatrava and his Spanish-Mexican colleague Félix Candela.
Every building houses at least one cultural attraction, like an art museum, a theatre, a cinema, a botanical & sculptural garden, a sports arena, and others.
Oceanogràfic
We decided to visit the Oceanogràfic. The largest Aquarium of Spain and surely one of the biggest in the whole world. It was rather expensive, but the moment you're inside you know why.
Taking the aquatic life as a theme, the exposition goes on and on. Besides all sorts of fish – big (sharks!!!), small, dull and colourful – you pass water turtles, beavers, penguins, flamingos and what not. It just doesn't stop, and when you think you've seen it all, you'll suddenly find yourself at a dolphin show.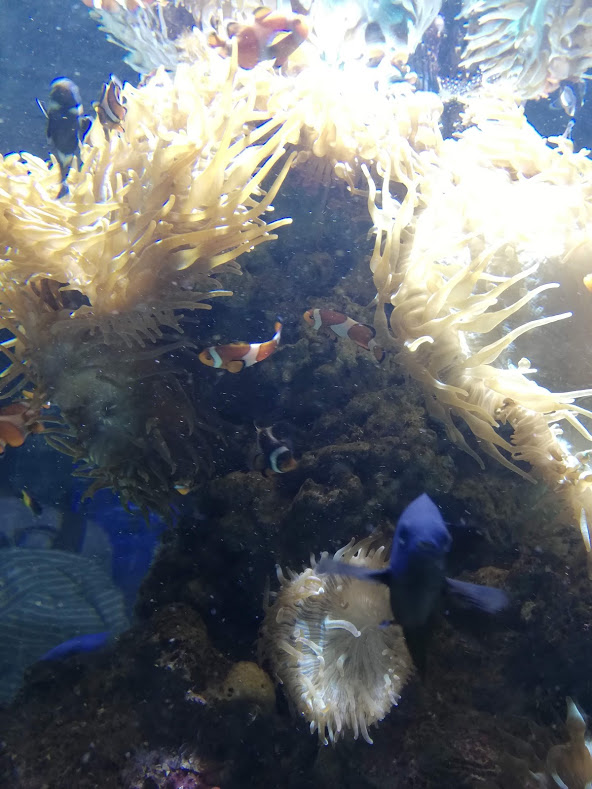 The Oceanogràfic provides a cool, recreational place, although there were thousands of visitors. Highly recommended.
If you plan to visit this beautiful site, make sure to buy your ticket in advance & skip the line. It can get busy, in high season, but also off season:
If there's time left, I'd recommend you to combine a visit to the Oceanogràfic, with other attractions at the City of Arts & Sciences. Being it the Science Museum.
Or the Hemisfèric:
*****
Beforehand, I thought we would visit several attractions at the City of the Arts & Sciences, but after our long stay at Oceanogràfic, we decided to head back to the hotel and prepare ourselves for another relaxing evening in the city center.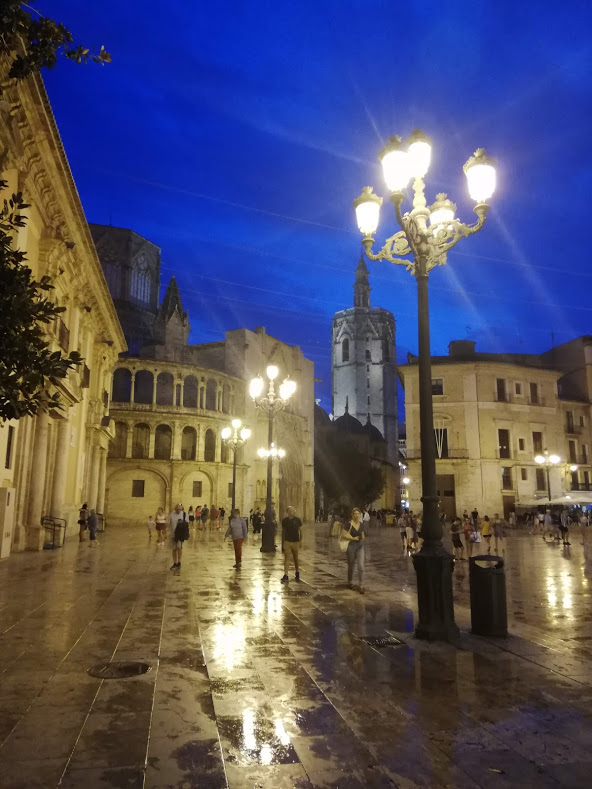 Visit to the botanical garden of Valencia
The second day we started with a visit to the Botanical Garden/ Jardí Botànic of the University of Valencia. We had some difficulty finding it, but were surprised when we got there.
A beautiful, relaxing old fashioned garden with hundreds, if not thousands of trees, plants, flowers, that attract hundreds of birds (like the little green, noisy parrots that live in the palm trees) and as many cats.
My wife Wendy refused to leave at the end of our round through the garden. She wanted to build a little cottage there, right in the middle.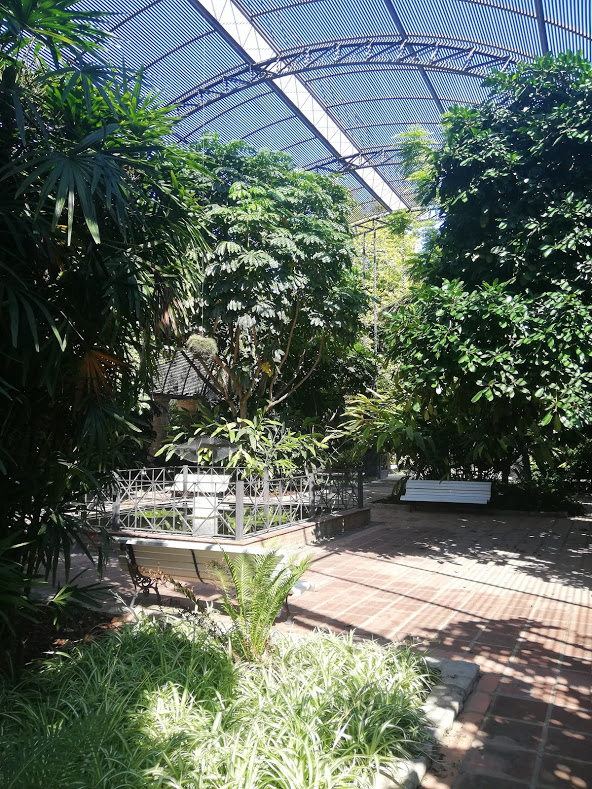 The rest of the day we "strolled" the city center, sniffing up the atmosphere. Eat, drink, watching passersby, enjoy one and another's company. We did nothing and we did a lot, too much to remember, but one "thing to do" I can't withhold you.
A "must" in Valencia involves a visit to the traditional Horchatería de Santa Catalina. Above all, for the typical Horchata – a drink made of tiger nuts – that comes with a few long buns for dipping, called fartóns. It's sweet, it's tasty and it's healthy.
Besides that, the cafeteria interior is beautiful and transfers you to times past – the Horchatería is more than 200 years old. And if you don't like Horchata, there are a lot of other sweet bites for sale.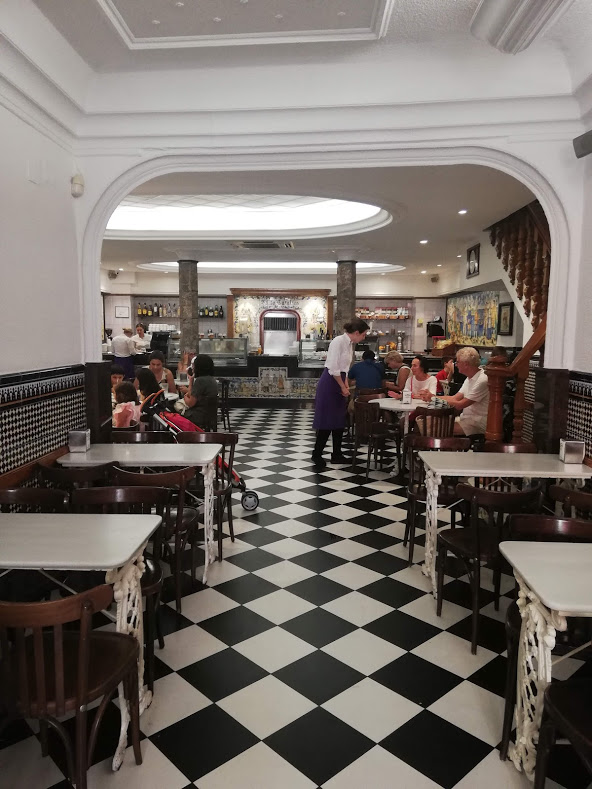 Finally, in the evening, we ended up in the neighbourhood of Russafa. A bohemian part of town where you'll find some good restaurants, bars, and rare shops. We got to this part of town using the metro.
The beaches near Valencia
On our last day we decided to fully relax and visit one of the beaches near Valencia. Well, actually the beach nearest to the town center is a series of beaches, over a three mile stretch. We got to the beach by metro. Only the second time we had to use it.
I think we probably ended up at the beach closest to town, the Playa de las Arenas. A wide strip of sand, leading to a delightful sea. Ended up eating Paella… that is, real Paella!
TIP: Where to eat paella
Valencia most famous dish is paella. So famous actually, that you can't do without ordering one on your visit to Valencia. A dish preferably prepared with rice from Valencia's own rice fields at Albufera – paella's birthplace – just outside of the city.
Because I hope and think that almost everybody has a basic idea of what paella is, I won't go into the details. One detail however is most important and highly discussed everywhere, certainly among the Valencians themselves.
Its called Socorrat and refers to the crunchy rice you may expect at the bottom part of every paella-dish or pan. You get Socorrat turning up the flames just before serving, but timing is everything…. In other words, the crunchy part can't be too soft or liquid, nor burned and hard.
I tried my first paella in the city center of Valencia, but – though tasteful – it didn't taste nothing crunchy at all. When I asked the waiter about it, he said that "most clients don't like the crispy part, because it often gets overcooked and burned…" WRONG! Our Spanish neighbours just laughed and knotted no, no, no….maybe even feeling somewhat embarrassed.
… if you want the real-deal-paella
If you order paella during your visit to Valencia, I guess we all expect the real deal, no? That is to say, not the tourist version.
Asking around, people told us better to avoid the center for a "real-deal-paella" and head to the outskirt of town, like the beach. And that's where I got my paella – actually we shared a whole pan (provider of the name of the dish) between the four of us. Tasty, fresh and … crunchy. Muchas gracias!
So, be careful where you eat! That's not only a tip concerning a visit to Valencia, but also for other tourist places in Spain. Most importantly, be aware if the restaurant and food is authentic or "just for tourists". At the restaurant on the beach we weren't the only foreigners. Over 90% were Spaniards… therefore, a good sign!
Cooking classes, food tours, the best tapas & paella
Alternatively you can "eat out" in a completely different way, like:
Receive a class in preparing recipes you always wanted to learn
Taste local delicacies, like real Valencian paella and/or tapas
Get invited by residents of Valencia for a special diner they prepare for you
If you like the idea, visit EatWith to get to know the different options. A great way to get to know excellent food & other people.
Popular day trips from Valencia
As you noticed, we visited many attractions in & around town. That's near Valencia, like the City of the Arts & Sciences and the beaches, which we reached on a rented bike or with public transport.
Out of town, you'll find some interesting places to visit, reachable on a day trip from Valencia. To new a few popular tours:
The most solicited one is a visit to the fresh water lagoon of Albufera, which borders the famous rice fields – base product for the world famous Valencian Paella dish.
A tour to the medieval towns of Teruel & Albarracín, with professional guides to tell you their stories.
Finally, there are several day trips to the wine fields around Valencia, where guides will explain the proces of producing wine, which you -obviously – can taste at the end.
To put our visit to Valencia in a few words:
Valencia is a beautiful city and visited by many tourists – a total that's probably growing every year. The popularity of the town is understandable, but my impression is that Valencia is still adapting to the growing attention. A good thing, but one that takes time.
The city center shall probable transform itself more and more. Parts that at this moment lie fallow, will probably soon be transformed in tourist businesses and hopefully it comes with a guarantee for good food & service.
We also noticed that some shops, restaurants and bars were closed – especially in the Russafa-neighbourhood – because the owners were on vacation. Rightfully so, but maybe also a sign that not all of them are thinking in tourist seasons yet. In conclusion, it surprised us a little bit, being high season still. However, I have to acknowledge, we noticed it in other tourist places in Spain too – even places that (still) attract more tourist than Valencia.
In short, Valencia is a city with a lot of potential. Not only for its historical center, but more so for the attractions around the inner city. Like the Botanical garden, the Turia park, the City of Arts & Sciences and the beautiful beaches. In short, a great way to combine history, culture and relaxation.
.
Find the best & cheapest flight to Valencia + the right hotel to stay
There are many sites to find the best & cheapest flights to your chosen destination.
One I prefer is CheapOAir. (click on name to search your next flight).
CheapOAir can also help you out finding the best hotel for you, or arrange a rental car.
*****
Alternatively, there's Booking.com to help you find the right place to stay.
Day trip to Xàtiva (Valencia province)
In Valencia we rented a car for the rest of our trip through Spain. Train and bus transport in Spain are well organised, but a rented car of course gives you the liberty to stop & go wherever you want.
.
Our next destination was Úbeda in the interior of Spain. After that we would continu on to Granada & Sevilla, where we would hand in our rental car.
From Valencia we first drove southward to visit a little town called Xàtiva. Xàtiva is mostly known for its famous castle high above and the history connected to it. We arrived there in less than an hour and stayed there for a few. So, it wasn't actually a day trip for us, but it could easily be one from Valencia (50 km/30 miles).
The Xàtiva castle has a long history and you notice that when you walk the grounds. You pass all kind of buildings, former living areas, a chapel, a burial chamber, a prison, high walls with canons, towers, turrets…. Although mostly built in a European – that is gothic – style, you can still notice some Islamic influences, especially in the castle's gardens.
Famous guests of Xàtiva castle
One of the most famous families that lived in the castle of Xàtiva was the Borja family. One of its members was Rodrigo de Borja, better known as Rodrigo de Borgia or Pope Alexander VI. (Note: That Rodrigo lived more than 500 years ago. A more recent and famous Rodrigo – well, at least for us – is Rodrigo Borja Cevallos (1935-), the former president of Ecuador. Also descendant from this Borja-family).
Besides this notorious family, there are still a lot of ghost stories hanging around the castle. The famous Castilian knight El Cid fought around its walls in the 11th century.
And another legendary, but unfortunate guest was the Count James II (Jaime) of Urgel, who disputed the crown of Aragon with his famous brother Ferdinand – that is, the Ferdinand that married Queen Isabella. Jaime was not only imprisoned for many years in the castle, but died there and still lies buried in the upper part of the castle.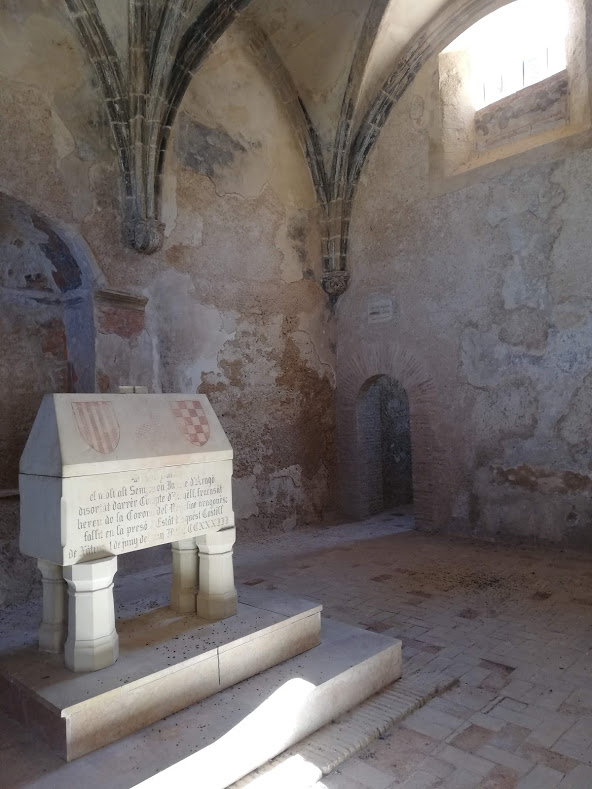 And then there's the ghost of King Felipe V, who burned the whole city of Xàtiva, including its castle during the War of Spanish Succession, in the year 1708. Due to this act, many inhabitants died and were named the Socorrats… Got it? How cruel!
Another note around this brutal act of Felipe V concerns the curator of the local historical museum. When hanging the portrait of long gone king for an exposition in 1940, he decided to hang the painting upside down. As it still does. Stuff for legends!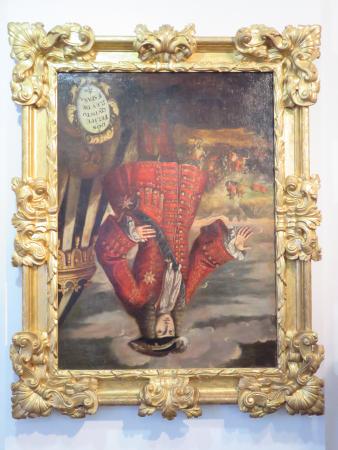 TIP: Take a break at the local bar/restaurant
At the entrance – or exit – of the castle you'll find a perfect place to get a cup of coffee or whatever you like. It includes beautiful bird eye views of the region from its terrace.
For me, it was the first time – of many – that I had to think about Don Quijote de la Mancha & Sancho Panza, wandering through the Spanish plains we were admiring from above.
Final message for fellow travel writers & bloggers: TravelPayOuts is a global integrated affiliate program focused exclusively on travel offers. If it works for me, it will probably work for you too: TravelPayOuts.
For an overview of all travel posts of my blog, go to: the Home Page.